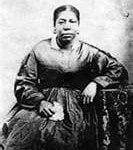 When I publish anything about Black LDS pioneer Jane Elizabeth Manning James, people from around the world express a desire to know more about her. Last night, I recorded her life story as she dictated it to Elizabeth J.D. Roundy. I have included photos from the last production of my play I Am Jane.
It would have been nice to have one of Jane's descendants do this recording, or to have a black voice artist. Since I have no money to pay for a studio or that particular talent, I chose to simply do it myself. I charge nothing, and I've done many audio recordings.
Please share with anyone who would benefit from this story.