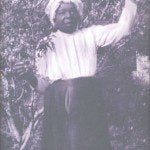 Life History of Jane Elizabeth Manning James
As transcribed by Elizabeth J.D. Roundy
When a child only six years old, I left my home and went to live with a family of white people. Their names were Mr. and Mrs. Joseph Fitch. They were aged people and quite wealthy.  I was raised by their daughter.
When about fourteen years old, I joined the Presbyterian Church–yet I did not feel satisfied.  It seemed to me there was something more that I was looking for. I had belonged to the [Presbyterian] Church about eighteen months when an Elder of the Church of Jesus Christ of Latter-day Saints, [who] was traveling through our country, preached there.  The pastor of the Presbyterian Church forbade me going to hear them as he had heard I had expressed a desire to hear them;  nevertheless I went on a Sunday and was fully convinced that it was the true gospel he presented and I must embrace it.  The following Sunday I was baptized and confirmed a member of the Church of Jesus Christ of Latter-day Saints.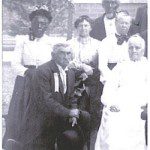 One year after I was baptized, I started for Nauvoo with my mother, Eliza Manning, my brothers Isaac Lewis, and Peter, my sisters, Sarah Stebbins and Angeline Manning, my brother-in-law Anthony Stebbins, Lucinda Manning (a sister-in-law), and myself in the fall of 1840 [sic].  We started from Wilton, Connecticut, and traveled by canal to Buffalo, New York. We were to go to Columbus, Ohio before our fares were to be collected, but they insisted on having the money at Buffalo and would not take us farther.  So we left the boat and started on foot to travel a distance of over eight hundred miles.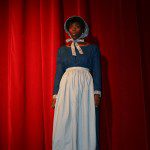 We walked until our shoes were worn out, and our feet became sore and cracked open and bled until you could see the whole print of our feet with blood on the ground.  We stopped and united in prayer to the Lord; we asked God the Eternal Father to heal our feet. Our prayers were answered and our feet were healed forthwith.
When we arrived at Peoria, Illinois, the authorities threatened to put us in jail to get our free papers. We didn't know at first what he meant, for we had never been slaves, but he concluded to let us go. So we traveled on until we came to a river, and as there was no bridge, we walked right into the stream. When we got to the middle, the water was up to our necks but we got safely across. Then it became so dark we could hardly see our hands before us, but we could see a light in the distance, so we went toward it. We found it was an old Log Cabin.  Here we spent the night. The next day we walked for a considerable distance, and stayed that night in a forest out in the open air.
The frost fell on us so heavy, it was like a light fall of snow.  We arose early and started on our way walking through that frost with our bare feet, until the sun rose and melted it away.  But we went on our way rejoicing, singing hymns, and thanking God for his infinite goodness and mercy to us–in blessing us as he had, protecting us from all harm, answering our prayers, and healing our feet.
In course of time, we arrived at La Harpe, Illinois–about thirty miles from Nauvoo.  At La Harpe, we came to a place where there was a very sick child. We administered to it, and the child was healed. I found after [that] the elders had before this given it up, as they did not think it could live.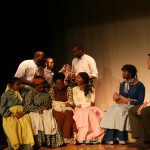 We had now arrived to our destined haven of rest: the beautiful Nauvoo!  Here we went through all kinds of hardship, trial and rebuff, but we at last got to Brother Orson Spencer's. He directed us to the Prophet Joseph Smith's mansion. When we found it, Sister Emma was standing in the door, and she kindly said, "Come in, come in!"
 Brother Joseph said to some white sisters that was present, "Sisters, I want you to occupy this room this evening with some brothers and sisters that have just arrived." Brother Joseph placed the chairs around the room and then he went and brought Sister Emma and Dr. Bernhisel and introduced them to us. Brother Joseph took a chair and sat down by me and said, "You have been the head of this little band, haven't you!"  I answered, "Yes sir!"  He then said, "God bless you!  Now I would like you to relate your experience in your travels."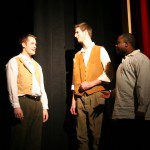 I related to them all I have above stated–and a great deal more minutely, as many incidents has passed from my memory since then.  Brother Joseph slapped Dr. Bernhisel on the knee and said, "What do you think of that, Dr.?  Isn't that faith?"  The Dr. said, "Well I rather think it is. If it had have been me, I fear I should have backed out and returned to my home!" [Joseph Smith] then said, "God bless you.  You are among friends now and you will be protected."
They sat and talked to us awhile, gave us words of encouragement and good counsel. We all stayed there [the mansion house] one week. By that time, all but myself had secured homes.  Brother Joseph came in every morning to say good morning and [see] how we were.  During our trip I had lost all my clothes–they were all gone.  My trunks were sent by canal [boat] to the care of Charles Wesley Wandell.  One large trunk full of clothes of all descriptions–mostly new!
 On the morning that my folks all left to go to work, I looked at myself–clothed in the only two pieces I possessed–[and] I sat down and wept.  Brother Joseph came into the room as usual, and said, "Good morning. Why–not crying, [are you]?"  "Yes sir. The folks have all gone and got themselves homes and I have got none."  He said, "Yes you have. You have a home right here, if you want it. You mustn't cry; we dry up all tears here."  I said, "I have lost my trunk and all my clothes." He asked how I had lost them.  I told him I put them in care of Charles Wesley Wandell and paid him for them and he has lost them.  Brother Joseph said, "Don't cry. You shall have your trunk and clothes again."  Brother Joseph went out and brought Sister Emma in and said, "Sister Emma, here is a girl that says she has no home. Haven't you a home for her?" "Why yes, if she wants one."  He said, "She does." And then he left us.  Sister Emma said, "What can you do?"  I said, "I can wash, iron, cook, and do housework."  "Well," she said, "when you are rested, you may do the washing, if you would just as soon do that." I said, "I am not tired."  "Well,"  she said, "you may commence your work in the morning."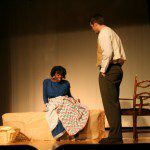 The next morning she brought the clothes down in the basement to wash.  Among the clothes, I found brother Joseph's Robes. I looked at them and wondered–[as] I had never seen any before–and I pondered over them and thought about them so earnestly that the spirit made manifest to me that they pertained to the new name that is given the saints that the world knows not of.
I had to pass through Mother Smith's room to get to mine, [and] she would often stop me and talk to me. She told me all Brother Joseph's troubles, and what he had suffered in publishing the Book of Mormon.  One morning I met Brother Joseph coming out of his mother's room.  He said, "Good morning!" and shook hands with me.  I went to his mother's room. She said, "Good morning. Bring me that bundle from my bureau and sit down here."  I did as she told me. She placed the bundle [in] my hands and said, "Handle this and then put it in the top drawer of my bureau and lock it up."  After I had done it she said, "Sit down.  Do you remember that I told you about the Urim and Thummim when I told you about the book of Mormon?  I answered yes ma'am.   She then told me I had just handled it. "You are not permitted to see it, but you have been permitted to handle it.  You will live long after I am dead and gone and you can tell the Latter-day Saints, that you was permitted to handle the Urim and Thummim."                                                                                                                                                                              
Sister Emma asked me one day if I would like to be adopted to them as their child.  I did not answer her. She said, "I will wait awhile and let you consider it."  She waited two weeks before she asked me again.  When she did, I told her, "No Ma'am,"  because I did not understand or know what it meant.  They were always good and kind to me but I did not know my own mind; I did not comprehend.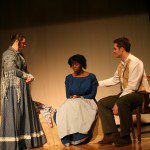 Soon after, they broke up the mansion and I went to my mother. There was not much work because of the persecutions,  and I saw Brother Joseph and asked him if I should go to Burlington and take my sister Angeline with me.  He said,  "Yes.  Go and be good girls, and remember your profession of faith in the everlasting gospel, and the Lord will bless you."  We went and stayed three weeks and then returned to Nauvoo.  It was during this time that the prophet Joseph and his brother Hyrum was martyred. I shall never forget that time of agony and sorrow.  I went to live in the family of Brother Brigham Young.  I stayed there until he was ready to emigrate to this valley.
 While I was at Brother  Brigham's, I married Isaac James.  When Brother Brigham left Nauvoo I went to live at Brother Cahoon's.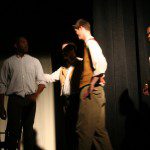 In the spring of 1846 I left Nauvoo to come to this great and glorious valley.  We traveled as far as Winter Quarters [and] there we stayed until spring.  At Hog Creek, my son Silas was born.  In the spring of 1847 we started again on our way to this valley.  We arrived here on the 22nd day of September 1847 without any serious mishaps.  The Lord's blessing was with us and protected us all the way.  The only thing that did occur worth relating was when our cattle stampeded.  Some of them we never did find.  May 1848 my daughter Mary Ann was born.  All of my children but two were born here in this valley.  Their names are Silas, Sylvester, Mary Ann, Miriam,  Ellen Madora, Jessie, Jerry, Boln, Isaac, [and] Violet.  All of them are with their Heavenly Father except two: Sylvester and Ellen Madora.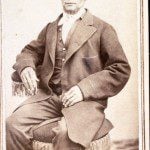 My husband, Isaac James,  worked for Brother Brigham, and we got along splendid accumulating horses, cows, oxen, sheep and chickens in abundance.  I spun all the cloth for my family clothing for a year or two, and we were in a prosperous condition–until the grasshoppers and crickets came along carrying destruction wherever they went, laying our crops to the ground, stripping the trees of all their leaves and fruit, bringing poverty and desolation throughout this beautiful valley.  It was not then as it is now.  There were no trains running bringing fruits and vegetables from California or any other place.  All our importing and exporting was done by the slow process of ox teams.                                                                                                                                                                             
Oh how I suffered of cold and hunger, and the keenest of all was to hear my little ones crying for bread, and I had none to give them; but in all, the Lord was with us and gave us grace and faith to stand at all.  I have seen Brother Brigham,  Brothers Taylor, Woodruff, and Snow rule this great work and pass on to their rewards, and now Brother Joseph F. Smith.  I hope the Lord will spare him, if this [is] his holy will, for many years to guide the Gospel ship to a harbor of safety.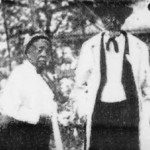 I have lived right here in Salt Lake City for fifty-two years, and have had the privilege of going into the temple and being baptized for some of my dead.  I am now over eighty years old and am nearly blind, which is a great trial to me.  It is the greatest trial I have ever been called upon to bear, but I hope my eyesight will be spared to me–poor as it is–that I may be able to go to meeting, and to the temple to do more work for my dead.
 I am a widow; my husband Isaac James died in November 1891.  I have seen my husband and all my children but two laid away in the silent tomb.  But the Lord protects me and takes good care of me in my helpless condition.   And I want to say right here that my faith in the gospel of Jesus Christ of Latter-day Saints is as strong today–nay it is if possible stronger–than it was the day I was first baptized.  I pay my tithes and offerings, keep the Word of Wisdom.  I go to bed early and arise early.  I try in my feeble way to set a good example to all.  I have had eighteen grandchildren (eight of them are living),  also seven great grand children.  I live in my little home with my brother Isaac, who is good to me.  We are the last two of my mother's family.
This is just a concise but true sketch of my life and experience.                                        
Yours in truth.
Jane Elizabeth James
FRANCAIS:
Histoire de la vie de Jane Elizabeth Manning James
Comme transcrit par Elizabeth J.D. Roundy
Quand un enfant de six ans seulement, j'ai quitté ma maison et je vis vivre avec une famille de personnes blanches. Leurs noms étaient M. et Mme Joseph Fitch. Ils étaient âgés et assez riches. J'ai été élevé par leur fille.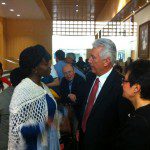 Quand j'ai environ quatorze ans, j'ai rejoint l'église presbytérienne, mais je ne me suis pas senti satisfait. Il me semblait qu'il y avait quelque chose de plus que je cherchais. J'avais appartenu à l'église [presbytérienne] environ dix-huit mois lorsqu'un Ancien de l'Église de Jésus-Christ des Saints des Derniers Jours, qui voyageait dans notre pays, y prêchait. Le pasteur de l'Eglise presbytérienne m'a interdit de les entendre comme il avait entendu que j'avais exprimé le désir de les entendre; Cependant, je suis allé dimanche et je suis pleinement convaincu que c'était le véritable évangile qu'il a présenté et je dois l'embrasser. Le dimanche suivant, j'ai été baptisé et confirmé un membre de l'Église de Jésus-Christ des Saints des Derniers Jours.
 
Après mon baptême, j'ai commencé pour Nauvoo avec ma mère, Eliza Manning, mes frères Isaac Lewis et Peter, mes sœurs, Sarah Stebbins et Angeline Manning, mon beau-frère Anthony Stebbins, Lucinda Manning (une soeur- Beau-père) et moi-même à l'automne 1840 [sic]. Nous partons de Wilton, Connecticut, et nous avons voyagé par canal à Buffalo, à New York. Nous devions aller à Columbus, Ohio, avant que nos tarifs ne soient collectés, mais ils ont insisté pour avoir de l'argent à Buffalo et ne nous conduiraient plus loin. Nous avons donc quitté le bateau et commencé à pied pour parcourir plus de huit cents milles.
Nous avons marché jusqu'à ce que nos chaussures aient été usées, et nos pieds ont été endoloris et craqués et saignés jusqu'à ce que vous puissiez voir l'impression complète de nos pieds avec du sang sur le sol. Nous nous sommes arrêtés et unis en prière au Seigneur; Nous avons demandé à Dieu le Père éternel de guérir nos pieds. Nos prières ont été répondues et nos pieds ont été guéris immédiatement.
Lorsque nous sommes arrivés à Peoria, Illinois, les autorités ont menacé de nous mettre en prison pour obtenir nos papiers gratuits. Nous ne savions pas d'abord ce qu'il voulait dire, car nous n'avions jamais été des esclaves, mais il a conclu qu'il nous a permis de partir. Alors nous sommes allés jusqu'à ce que nous arrivions à une rivière, et comme il n'y avait pas de pont, nous sommes entrés dans le ruisseau. Quand nous sommes arrivés au milieu, l'eau était sur nos cous mais nous nous sommes bien placés. Alors il devenait tellement sombre que nous pouvions à peine voir nos mains avant nous, mais nous pouvions voir une lumière au loin, alors nous sommes allés vers elle. Nous avons trouvé que c'était une vieille cabane en rondins. Nous passons la nuit ici. Le lendemain, nous avons parcouru une distance considérable, et avons séjourné cette nuit dans une forêt en plein air.
La gelée est tombé sur nous si lourd, c'était comme une légère chute de neige. Nous sommes arrivés tôt et avons commencé à parcourir ce gel avec nos pieds nus, jusqu'à ce que le soleil se lève et fondu. Mais nous sommes allés en joie, en chantant des hymnes et en remerciant Dieu de sa bonté infinie et de sa pitié pour nous, en nous bénissant comme il l'a fait, en nous protégeant de tout mal, en répondant à nos prières et en guérissant nos pieds.
Au fil du temps, nous sommes arrivés à La Harpe, Illinois, à environ trente milles de Nauvoo. Chez La Harpe, nous sommes arrivés à un endroit où il y avait un enfant très malade. Nous l'avons administré, et l'enfant a été guéri. J'ai trouvé après [que] les anciens avaient avant cela abandonné, car ils ne pensaient pas pouvoir vivre.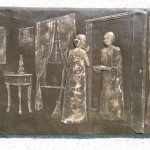 Nous sommes arrivés à notre paradis de repos: la belle Nauvoo! Nous avons traversé toutes sortes de difficultés, d'épreuves et de rebuffes, mais nous sommes enfin arrivés chez le frère Orson Spencer. Il nous a dirigé vers le manoir du prophète Joseph Smith. Quand nous l'avons trouvée, Sœur Emma était debout dans la porte, et elle a bien voulu dire: "Entrez, entrez!"
 
 
Le frère Joseph a dit à des soeurs blanches qui étaient présentes: "Sœurs, je veux que vous occupiez cette salle ce soir avec des frères et soeurs qui viennent d'arriver". Le frère Joseph a placé les chaises dans la pièce et est allé et a amené sa soeur Emma Et le Dr Bernhisel et nous l'ont présenté. Le frère Joseph a pris une chaise et s'est assis près de moi et m'a dit: "Vous avez été le chef de cette petite bande, n'est-ce pas?" J'ai répondu: "Oui, monsieur!" Il a alors dit: "Dieu vous bénisse! Maintenant, j'aimerais que vous racontiez votre expérience dans vos déplacements. "

Je leur ai parlé de tout ce que j'ai mentionné ci-dessus – et beaucoup plus minutieusement, autant d'incidents sont passés de ma mémoire depuis lors. Le frère Joseph a frappé le docteur Bernhisel au genou et a dit: «Que pensez-vous de cela, docteur? N'est-ce pas la foi? "Le Dr a déclaré:" Bien, je pense plutôt. Si cela avait été moi, je crains que j'aurais dû me retirer et rentrer chez moi! "[Joseph Smith] a alors dit:" Dieu vous bénisse. Vous êtes parmi les amis maintenant et vous serez protégés. "
Le matin que tous mes gens sont partis pour aller au travail, je me suis regardé, vêtu des deux pièces que je possédais: [et] je me suis assis et j'ai pleuré. Le frère Joseph est entré dans la chambre comme d'habitude et a dit: «Bonjour. Pourquoi – ne pas pleurer, [êtes-vous]? "" Oui, monsieur. Les gens sont tous partis et se sont emparés de maisons et je n'en ai pas. "Il a dit:" Oui, vous l'avez. Vous avez une maison ici, si vous le souhaitez. Vous ne devez pas pleurer; Nous secouons toutes les larmes ici. "J'ai dit:" J'ai perdu mon coffre et tous mes vêtements. "Il a demandé comment je les avais perdu. Je lui ai dit que je les ai mis en charge de Charles Wesley Wandell et l'ai payé pour eux et qu'il les a perdus. Le frère Joseph a dit: "Ne pleure pas. Vous aurez votre coffre et vos vêtements à nouveau. »Le frère Joseph est sorti et a amené sa soeur Emma et a dit:« Sœur Emma, ​​voici une fille qui dit qu'elle n'a pas de foyer. N'avez-vous pas une maison pour elle? "" Pourquoi oui, si elle en a besoin. "Il a dit," Elle fait. "Et puis il nous a quitté. Sœur Emma a déclaré: "Que pouvez-vous faire?" J'ai dit: "Je peux laver, ferrurer, cuisiner et faire le ménage." "Eh bien, dit-elle," quand vous êtes reposé, vous pouvez faire le lavage, si vous le feriez Tout de suite. "J'ai dit:" Je ne suis pas fatigué. "" Eh bien, "dit-elle," vous pouvez commencer votre travail le matin ".
Le lendemain matin, elle a mis les vêtements dans le sous-sol pour se laver. Parmi les vêtements, j'ai trouvé les Robes du frère Joseph. Je les ai regardés et je me demandais – [comme] que je n'avais jamais vu auparavant – et j'ai réfléchi sur eux et les pensais si sérieusement que l'esprit m'a fait comprendre qu'ils appartenaient au nouveau nom qui donne aux saints que le Le monde ne sait pas.
Je devais traverser la chambre de Mère Smith pour aller au mien [et] elle m'arrêtait souvent et me parlait. Elle m'a dit tous les problèmes du frère Joseph et ce qu'il avait souffert en publiant le Livre de Mormon. Un matin, j'ai rencontré le frère Joseph qui sortait de la chambre de sa mère. Il a dit: "Bonjour!" Et m'a serré la main. Je suis allé chez sa mère. Elle a dit: "Bonjour. Apportez-moi ce paquet de mon bureau et asseyez-vous ici. "J'ai fait ce qu'elle m'a dit. Elle a placé le paquet dans mes mains et a dit: "Manipulez ceci et placez-le dans le haut tiroir de mon bureau et fermez-le." Après l'avoir fait, elle a dit: "Asseyez-vous. Vous rappelez-vous que je vous ai parlé des Urim et Thummim quand je vous ai parlé du livre de Mormon? J'ai répondu oui madame. Elle m'a ensuite dit que je venais de le traiter. "Vous ne pouvez pas le voir, mais vous avez été autorisé à le gérer. Vous vivrez longtemps après que je suis mort et parti, et vous pouvez dire aux Saints des Derniers Jours que vous avez été autorisé à gérer Urim et Thummim.
Sœur Emma m'a demandé un jour si j'aimerais leur être adopté comme leur enfant. Je ne lui ai pas répondu. Elle a dit: «Je vais attendre un moment et je vous laisse le considérer.» Elle attendit deux semaines avant de me demander de nouveau. Quand elle l'a fait, je lui ai dit: «Non, madame», parce que je ne comprenais pas ce que cela signifiait. Ils étaient toujours bons et gentils avec moi, mais je ne connaissais pas mon esprit; Je n'ai pas compris.
Peu de temps après, ils ont rompu le manoir et je suis allé chez ma mère. Il n'y avait pas beaucoup de travail à cause des persécutions, et j'ai vu le frère Joseph et lui ai demandé si je devais aller à Burlington et prendre ma soeur Angeline avec moi. Il a dit oui. Allez et soyez de bonnes filles, et souvenez-vous de votre profession de foi dans l'évangile éternel, et le Seigneur vous bénira. "Nous sommes allés rester trois semaines et sommes retournés à Nauvoo. C'est à cette époque que le prophète Joseph et son frère Hyrum furent martyrisés. Je n'oublierai jamais ce moment d'agonie et de chagrin. Je suis allé vivre dans la famille du frère Brigham Young. Je suis resté là jusqu'à ce qu'il soit prêt à émigrer dans cette vallée.
Pendant que j'étais chez le frère Brigham, j'ai épousé Isaac James. Quand le frère Brigham a quitté Nauvoo, je suis allé vivre chez le frère Cahoon. Au printemps de 1846, j'ai quitté Nauvoo pour venir dans cette magnifique et magnifique vallée. Nous avons voyagé jusqu'à Winter Quarters [et] là-bas, nous sommes resté jusqu'au printemps. Chez Hog Creek, mon fils Silas est né. Au printemps de 1847, nous avons recommencé à parcourir cette vallée. Nous sommes arrivés ici le 22 septembre 1847 sans aucun incident grave. La bénédiction du Seigneur était avec nous et nous protégeait tout le chemin. La seule chose qui a eu lieu vaut la peine de se rapporter était lorsque nos bovins ont été estampillés. Certains d'entre nous ne l'ont jamais trouvé. Mai 1848, ma fille Mary Ann est née. Tous mes enfants, mais deux sont nés ici dans cette vallée. Leurs noms sont Silas, Sylvester, Mary Ann, Miriam, Ellen Madora, Jessie, Jerry, Boln, Isaac, [et] Violet. Tous sont avec leur Père céleste sauf deux: Sylvester et Ellen Madora.
Mon mari, Isaac James, a travaillé pour le frère Brigham, et nous nous sommes retrouvés très abondamment en train d'accumuler des chevaux, des vaches, des bœufs, des moutons et des poulets. J'ai filé tout le linge pour l'habillement de ma famille pendant un ou deux ans, et nous étions dans un état prospère – jusqu'à ce que les sauterelles et les grillons venaient entraînant la destruction partout où ils allaient, mettant nos récoltes au sol, enlevant les arbres de tous leurs Feuilles et fruits, amenant la pauvreté et la désolation dans cette belle vallée. Ce n'était pas le cas maintenant. Il n'y avait pas de train en train de ramener des fruits et des légumes en Californie ou ailleurs. Toutes nos importations et nos exportations ont été réalisées par le lent processus des équipes de bœuf.
 Oh, comment je souffrais du froid et de la faim, et le plus vif était d'entendre mes petits pleurant pour le pain, et je n'avais personne pour leur donner; Mais en tout, le Seigneur était avec nous et nous a donné la grâce et la foi pour se tenir debout. J'ai vu le Frère Brigham, les Frères Taylor, Woodruff et Snow dominer ce superbe travail et passer leurs récompenses, et maintenant Brother Joseph F. Smith. J'espère que le Seigneur l'épargnera, si c'est sa sainte volonté, pendant de nombreuses années pour guider le navire évangélique vers un port de sécurité.
J'ai vécu ici à Salt Lake City pendant cinquante-deux ans, et j'ai eu le privilège d'entrer dans le temple et d'être baptisé pour certains de mes morts. Je suis maintenant âgé de plus de quatre-vingts ans et je suis presque aveugle, ce qui est un excellent procès pour moi. C'est le plus grand procès que j'ai jamais été appelé à supporter, mais j'espère que ma vue me sera épargnée –
pauvre comme ça – pour que je puisse aller à la réunion et au temple pour faire plus de travail Pour mes morts.
Je suis veuve; Mon mari, Isaac James, est mort en novembre 1891. J'ai vu mon mari et tous mes enfants, mais deux ont été mis dans la tombe silencieuse.
 Mais le Seigneur me protège et prend soin de moi dans mon état d'impuissance.
 
Et je veux dire ici que ma foi dans l'évangile de Jésus-Christ des Saints des Derniers Jours est aussi forte aujourd'hui – mais c'est si possible plus fort – que ce fut le jour où j'ai été baptisé pour la première fois. Je paye mes dîmes et mes offrandes, garde la Parole de Sagesse. Je me couche tôt et je me lève tôt. J'essaie de ma faible façon de donner un bon exemple à tous. J'ai eu dix-huit petits-enfants (huit d'entre eux vivent), sept grands arrière-enfants. Je vis dans ma petite maison avec mon frère Isaac, qui est bon pour moi. Nous sommes les deux derniers de la famille de ma mère.
 
Ce n'est qu'un croquis concis, mais vrai, de ma vie et de mon expérience.
 
Jane Elizabeth Manning James