I have a threatening email in my in-box.  It is titled, "Paris is waiting for you."  It's from an airline company.  I don't plan on opening it.  The title alone is terrifying–like a mysterious letter sticking out from under a doormat: "You will die soon."
I have heard from many of my friends since my brother experienced no fewer than three thefts in Paris.  They are concerned.  The message is this: How do we get to Kinshasa, DR-Congo without going through Paris?"
This morning, I mentioned the dangers of Paris to a Congolese friend.  She said, "Oh yes, it is very scary.  There are terrorists there."  I'm sure we all agree with that assessment.
As all educated people know, Paris offers some art–if you're willing to hang out with serial killers.  Fortunately, Kinshasa offers splendid art without the risk, as seen in these photos.
And the beauty and joy found in the Democratic Republic of Congo are unsurpassed.
But the fact remains that one usually must go through Paris to get to Kinshasa.
If you can go through Brussels, good for you!  But if Paris is your only option, take these precautions:
1) Stay away from the Eiffel Tower.
Note this couple.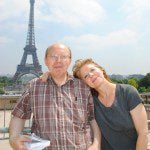 They are not in the crowd.  Please understand that the crowd is always huge, unmonitored, and dangerous.  Cleverly, this couple has positioned themselves with the Eiffel Tower in the background, but they are in fact nowhere near. They could even be in a hotel with the tower seen through a window.  Or they could have made a choice which many tourists make these days because of the horrors of Paris.  They could be using a green screen.  Green screens are now available on apps.  See a demo here. For all we know, the couple could be green-screening in Parawan, Utah.  Clearly, their expressions say, "I wish we could be in Kinshasa!"  The man is holding a book about the dangers of Paris.  He has marked places which he and his wife must avoid at all costs. and keeps his fingers in those pages at all times. How easy it is for trained thieves to cut pockets, purses, even to kidnap sleeping children!  Are you fearful enough?  Look at what you're carrying now.  Imagine yourself in the throng by the Eiffel Tower.  What are you carrying that someone could steal?  Put yourself in the situation until you manufacture genuine sweat.
2) Avoid all art museums. Most of the statues are broken anyway, but the crowds are full of spies and thieves.  They usually stay by the Mona Lisa with carefully concealed knives and tape recorders.  Many people have been imprisoned for making comments like "I don't see why it's such a big deal", or by referring to "Freedom fries" rather than "French Fries." Their stories are well concealed, as are they.
3) Avoid cathedrals. If you must go to a cathedral, keep your eyes forward and downcast.  Devotional statues are placed throughout, but these are simply lures for anyone naive enough to look away from their purses or wallets. Pay no attention to Mass or to the stained glass. Your job is to get to Kinshasa safely and in one piece.  Even glancing at the bait puts you at risk.
4) Do not eat the food or drink the water!
If you have seen _Les Miserables_, you know that the sewage system is ubiquitous.  What are the chances that some of that sewage has infiltrated the water?  Most professionals rank those chances at 68%.  Better safe than sorry.  You can drink soda pop, provided it has enough sugar to kill any toxic bacteria (including anthrax, which is relatively rare; only 10% of soda pop bottles were found to contain it).  You might be tempted by the gelatto, but remember that a taste of ice cream can end your life if the person behind the counter is actually a mercenary paid for every American he shoots.  Ask yourself, is it worth it? Imagine that innocent-looking gelatto server reaching for the scoop.  Are you sure that's all he's reaching for?
5) By all means, do not take the subway, as anything can happen underground.  (Note: Where do they put the sewers? Did you ever contemplate why the sewers and the subways are both underground?) Walk everywhere.  Unless you really care about your life, that is.  In that case, walk nowhere.  Stay in your hotel.  Most hotels have CNN. You can watch the news of all the terrible, horrific, unthinkable things happening in Paris.  Hotel rooms, especially in areas populated by liberal celebrities (who may or may not be part of nefarious conspiracies) are generally okay.
It does not matter if you actually see anything in Paris.  It matters even less if you actually meet the people.  Your goal is to keep your fear high enough that you will get safely on the plane to Kinshasa.
You're welcome.
Margaret
P.S.  Sometimes I have to explain when my tongue is firmly in my cheek.  Yep, it's there.  ANY PLACE can be dangerous.  Focusing on the perceived dangers will always keep you from truly experiencing what's available in every place on earth. Bad things can happen anywhere.  I am sad that the DR-Congo is ranked as one of the most dangerous countries.  Because of that ranking, I cannot use the travel system at my university but have to employ a neutral agency.  That last sentence is NOT tongue-in-cheek. Former ambassador to the DR-C, Roger Meese,  told me that the ranking is absurd and must be reversed.  Sadly, any time there is violence anywhere in the Congo, it gets broadcast and the perception continues. The perception relies on confirmation bias.  Do you think the Congo is full of murderers and kidnappers?  Watch this, please.
I know that many will disagree with me.  I speak as the daughter of Robert Wallace Blair, however, which qualifies me for just about anything.  Dad always considered himself a teacher/servant.  I saw him weep with the people he was working with in various countries.  I watched him show his love for the people, and I learned to do as he did.  He was fearless, and my brother and I are capable of being just like him, though we are careful to be wise. Dad did some things which we would not do.  (For example, he once left all of his children in the center of Guatemala City with the words, "I have a meeting.  There's a museum around here.  Find it.  Learn Spanish.  I'll meet you back here in about five hours." That was in 1975.)
As for me, this is one of the two scriptures which govern my life: "For God has not given us the spirit of fear, but of power and of love and of a sound mind."
Come to Kinshasa.  Seek the beauty and I guarantee that you will find it.  You will need to train your eyes to look beyond the poverty and instead notice the hibiscus, the mango trees, the huge smiles, the dancing.  I think there are eye charts on e-bay which help with that training.  You don't pass until you notice the beauty of the child rather than the dirt floor where she is lying.  Not sure of the price.  Maybe I'm wrong and those charts don't exist.  Maybe I should invent those.