I talked with my father about death quite often. I was always with him at the end of dialysis, which was sometimes a scary time. I would sit him up slowly, knowing that if it was too fast, he would faint. He did faint many times, and I simply rubbed his calves and said, "Dad? Are you with me? Can you come back?" Eventually, he would regain consciousness. He said sometimes that he wondered if he might die during one of those fainting episodes, and what it would be like to die. He was aware that he had already had a long life and, because of dialysis, even some bonus years. So many died young. It wasn't really fair. My response was, "I think that no matter how long we have in mortality, our response after we die will be something like, 'Wow! That was amazing!'"
Two weeks before my father died, a dear friend, H. Kay Moom–who had also had a long life–died suddenly of a stroke.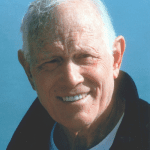 I had taught one of his poems in my creative writing classes as we discussed nostalgic poetry. I asked the students if the poem was written by a newlywed or by someone long married. Here is the poem:
Barefoot we walked that afternoon
At the hour of haze and pastels
Along the riverbank,
The air heavy with fragrance
Of mist and reeds,.
A pile of leaves,
Raked for firing
But forgotten,
Yet took fire,
As the sun's last thought for the day
Shimmered on pools at the edge of the stream
And thrashed itself to a dazzling amber
Over the rocks in mid-stream,
Reflecting a golden dance onto
The pile of leaves
Like a fire that does not consume.
We stood at that burning bush
As you agreed to share
An unsure fare.
Barefoot we walked through haze and pastels,
Through the sun's last thought
Our feet sun-warmed,
Sand-warmed,
Soul-warmed,
Toward forever.
It shouldn't take much discussion to see that this is the love poem of a long-married man to his wife, after the "unsure fare" has revealed itself. For Kay and his wife, Mayva, their married years included the loss of a daughter and of a grandson, many illnesses, and the standard lessons of raising children through puberty and into adulthood.
I embraced Mayva at the viewing just before Kay's funeral, and glanced quickly at my friend's body in its coffin. Such a good man, and such a good life!
Two weeks later, it was my own father who had finally passed away after a decade + of dialysis. As we prepared for the physical parts of his funeral–the slide show, for example–we remembered peak moments of his life, burning bush moments.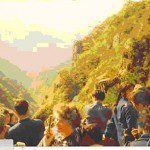 There were many, as there are in each life.
The moment we marry. The moment we learn that we will have a child. The many "firsts." Our sicknesses, our joys, our disappointments, our deaths. Looking back on our lives from a place where all things are brought to our remembrance, I suspect we will see a milky way of burning bushes.