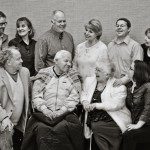 Embedded in this post is a youtube link to my father's funeral. This is something I would want everyone studying the Latter-day Saint faith to listen to as an example of what a Mormon life is or can be.
My father, Robert W. Blair, was born Mormon, but was planted deep into his faith through associations with many religions and cultures. His earliest experience of devotion happened after he viewed the Catholic film Bernadette, and, on his way home from the theater, knelt in prayer to dedicate his life to God. He deepened his faith by private commitments to God to never swear or drink. In 1950, he served a three-year mission for the LDS Church to Finland. In time, he joined with Evangelical friends to smuggle Bibles into China, and to send short wave radio Bible stories to the USSR. In 1994, he presided over the Baltic States Mission with my mother, Julia Gay Groberg Blair. His specialty was Mayan dialects, though by the end of his life he had worked in Chinese, Russian, and the Baltic languages, and had become a brother of many men and women in multiple cultures..
I have edited out prayers and the bishop's talk (though it was a good talk), so that you hear only his children and the music we, his family, sang or joined in.
The speakers are:
Carol Blair Madsen
Benjamin Wallace Blair
James Groberg Blair
Elizabeth (Lisa) Sabey
Jenette Blair Lambert
Robert Groberg Blair
Margaret Blair Young (oldest)
Delbert Wallace Blair
Vocal solo "Amazing Grace" performed by my daughter, Kaila Lifferth, accompanied by her cousins, Kristen, Sophie and Amber Blair