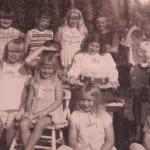 I remember realizing that Stephanie Smith was the picture of COOL and BEAUTIFUL around sixth grade.  Her sisters were, too.  Her older sister, Sandy, did makeovers for all of us just-starting-puberty girls and showed me how to style my hair in a way I still use fifty years later.  (Note the photo of me in July 2018 with my hair done exactly as Sandy taught me when I was a teenager.)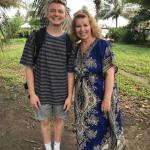 My earliest memory of the Smiths was the day in fourth grade when Stephanie was absent and we learned that she and her family had gone to the Salt Lake Temple to be sealed.  That seemed a remarkable thing to me at the time, and hinted at realities I would later understand in deeply personal ways–realities of faith and second chances and loving families.
The Smiths had been inactive Mormons for much of their Provo time until then.  In fact, the obituary reveals that Thales and Charone Smith eloped.  As I recall from a long-ago testimony meeting, Dr. Thales simpy saw too many miracles to sustain unbelief.  He saw too many babies recover after priesthood blessings.  I don't know what the process of regaining faith was (I was only nine years old when the Smiths went to the temple), but I knew that something had changed, and I saw the fruits for the rest of my life.
A few years after that sealing day, Dr. Smith became Bishop Smith of the Oak Hills Second Ward.  He was gentle, compassionate, humble, always kind–the sort of bishop a teenaged girl needs.  Meanwhile, his wife had a well-earned reputation of being a super-fun YW leader (back then we were Merry Hands) who would sometimes bring full-sized candy bars to our classes.
In my childhood, I was simply in awe of the Smiths–their white house like something from Gone With the Wind on 900 East in Provo, their perfect features, their social skills (mine were terriby lacking), their smiles.  The oldest son, Thales Jr., played the mandolin and was as handsome as his father.  The next son, Steven, could ride his bike from Provo to Salt Lake City and gave talks like someone you knew would become a famous talk-giver eventually.  (He actually became a counselor at BYU.  Several of my stsudents worked with him and reported to me that he was the best counselor they had had,  full of concern and compassion.) I remember when Lisa, Steph's younger sister, got engaged–and then lost her fiance in a car accident.  She spoke today at the funeral, now married for many years, mother, grandmother, and a nurse who developed a deep appreciation for her father's rare medical abilities.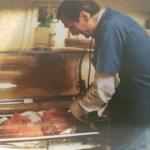 Steven talked about his father's hands–hands that could give a bishop's blessing in one hospital room and then immediately tend to an infant in the NICU; purposeful, trained hands–a musician's long-fingered hands.  Stephanie told about taking her father to the ER on his last day of life and hearing the final words he would speak in mortality: "Isn't this a beautiful time of day!"  Thales Jr., a former stake president, talked about getting medical advice from his dad for the son of a stake counselor.  The advice proved to be life-saving when local doctors were stumped.
As I watched the Smiths today, I was surprised by how much I remembered of our growing-up years, and how precious each member of the family was to me.
I had particularly sweet memories of Dr. Thales.  When my baby sister (nineteen years my junior) broke her arm at Provo High School, I picked her up and took her directly to Dr. Smith's office.  The nurses there were not pleased that I had presumed to come without an appointment.  I entered the examination room full of apology, knowing that I had interrupted Dr. Smith's lunch hour.  He waved my concerns away and took my sister's arm in those beautiful hands, speaking softly, comforting away any worry about broken bones or disrupted schedules.  As I recalled the incident at the funeral, I thought of Jesus: "Suffer the little children to come unto me." Surely, that was one of my dear bishop's life themes–that and "Be not weary in well doing."
What a privilege to know the Smiths, to have been blessed by them, to have grown up with them!
Several of us who are Stephanie's age (now sixty-three) greeted her after the funeral.  She put her arms around us.  We talked about our children and grandchildren.  We rejoiced in the life of the man we honored today.  We cried a bit, of course, and I thanked God for good reasons to shed tears.  I was grateful that the funeral concluded with the hymn written by another Oak Hills 2 ward member, Ed Hart: "Our Savior's Love":
Our Savior's love
Shines like the sun with perfect light,
As from above
It breaks thru clouds of strife.
Lighting our way,
It leads us back into his sight,
Where we may stay
To share eternal life.
Such a perfect way to end the funeral of Doctor Bishop Brother Thales Haskell Smith.  Thank you, God, for the gift of his life.