Last year, we raised some money for school benches in a place where children sat either on the ground or on rocks.
This year, we are getting more serious.
Several of us spent a long time in Lodja, DR-Congo this past summer.  The most desperate need became clear: sanitation.  In the general hospital, fifteen people die every month of malaria or of typhoid fever and other diseases related to poor sanitation.  Consider that those who died in the hospital likely represent at least five others who did not get to the hospital, but died at home. At the university where we taught, students missed class often because of typhoid fever. One of our students had typhoid fever five different times during our stay.  Another lost his only son. Every one of our students had lost a family member to preventable disease.
We became instantly aware of the inadequate sanitation at the university.  Bathrooms comprised squat holes, one for men and one for women.  There were NO facilities for washing hands anywhere near these squat holes or even on the university campus itself.  Even at the hospital, there were only two hand-washing units, both in bad repair.  There is one squat-hole for all hospital patients–but no hand-washing facilities nearby that bathroom.  Habits of hand washing are simply not present.
We have ambitious goals for our work area and for villages beyond it.  Ultimately, we will work on getting compost toilets into the area, to be maintained by university students.  Similar toilets are described here and here. Our first step, however–and the goal of this initiative–is to provide hand-washing units and to assure that they are maintained daily.  Maintenance will be done by university students who will earn money to pay their tuition.  They will be charged with keeping the units in good condition and perpetually supplied with clean well water, soap, and towels. These students will be monitored weekly for work performance.
This is a photo of the hand-washing unit.  Note that there is no running water in Lodja, so we need water containers. This unit has a jug with a spout to hold the water, a bowl to collect water after washing, soap, and a towel.  We have a goal of installing and maintaining a total of 25 units, to be placed in the several schools (K-12), at the two squat-toilets at the university, and four for the general hospital. Our aim is to provide a way that the youngest donors can raise sums as low as $5.00 and know that they have actually made a difference in a desperately poor area, and have perhaps saved a life.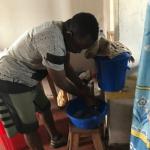 Here are donation possiblities, to be sent via paypal or venmo to drcongorising@gmail.org . Congo Rising is a 501c3 (tax-deductible) organization, described
here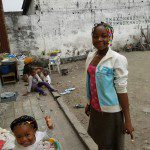 $1.00 purchases soap and a towel.
$5.00 purchases two bowls for the handwashing units.
$10.00 purchases a jug with a spout for the handwashing unit.
$116. pays for one student's trimester costs, earned for maintaining a hand-washing unit
$350. pays for an entire year of a student's tuition, earned for maintaining hand-washing units AND new bathroom units (described above)
$1000. pays for ten full sanitary units–compost toilets, hand-washing units, privacy screens, and maintenance
If you choose to involve your family in this initiative, please share these photos of hospital and school conditions with them.