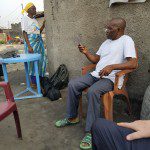 Incredible things have happened to me.  Apparently, I was not content to be merely injured.  All of my injuries were life-threatening.  From the time I was small, I have encountered big problems, never just little ones.
Nevertheless, I was a very good student, always first in my class.  Of course, not everyone appreciated this. There were some who said that I was bewitched.  It was very hard for me to walk the distance between my parents' home and school, and equally hard to return.  Finally, my parents decided to send me to my paternal uncle so that I could study more easily.
However, when I arrived there, my situation became worse and worse.
At my uncle's home, the pattern became immediately clear. Every morning, I was to go school and in the evening I was to return. On the first morning, however (and all the mornings that followed), I was awakened at 4am to go to the field. Wrapped up in cloth around my back because of the pain I still suffered, I had no choice but to go to the field. Meanwhile, my cousins just slept. They didn't have to go to the field. Every day, I had to pick cassava. I had to do it.  I was completely isolated from my own parents, who loved me.  I felt like an orphan. Still, I did want to go to school, so I endured every hardship.  I maintain that same concern for my children's education.
After school, I carried cassava in a basin on my head, from the forest to the village.
The distance I had to travel was between 3 and 4 kilometers.
Soon, I had a reputation for tardiness at the school. I always arrived around 1:15 or 1:30 pm instead of 12:25 or 12:30.  Fortunately, the disciplinary director was a son of another uncle of mine, and he knew about my situation. Therefore, despite my tardiness, I continued to go to school. I had very little to eat.  Actually, I was starving. While I was at school, my uncle's wife was preparing and feeding her children, cleaning all the plates, then sitting as if I didn't exist.  When I returned from school, I could never find anything to eat.
One year passed.  In the second year, I realized that I really was in danger of dying. It was then that I asked my mother to bring me something to eat when she came to visit me.
Thank goodness, there was a relative living nearby who knew my situation. He began coming secretly to me during the night to give me some food.  He told me to eat, to drink, and then to go to sleep. Thus, I survived.
In this same year, my mother was told, "You moved your son to help him, but the place you sent him was actually Hell.  This is what's happening to him. It would be better for him to quit his studies than to die."
After my mother understood how bad things really were, I was returned to my parents' home
One of my relatives was informed of these things.  He called his mother, my aunt, and told her, "I want you to look at this child.  He is intelligent, calm, sensible, and not a thief.  Let him come to me to study and keep the house in order."
Before my school re-entry, however, I had to answer some questions.
Did you have breakfast? I said yes.
Did you wash yourself? I said no
My relative showed me where to go and asked me to wash up. He asked me to dress well, put on my best clothes, my favorites. So, I got dressed.  When he saw me, he asked,  "Where are your good clothes?" I said, "They're right here!"
Then he asked me to forget all the bad things I had gone through.  He said, "You're a smart kid.  It would be best if you came with us, so you can avoid sorcerers and enemies.  If you study, you can become big and important in this country, and even in the world.  Get in the car."
I surprised myself when I said, "Oh, like this?"
It was then that I moved from our village to Mbuji-Mayi, the biggest town of Kasai-Oriental. I was taken to the Bipemba airport.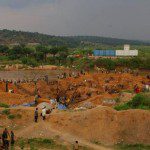 In the morning, I was introduced to my new houseold and all the other necessary things. And on September 2, I started the course at the Mombele Industrial Agricultural Institute. It was a Belgian school, part of a group of other Belgian schools. The director was Belgian, and the professors were mixed Belgian and Congolese.
I studied agronomy.

Because I was studying there, the uncles who had supported me soon became jealous, and resented me. The very ones who had helped me move to Kinshasa began to hate me. Why ? Because when you're smart, it's almost inevitable that people will make a big deal out of you. So, when they learned that I was actually very smart and that I excelled in my studies, they were unhappy.
One day, my big brother was talking to his wife.  She told him, "You did not study—and now your brother here is smarter than you!"
Enraged by these words,  he took out my clothes and all my files and he burned them. I could not get anything back.  I had several letters from Europe, from the United States, but nothing was recovered.
After that I cried for a week.
Soon, I was told to leave my new household. But paper is just paper.  Intelligence remains in the head.  Use your head.  Use your intelligence. God will give back what you wanted to accomplish, even if it's by putting it within the children you'll  have in the future. 
My uncle urged me to quit thinking about all that had happened, as (so he told me), I could risk my life by such stress.
Predictably, little by little, my studies also stopped. My brother and his wife told the school that I would no longer attend, because they would no longer pay my tuition.
As it happened, however, I met a Belgian girl who was studying at the Lycee Prince de Liège. (This is the high school with which we collaborated.)  She asked me why I was not going to class, and I explained. She then decided to support me so that I could study. "But," she told me, "if I help you to study here in Zaire, your big brothers will always have problems. They will be jealous. They'll harass you."
I asked myself,  where I will study? Should I go to Lubumbashi? I have no family there.
She said that Europe might accept me because of my intelligence—but I would have to pass a final examination in Belgium.
During the holidays, she went home. Then one day I received a letter, with the registration receipts for EIDE (International School of Expert Detectives), whose management is in Liège.
I was sent to the gallery of November 24th, where this school is represented in Kinshasa (Gombe) where I met Mr Atabakoutuba, the director.

He asked me , "You little kid, how do you even know about this school?"
I told him that I made my inscription directly at the level of Liège.
He said that since that was the case, there were no other problems, only the list of supplies I needed to purchase. He began the list. A uniform. A microscope. This and that.
I acquired some things and they helped me with others, and I started studying.
For the final examination, however, I had to be in Liège. And in order for me to go there, the presidency of the Republic, with Mobutu at the lead would necessarily be informed. They had to know why I wanted to go, what my aim was to study there.
The Presidency handed over the case to those charged with our care, because there were six of us. The one who was to supervise us was from western Kasai. In the meantime, the United States asked to be sent two Congolese who had finished with the EIDE.
As we did not know which of the six was going to be sent, we were waiting for the final exam. Soon after, the United States sent a message that, since we are few in number, if we all passed  the test, they would take us all.
We took the necessary steps and acquired passports, because it was the presidency that financed for our departure.  I continued getting my papers together, and was given various promises for my upcoming departure.
Someone called me one day to ask me why I was still here. I explained the reason
Then he revealed to me that my friends had already left.  It turned out that  the person in charge of our affairs had put his brother in my place.  I did not go; he did.
These are the difficulties I encountered in life, that have led me to where I am today.
I cannot say it's a bad luck.  Every man has a destiny for him from God. That's how I have endured.
I ended up giving up all these things. I was counseled take up my studies again, but I said no.  Regardless of which road I took, I would encounter only difficulties.  It would be better, I decided, if I prayed to God to reveal what he had planned for me to do.
So I was left without work and without a home. (After burning my files, my brother kicked me out of his house.)
I lived near friends, and it was there that I met the woman who became my wife.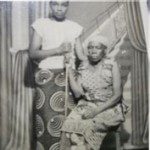 She has always been very supportive.  There were times when it was only because of her that I had food. Since there was a bit of money in her house, she brought me food.  I made it last two or three days. Another  big brother found me a job as a salesman at the art market, and I sold things with him. At that time the art market was at the central station, where a large building for the Saudis currently stands.
So that's how I started earning money in Kinshasa.