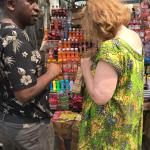 These are the kinds of people I look for when I want to do something good.  I want to support people who are genuinely selfless and skilled in lifting others up.  The two men (and their teams) which my team and I are working with currently are:

Abbe Veron Okavu in Lodja, DR-Congo.  He received a 60,000. euro prize for his brilliant dissertation back in 1997 and used it to build schools in his hometown, Lodja.  He was a professor at Lyon, France at the time but, after a devastating war in his area which left orphans, widows, and devastation, he returned from a life of luxury to a hard life in his native village.  As a priest, he is inundated daily by parishioners in need of his counsel and hoping for financial help as well, particularly when they have dying children.  (I have witnessed this.) Abbe Veron is the president of a private, multi-denominational university.  He is a man of faith and of lofty dreams.  Though he has little to work with, he envisions a campus which can train future doctors and engineers.  Currently, most students can't pay their tuition.  The dream, therefore, feels distant at times.  I have watched him stretch every penny and empty his own pockets to help his people.  He is one I plan on working with for the rest  of my life.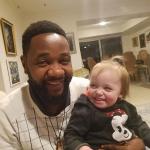 Tshoper Kabambi is the pioneer of film in the Congo.  I have written about his enormous challenges before–a filmmaker in a country without cinemas!  We took excellent film equipment to him last summer and he directed our film about reconciliation, called "Heart of Africa".  But humanity is every bit as much his passion as film.  He takes his team and visits orphanages, showing the desperately poor children how to make a movie and thus planting dreams in their minds.  He has a yearly film festival (think of how significant that is!) in which he trains people who want to make films–without charging them a cent.  I bless the day I met Tshoper in 2014 and am honored to work with him.
Our Christmas initiative is focused on sanitation and a cyber cafe in Lodja, but Congo Rising itself also supports cinema.   We believe that our stories, well told and well distributed, become a launching pad towards our "better angels."  Film will reach people who politics will neglect.
We rejoice in serving people who so selflessly serve others.