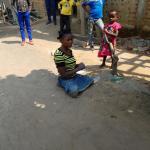 I am writing this in the master bedroom–a term distinctly first world. The idea of a bedroom with beds, let alone a MASTER bedroom (meaning that it's not the only one), would astound many if not most people in the world.
Many of us have felt drawn to the poor and homeless (particularly to the thousands of refugees at this time in our world history) as part of our religious life. As a Latter-day Saint (Christian), I have been intensely aware of the Savior's persistent injunction to serve and care for the poor, the orphans, the widows, the homeless. As have many religious Americans, I idealized the Good Samaritans I learned about, those who were doing good things all over the world. Eventually, I learned about "toxic charity"–hand-outs which actually cripple the needy rather than empowering them–and began studying ways to best uplift the downtrodden and also to recognize the simple joys of cultures unencumbered by excess–to learn from those I seek to serve.
The Christmas initiative for "Congo Rising" is based on the things I have learned in my years of seeking to do some good. Everything we do in our current initiative is calculated to help university students in the center of the Democratic Republic of Congo be trained in productive, sometimes life-saving entrepreneurships so that they can fund their education. Most of the students currently enrolled lack full tuition–$350./year. This means that they are prohibited from taking final exams. I have a list of what each owes, and most owe a significant portion of their tuition. But we don't want to simply divy out money. We want to tool the students to invest in themselves. We ourselves are being mentored by the Interweave system . Interweave will be one of the five charities I will be giving to on Giving Tuesday, Nov. 27th.
Why does God allow such inequality? Inequality results from tribalism (often leading to war), corruption, selfishness. I truly believe that we are intended to do something to resolve it. We are perpetually given choices of how we will use our gifts–monetary or other, such as the ability to see the good in others and open their eyes to their own glory; the ability to open access to others who have reached a stopping point; the ability to inspire with hope. Likewise, as we grow, we learn that nobody lacks gifts worth sharing. We were blessed, for example, by spontaneous music and dancing in the DR-Congo, by generous meals, by friendship. Gifts are best when they are EXCHANGED.
When I look for people or organizations which will get my donations, I look for catalysts. Who is making a difference in others' lives? Who or what organization is healing wounded populations and empowering them to step into a better tomorrow? Who is looking squarely into a future which is not reliant on American dollars or European euros (or pounds) but on the industry and skills of the people who are currently in need? These catalysts are the ones I give to. Gladly.
A description of our "Giving Tuesday" fundraiser is here .