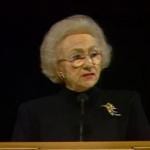 The funeral of Aileen Clyde was a time marker in the Church of Jesus Christ of Latter-day Saints, a tribute to the legacy of strong women and a hint of what's  on the horizon.
Pall bearers–male and female–wore yellow roses, and the opening prayer addressed "Our Heavenly Parents." On the stand were former Relief Society President Elaine Jack, current president Jean Bingham, and counselors Sharon Eubank and Rayna Aburto. Also in attendance was Elder Quenton Cook.
Aileen was praised as a woman who "lived in harmony with her beliefs" and who was one of many "influencers for good throughout the world." Anecdotes revealed her abiding interest in legal and social justice issues and her commitment to serve in whatever circumstances she found herself.
Aileen was born just seven years after Utah officially joined the nation in ratifying women's suffrage. (Utah had actually given women the right to vote in 1870, but it had been cancelled during the tumultous 1880s.) She would become an activist for women's rights and a powerful advocate for the most vulnerable populations.
An unassuming woman who, as historian Kathleen Flake attested, "had no tolerance for praise," Aileen addressed millions from the pulpit of the Latter-day Saint tabernacle in 1992, wearing a simple black suit and a brooch. "Long ago, Moses stood on a mountain and talked with God," she said in her first sermon as the second counselor in the General Relief Society presidency of the Church.
God showed him the world in which we all live. It was a rare vision—unlike any other I have seen recorded…The Lord taught him a most important and central truth. He said, "This is my work and my glory—to bring to pass the immortality and eternal life of man." And I would add every man and every woman. What a wonder, to Moses and to us, that we, who may feel as nothing when we compare ourselves to the vast universe, are in fact the reason for its creation and for the creation of the earth.

My whole hope in speaking to you about gospel knowledge of our individual importance to our Heavenly Father and our Savior is that it will build our confidence in our own ability to make good decisions that will help us grow spiritually. Some people want a strong authoritative voice to say, "Do this" or "Do that." Some want God to tell them exactly what to do before they risk anything.
Aileen Clyde was willing to risk comfort for truth–even when her opinions were not those of her church leaders, such as in the priesthood restriction.  She stated that in the Relief Society presidency, they would not describe an ideal Mormon woman, but would proclaim Christ as the model, and would seek the courage to act on hard-won convictions.
Among her own hard-won convictions was opposition to the Viet Nam war. She was appalled when Vice President Spiro Agnew gave a speech in 1969, categorizing war protestors as as representatives of a generation gap: "The lessons of the past are ignored and obliterated in a contemporary antagonism known as 'The Generation Gap.' A spirit of national masochism prevails, encouraged by an effete corps of impudent snobs who characterize themselves as intellectuals."

Aileen, being more in favor of bridges than gaps, soon had a bumper sticker on her car: "Another effete intellectual snob for peace."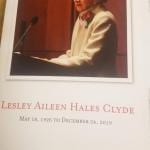 Tributes praised her boldness. She did not hesitate to ask hard questions and to insist on answers. Indeed, her son suggested, she exemplified Milton's words in Aeropagetica: "I cannot praise a fugitive and cloistered virtue, unexercised and unbreathed, that never sallies out and sees her adversary, but slinks out of the race where that immortal garland is to be run for, not without dust and heat."
Aileen Clyde understood the value and the price of the "immortal garland." She insisted on being taken seriously in all she did. She believed deeply in the theme of the Relief Society: "Charity never faileth." She also believed that resistance to hard issues is not in vain, and that there will always be possibilities.
Her life was a testament to each of those core beliefs.
Her official obituary follows.
Lesley Aileen Hales Clyde died December 24, 2019, after battling metastatic breast cancer. Aileen was born in Springville, Utah, May 18, 1926 to G. Ray and Minnie Lesley Grooms Hales.
Aileen attended grade school in Spanish Fork before moving back to Springville where she attended Junior High School and graduated Springville High School in 1944, where she was the Utah State Champion extemporaneous speaker. Aileen attended BYU, graduating with a Bachelor of Arts in English with high honors. Hal Mendenhall Clyde was also a member of the Springville High class of 1944, and after he was honorably discharged from the Navy, they were married in the Salt Lake Temple on September 2, 1947. Aileen and Hal had three sons, Hal Michael, Kevin Edward, and Jon Courtney. After Courtney was born, Aileen was asked to teach freshman English at BYU, and what started as a one semester assignment became a 10-year career.
Aileen always had an abiding interest in legal and social justice issues. She was an early and vocal advocate for the Equal Rights Amendment at a time when that view was deeply unpopular among her peers. In 1986 she was appointed to chair the Utah Task Force on Gender and Justice, which spent four years examining the nature, extent, and consequences of gender bias as it might exist within the Utah court system. Their report, published in March 1990, confirmed systemic gender bias in Utah courts. The report found just over 7 percent of the 90 state court-of-record judges in Utah were female, that women had unequal access to the courts, were unfairly treated in divorce actions, that sexist stereotypes of women and female lawyers permeated Utah's judicial system, and that most of those "who engage in gender-biased conduct have no idea that they are giving offense or making decisions based on anything other than sound, unbiased reasoning." The report went into a second printing in 1992 and remains one of the court system's most requested publications. Aileen also chaired the Utah Commission on Juvenile and Criminal Justice and was a founding member of the Utah Women's Forum.
As a young woman, Aileen served as a Ward Relief Society President, and she always was committed to that organization. In 1990, President Gordon B. Hinkley called her as the second counsellor in the General Relief Society Presidency of The Church of Jesus Christ of Latter-day Saints where she served with Elaine Jack and Chieko Okazaki until 1997. She also served on the Young Women's' General Board.
Aileen was a member of the Utah State Board of Regents from 1989 to 2001, and she was vice-chair for six of those years. She also served on the Western Interstate Commission for Higher Education and as a member of the Board of Trustees of the University of Utah Hospitals and Clinics. Aileen is the past chair of the Coalition for Utah's Future, she was a special advisor to Envision Utah, and a member of the Utah Citizen's Council. Aileen was also a member of the Board of non-profits that shared her interests, including the Utah Symphony and Opera and the Utah Board of the Nature Conservancy.
The Aileen H. Clyde 20th Century Women's Legacy Archive was established in her honor at the University of Utah to document and preserve the history of women whose lives and work helped create social and cultural change.
Aileen received numerous awards for her public service. She was awarded the Amicus Curiae (Friend of the Courts) Award by the Utah Judicial Conference for uncommon commitment to the Judiciary's goal of equal justice for all. The American Judicature Society awarded Aileen the Herbert Harley distinction for the promotion of the effective administration of justice. In 2000 she was awarded an honorary doctor of humanities degree from Southern Utah University. In 2018 the Mormon Women for Ethical Government honored Aileen as the year's "Woman of Valor" for her contributions to the community and social justice efforts.