I received this from Cort McMurray in August, 2020–a year before his untimely death.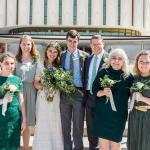 He asked me to keep it private (it's a sacred experience), but I think I should share it now.
From Cort: "I have debated sharing this with you all day today. I ask that you kind of keep it between us, because it's something I don't talk about very much. This is going to be a little long. I had a lot of problems with the construction of the Conference Center. It seemed hubristic, and unnecessary, and something that most members of the church would never visit. President Hinckley said that the Conference Center stood, "even as a Temple." I thought that was hubristic, too. I love President Hinckley, but goodness! The man was given to hubris. Several months after the dedication, I had a profoundly vivid dream. In it, I was dressed in temple clothes, sitting with thousands of other people in the conference center, or at least a large room very much like the conference center. I was called to stand before the veil that ran the width of the stage. One by one, people from the congregation were called to stand with me. An officiator called us each by name, and we embraced. I don't recall the nature of the embrace, just that we were standing in very close proximity to one another. It turns out that every person in that room with someone I have had contact with during my mortal life. As we embraced, I was able to feel every hurt, every offense, every difficulty I had caused the other person, to feel them as they felt them. And they could feel the hurt that They had caused me. There was this overwhelming sense that we had to choose: did we forgive the offenses, or could we not let them go? Every time, my heart filled with love and Grace, and I said "I frankly forgive all." And at that moment when the two hearts with filled with forgiveness, the Savior appeared – I cannot tell you what He looks like, but I know I saw Him, there was no doubt – and He wrapped His arms around the two of us, and said "It is well." Some of these invoices were very short, because the relationships were very casual. The problems were resolved almost instantly. The embrace with my wife felt like it lasted for decades, and I felt incredible joy and indescribable pain, realizing that I had hurt her in ways that I'd never realized. Same with my kids. I will tell you it was the same with my parents and my siblings, but I don't remember them from the dream. I woke up feeling an exhilaration and a joy and a sadness and a desire to be better, like I have never felt before. I do not doubt, not for a second, that everything needs to be resolved. Every hurt has to be healed. Every wrong has to be resolved. And none of it can happen without the Savior.