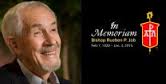 In the fall of 2013 when I was installed as the first holder of the Rueben P. Job Chair in Spiritual Formation at Garrett-Evangelical, I understood well that I was not only assuming responsibilities for my students, but that I was shouldering the on-going work of the man whose name graced the chair that I hold.  His prayerful, measured, and visionary leadership stretched across six decades, touching people in the Dakotas, the Armed Forces in Europe, and Iowa.  His work on behalf of the United Methodist Church and his prolific work as a writer extended his influence far beyond that.  He wrote over 20 books in his lifetime, one of which sold over 300,000 copies.
To know him was to experience a man whose life was deeply grounded in the conviction that the Christian life demanded "radical trust in God's presence, power, wisdom, and guidance."  That conviction, which he so clearly articulated in his book, Three Simple Rules, powerfully shaped the way that he lived and ministered to the needs of others.  While he can be rightly credited with revitalizing a commitment to the spiritual life among United Methodists, he was also a leader, who engaged and confronted the challenges facing his church and the larger Christian family.
What some people might not know is that this gentle man of deep spiritual strength also labored for many of the closing years of his life with the constraints of a failing, physical heart.  Burdens of that kind have a way of eroding our ability to die as we have lived, but that was not the case.  We continued to correspond over the last few months while he was in hospice care.  In his last message, he wrote: "All is well here. Living or dying, God's grace is enough."
In a world that is anxious to minimize pain and escape discomfort, Rueben's witness is an important one.  Debates about dying with dignity, managing pain, and the right to end our lives have distracted us from the far more important and inescapable question: How do we die as people of faith?
For Christians the answer to that question lies in facing the end of life with a deep confidence in God's trustworthiness and in the hope of the Resurrection.  One of my colleagues, Timothy Eberhart, brought these words by Bishop Job to my attention.  They reflect the same deep confidence that continued to shape Rueben's life in the final weeks of his life:
We usually rode a horse to school, as did the other children who attended. The barn on the school ground was filled with hay every fall and our horses were inside eating while we were in school. Of course, we had no ponies, only plow horses, so in the springtime when my father and, later, my older brother needed the horses in the field, my brother next to me in age and I walked to and from school.

School was dismissed at four in the afternoon and I would walk the short way home, unless there was too much water from melting snow, in which case I would follow the road. But either way, I would approach our farmstead from a small hill. When I got to the top of the hill, I could see our house about three blocks away.

I would begin running down that hill, unbuttoning my jacket, and, if it was warm, my shirt. Bursting into the kitchen, I would always find it filled with the aroma of fresh bread or cookies prepared by my mother, just waiting for my arrival.

I loved school, the excitement of learning, and the fun of being with other children, but there was no place like home and the loving welcome for me there. So I ran the last few blocks, slipping off my 'school clothes' in preparation for putting on my 'home clothes.'

One day you will hear Reuben has died. Let there be no sorrow, but instead celebration as you remind each other, 'He just slipped out of his school clothes and put on his home clothes. He is at home now' (2 Cor. 4:16-18).
My life on our [North Dakota] family farm was good. We were incredibly poor, but so was everyone else. I wore my brother's hand-me-down shoes, shirts, and pants as did everyone else who had an older brother. We had no nearby neighbors and seldom saw other children, so school was a wonderful experience. The school was two and a half miles away if we followed the best road, though a much shorter walk if we cut across the fields.
– from Life Stories by Bishop Rueben P. Job, born Feb. 7, 1928, died Jan. 3, 2015, Requiescat in pace