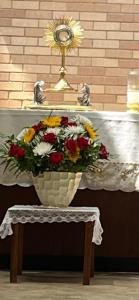 5 Benefits: Increased Calm, Trust, Patience, Selfless Love and a Better Attitude
"In that little Host is the solution to all the problems of the world." Pope Saint John Paul II
There are so many ways to commune with God. Some find Him in nature, other's find Him in a baby's smile, and still others find Him in beautiful, moving music. But in the Communion Host is a concentrated Jesus. "More Jesus", if you will.
To receive Communion is to put Jesus inside. To sit in the presence of the Exposed Host is to be in Jesus' "living room" having a conversation. There have been miracles in various parts of the world from Communion having blood on it- type AB, always. There have also been scientists who have studied heart tissue which appeared on the little round disc. What was concluded was that the blood and tissue were living. https://catholicworldmission.org/amazing-eucharistic-miracles/#:~:text=Zbigniew%20Kiernikowski%20picked%20up%20a,tissue%20from%20a%20human%20heart.Jesus wants to be present with us right here and right now.
I am an anxious person. I am always in a hurry, sometimes so much that I drop and break things or injure myself. I also repeatedly machinate about events –did I say the right thing? Did I inadvertently hurt someone's feelings? These are good questions to ask ourselves, but taken to an extreme, they can be excruciating. When I take a mere 15 minutes to visit Jesus in His Eucharist, I have zero anxiety. I have complete calm, serenity, and a deep knowing that God has me. "Be still, and know that I am God…" Psalm 46:10   https://www.biblestudytools.com/inspirations/psalm-4610-be-still-and-know.html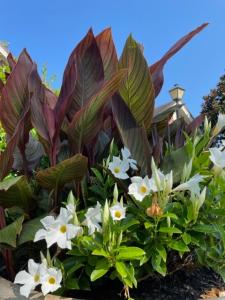 The second benefit to attending Eucharistic Adoration is an increase in Trust. I struggle with this mightily. Being a control freak, it is hard to relinquish an outcome to God.  I forget that my Creator knows better than I do! Sitting in the chapel in front of Jesus reminds me to listen to His "still, small voice."
We all know this world is noisy. We are bombarded every single second with marketing (I received 20 spam calls yesterday), traffic, (I was forced out of my lane by someone texting. I bumped up onto the curb and popped my tire). For 15 minutes in front of our Lord, none of this flotsam and jetsam matters. My eyes are on Him, and He wants to outpour His love to me, no matter what poop-in-the-fan I endure!
The third benefit of Exposition of the Eucharist is Patience. I have been married 34 years. It is so easy to get into a bickerfest with my spouse. We almost went at it yesterday, but after our hanging out time with Jesus, instead I hugged him, saying, "I just care about you. Okay?" The warming up to an argument just fizzled out. We were instantly good, and continued our day without strife. Praise you, Jesus!
The fourth benefit of this potent Jesus excursion is Selfless Love. My hubby absolutely gets ecstatic about camping. https://blog.campingworld.com/learn-to-rv/3-tips-for-camping-in-a-small-travel-trailer/Me, not so much. But the Lord showed me my husband's raw delight when we were getting our little camper ready for a trip, and I just got such a kick out of seeing him like a little boy on Christmas. God is overjoyed to show us things we would not normally see, in the daily grind of daily life.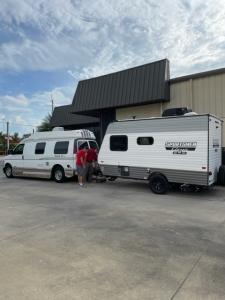 Finally, the fifth benefit of this robust time spent in the presence of our God, is a better attitude. Oh do I ever struggle with this one! Since I am always in a rush, I'm constantly running around frenetically, attempting to get a million things accomplished in one day. And if I don't, I get really mad. I say a lot of F-bombs (luckily, only when I'm alone), when things don't go my way. I really must clean up my mouth! Working on this one. Lately I've been trying to pause, breathe, https://www.arielgroup.com/pause-breathe-relax-even-for-just-a-moment/and know that everything will get done, because God knows I'm doing my best. How important is it, to accomplish everything in 24 hours? It truly doesn't matter one iota.
After my undivided time with Jesus yesterday, I didn't care how many things I crossed off my to-do list. I simply could not have cared less. This is a new feeling for me! I embraced it! Thanks be to God!!!
Leave the World Outside and Come to Jesus
It is almost surreal to be with a group of people all sitting with tranquility in a little chapel, leaving the chaotic world outside. The composure descends upon all of us. We have our problems and we sense that the Lord is helping with all of them. He has time for each and every one of us, from the tiny issues to the big, scary, honking ones. He is aware of it all, and is extending a waterfall of grace to all of us, in all our need.
I highly recommend visiting a nearby chapel and sitting with Jesus our brother in His Most Blessed Sacrament. Begin with 5 minutes. You will never, ever regret it.
"Come to me, all you who are weary and burdened, and I will give you rest." Matt. 11:28 (NIV)