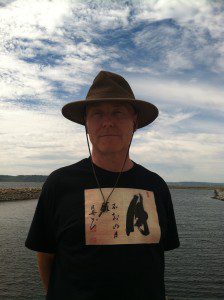 "The future's uncertain and the end is always near," a line from the Door's "Roadhouse Blues," has been on my mind these past days.
My little brother, you see, went into the hospital last week having trouble breathing and a couple days later found out that he has multiple myeloma, a blood cancer.
Driving to work the morning after I found out, I played the Doors – really loud – working through the anger stage, I suppose.
"The end is always near."
We all know it's true. Of course. Of course.
And yet when someone near and dear – or our little old self – gets sick (or I suspect, dies) that's a different kind of knowing.
For me, unable to sleep one night, "the end is always near" cracked open grief, and fear, and then while washing my hands, cold water bursting from the spout, the deep, ineffable beauty of this simple life of vast and vivid sense fields made it all okay … for a while.
Reading Dogen's "Birth and Death" in the wee hours, I found some similar solace. "In life there is nothing but life. In death there is nothing but death. Accordingly, when life comes, face and actualize life. When death comes, face and actualize death. Do not avoid or desire them."
In this dream life (see dream calligraphy on the guys t-shirt by Zen ancestor Gesshu Soko), that's easy to say and understand.
Hard to actualize with continuity.
So let it roll, baby, roll, all night long.