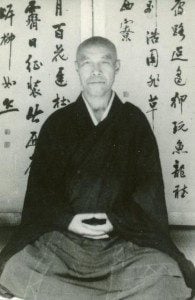 The friendly-looking monk in the photo is Hashimoto Eko Roshi (1890-1965).
In about 1948, the young Katagiri Roshi heard Hashimoto Roshi say, "Sit down, become Buddha."
Katagiri, then a new monk at Eiheiji, previously a failure in kamikaze school (he couldn't get the training glider to fly straight toward the target) and a champion marathon runner, soon participated in his first Rohatsu sesshin. He determined to sit in full lotus no matter what, and even when he passed out and was dragged out of the zendo and thrown into the snow, he came to, and came back into the zendo, pulling his legs into full lotus.
Many years later, Katagiri Roshi reported how "Sit down, become Buddha," had penetrated his heart and motivated him to throw himself into zazen wholeheartedly. Like really wholeheartedly, sitting down, becoming Buddha.
Hashimoto Roshi was one of the most important 20th Century Soto Zen teachers, and part of the Dogen revival movement that included Sawaki Kodo Roshi (branching into the Uchiyama and Deshimaru lines) and Kishizaza Ian Roshi (Suzuki Roshi's dharma teacher).
Hashimoto Roshi was also a clear voice in the zazen-as-a-koan-free zone interpretation of Dogen's teaching.
One of the themes that I've been working through in this blog for the last few years is that both just-sitting and koan introspection Zen are really about the same fundamental point and that the differences between the two approaches are often overstated for Japanese sectarian purposes that can now be released as Zen enters the global arena. I've argued, for example, that for Dogen, koan introspection and just-sitting were one and the same practice, that the version of just-sitting advocated by the narrative of the post-Meiji Soto orthodoxy often lacks wisdom teeth, and that verifying the truth of the buddhadharma for oneself (aka, kensho or satori) is vitally important.
In this post, I look at the sayings of three central figures in the post-Meiji Soto orthodoxy, Hashimoto Roshi, Sawaki Roshi, and Bokusan Roshi. I'll suggest that these old teachers used koan and advocated for kensho while saying that they didn't. In other words, the difference between their just-sitting approach and koan introspection was largely semantic and a question of emphasis.
First, Hashimoto Roshi's statement, "Sit down, become Buddha," is a fine example of a koan and Katagiri Roshi's approach to it, embodying it fully, is a fine (and, yes, zealous) example of how to be the koan.
Some American apologists for the post-Meiji Soto orthodoxy insist that teachers like Katagiri Roshi and Hashimoto Roshi didn't use koans in their teaching or claim, "Of course, there are koans in Soto Zen, but just not in zazen."
"Sit down, become Buddha," however, was intended for zazen. Hashimoto Roshi strongly encouraged the monks at Eiheiji to "sit down" in zazen and "become Buddha" on the cushion. Katagiri Roshi followed his instruction and focussed his zazen to this very practice of enlightenment.
I wonder what Hashimoto Roshi thought a koan was if "Sit down, become Buddha" wasn't one for him. It's curious how a great teacher like Hashimoto Roshi might have started out with the premise, "We don't do koans," but then taught a koan for the practice of just sitting – exactly what Dogen did, by the way (e.g., used koan to teach just sitting).
Second, Sawaki Kodo Roshi (1880-1965) in his recent Commentary of the Song of Awakening, writes, "When zazen is strong, suddenly at one stroke you realize the zen of the Buddha. That is to say, you grasp that you are Buddha."
This example compliments the "Sit down, become Buddha" koan of Hashimoto Roshi and the similarity between what both of these masters' sayings and Matsu's koan "This very mind is Buddha" (Gateless Barrier, Case 30) is striking. Sawaki Roshi's utterance, however, more clearly emphasizes a particular quality of zazen, strong sitting, that brings forth the identity of practitioner and Buddha: "You grasp that you are Buddha."
In the koan-introspection tradition, the experience Sawaki Roshi encourages might be regarded as kensho, and could provide the basis for successive koan training while also illuminating what just-sitting is really about.
My third example of relatively recent Soto masters using a koan while saying they didn't comes from Nishiari Bokusan Roshi (1821-1910). In his commentary on Dogen's
Genjokoan
he says this:
"When the old teachers presented their essential teaching, they each had one phrase that none of their predecessors had chosen, and on which they based their teaching. With this phrase they penetrated a whole lifetime. Teachers in the past did not have two phrases. Therefore, that one phrase expressed their Dharmakaya [i.e., "truth body']. For example, the "One Bright Jewel" of Xuansha, the "Cypress Tree" of Zhaozou, and "This very mind is Buddha" of Mazu are all words of iron never spoken by anyone before. With one phrase they thrust forward the suchness of the cosmos, and set in motion the same wheel of dharma as the Buddha. The same thing can be said of Dogen. He sees straight through the world of the ten directions as Genjokoan, which are his words of iron. When this phrase is cracked, the ninety-five fascicles appear here and there as branches of it. For that reason, the lifetime teaching of Dogen is all in the one phrase, Genjokoan."
When one phrase is cracked, the truth body of Dogen and all the fascicles of the Shobogenzo are cracked. Crack one, crack all. Cut one, cut all. The resonance with what he's saying here and the koan reformer Dahui's punchline method, taking up a keyword like the mu koan and breaking through (kensho-ing), is unmistakable.  Punchlines would also be "One Bright Jewel," any of Bokusan's other examples, or, according to Bokusan, Dogen's Genjokoan. Clearly, Bokusan draws an exact comparison between the koans of the great masters and Dogen's Genjokoan.
A proponent of the post-Meiji Soto Orthodoxy, though, might again protest, "Yeah, but Bokusan certainly doesn't say to sit with Genjokoan in zazen."
Perhaps not, but Bokusan does give very mu-like koan instructions for working Genjokoan, "Then what in the world is 'Genjokoan'? First of all, you should get it right down in your hara. This cannot be done solely by thinking."
Sounds an awful lot like the instructions for sitting zazen with mu.
And yet, in the same work, Bokusan derides koan introspection:
"When you do zazen, you should become zazen thoroughly. There is no need to bring in the koans. If you work on koans during zazen, the koan becomes the master and zazen becomes the attendant. Thus zazen is no longer zazen. To abide at ease in steadfast non-thinking is the bull's-eye of zazen. Other schools aside, the dharma descendants of Dogen Zenji should study Dogen Zenji's Buddha dharma."
To think that in koan introspection, the koan is the master and zazen is the attendant, is a profound misunderstanding of koan introspection.
Hashimoto Roshi, Sawaki Roshi, and Bokusan Roshi, great teachers though they were, may not have realized that what they were teaching and koan introspection were one and the same, nor that there descriptions of really sitting or really genjokoan-ing could also be called "kensho-ing." The main difference between their teachings cited here and the koan introspection narrative lies in how in koan introspection a process is offered for unfolding an initial realization. That just-sitting Zen, and none of these teachers, as far as I know, offers such thing, in my view, is not something to boast about.
Nevertheless, in terms of koan and kensho, if it looks like a duck and quacks like a duck, I'd say, it's a duck.
Katagiri Roshi thought that now was the time, and that the West might be the place, to return to the Zen of the 6th Ancestor, before the split into the Rinzai and Soto lineages. I agree. Let's move beyond sectarian posturing in our global dharma dialogue, celebrate our commonalities, and support each other in this great work.