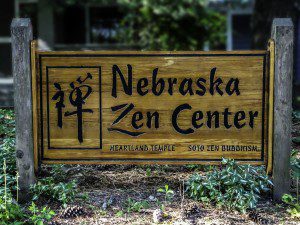 Dear Reader,
Today I'd like to bring you up to date on my wild fox rovings.
A couple years ago, Tetsugan and I left Minnesota and moved to Portland, ME, to start a Zen group, Great Tides Zen.
Portland, ME, a lovely old town on the Atlantic's Casco Bay with about 66,000 folks, is the progressive heart of Maine. There are a number of dharma groups in the immediate area but no Zen teachers. Just a couple hours from the Boston metro, it seemed like a good place to give our vision for a Zen training center a whirl.
During our first year here, we rented time at a yoga studio housed in an old warehouse right on one of the still-active wharfs, especially with lobstermen. We'd often be going to zazen at 5:30am, just as they where preparing their boats for the day's work. Very cool. And like the lobstermen, sometimes quite lonely. Still the group grew slowly and because we wanted to offer more zazen and more programming than the shared space would allow, we did some fundraising and were able to convert a leased space in a large office building into a zendo. That's where we've been practicing this past year.
And it has been good. The community has practiced in harmony, we've begun the process of establishing working teacher-student relationships, and a really nice group of people has been settling into zazen, study, and engagement as well.
Then in February, the Nebraska Zen Center (NZC) board contacted me to consult about transition issues. Over the next couple of months, the conversation shifted to the possibility of me becoming the abbot at NZC.
Of course, this has not been an easy decision. Tetsugan and I value the connections we've made in Portland, ME. That said, NZC is a long-established group, started by Katagiri Roshi in 1975. Nonin Chowaney has been the teacher since 1991, but he is no longer able to continue as abbot due to health issues.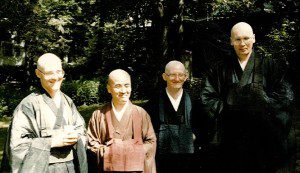 Nonin and I have been friends for about 35 years and were ordained as Soto Zen priests by Katagiri Roshi on the same day back in 1984. In the photo above, Nonin is on the far right, I'm on the far left, with Katagiri Roshi and Dokai between us. Nonin was quite tall back then, but is also uphill from us. He never stood at seven feet!
Anyway, NZC owns a building with a zendo that seats about thirty and has space for residents. When the offer came up, I felt a surprisingly strong draw of lineage loyalty to do what I can to see that it continues.
The question that Tetsugan and I have relied on throughout this decision-making process is this: where and how can we best serve the buddhadharma? This is the primary practice for a Zen priest, not necessarily serving a certain group of people. As in the old koan with a couple Ch'an greats:
Yunyan asked Baizhang, "Every day there is hard work to do. Who do you do it for, master?"
Baizhang replied, "For the one who requires it."
Yunyan replied, "Why don't you let her do it herself."
Baizhang replied, "She has no tools."
In Omaha, we will have a facility for offering daily practice as well as sesshin and residential training. We hope that students from Portland, our Vine of Obstacles students who live near and far, as well as people in the area will come and practice with us. Then together we can serve the one who requires it, the one who has no tools, no artifices, and no contrivances.
When it became clear that an offer was probably going to be coming from NZC, I dreamed that I was in a zendo again with Katagiri Roshi. It seemed to be just after morning zazen and Roshi was fluffing his zafu. I stood waiting for him with the question about what to do in the back of my mind. Suddenly, he stopped fluffling and looked over at me. "Go," he said.
We are sad about leaving, and yet we are excited about the possibilities for more fully implementing our vision for Zen training in Omaha.
Tetsugan and my talks from our Great Tides Zen period will remain on the Great Tides Zen podcast site here and once we get rolling in Omaha, we'll start a Nebraska Zen Center podcast.
I'll be posting updates here from time to time. You can also follow what we're up to in Nebraska at Facebook's public group site for NZC. Please click here go to Facebook to like us.
Thank you,
Dosho