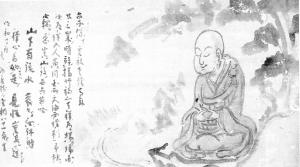 In my last post, I shared a bit of the criticism that Hakuin (1686 – 1768) heaped on the silent illuminationists of his day, generally some practitioners in the Sōtō school. That lead me to reflecting on what Hakuin might have said about today's practitioners of kōan introspection.
First, it's important to note that phrases like "kōan introspection" and "Sōtō Zen" are general categories and there is more difference within groups than between groups. That said, one of the ways that practitioners vary within the broad field of kōan introspection is how fierce or how friendly we approach the work.
Hakuin seems to come down strongly on the fierce side of these foci. Here is a common admonition from Hakuin for how to approach a kōan:
"…You must arouse a spirit of fierce, burning determination and bore continuously in throughout the twenty-four hours of the day. Bore in no matter what you are doing, bore deeper and deeper until you completely exhaust all your resources and run completely out of words (1)."
Indeed, in the Complete Poison Blossoms from a Thicket of Thorn (CPB), Hakuin uses the word "bore" sixty-two times, almost all in context of how to work with a kōan. "Fierce," "burning determination," "run completely out of words." Hakuin also likens kōan to poison blossoms, thickets of thorn, barriers, and an enemy. He likens the process of kōan introspection to something to "… attack … from the sides, attack … from the front and from the rear, keep gnawing away…, gnawing, gnawing, until there is no place left to gnaw (2)."
How do Zen teachers today approach kōan introspection? One notable and creative example are teachers John Tarrant Roshi, Megan Rundel Sensei, and others of the Pacific Zen Institute. They seem to encourage (among other things) seeing the kōan like a friend or a good dog that might follow you around. You can hear more about this perspective here in a fascinating Q&A that Megan Rundel Sensei led at a non-kōan Sōtō group.
So the contrast between the language used for fierce (bore, attack, gnaw) or friendly (good dog, friend) kōan introspection is striking. What is the right way to approach a kōan?
In my view, there isn't one right way. However, for most people working with a first kōan, a strong quality of fierceness will be necessary to break through (more about breakthrough, aka, "kenshō" his this talk – Awakening Irrepressible Joy) or the practitioner will waste valuable time spinning in their default setting. And yet, there also isn't one right way fierceness presents – a twenty-five-year old's fierce practice will probably look very different from a seventy-five-year old's.
Even for Hakuin, there seems to have been much more nuance than his fierce words indicate. In his above self-portrait as a young monk (3), for example, the inscription presents how Hakuin thinks others see his fierceness:
Within the zazen hall
I am hated by thousands of Buddhas;
In the company of myriad demons
I crush those who practice false Zen
An annihilate those blind monks who can't penetrate Mu.
This evil worn-out old shavepate
Adds one more layer of ugliness to ugliness.
These rough words are juxtaposed by the image of a smiling, radiant, gentle, even friendly image of himself as a young monk in samadhi. And within the words themselves, Hakuin's self-description can be seen as friendly poking – for example, "evil worn-out shavepate" – at the very least, showing a sense of humor about himself and his fierceness.
The painting itself also has a friendly history. "As a monk," writes Seo, "he had been accused of fathering a child with the daughter of an oil merchant. Although the charges were unfounded, Hakuin took responsibility for the child until the true father spoke up some time later. The child is said to have later become the monk Sōrei, who entered the temple Ryūshō-ji in Iida the year this painting was done. This painting is believed to have been a gift from Hakuin to Sōrei as he entered the temple."
Ferocious, friendly or something else, what quality of energy do you bring to the practice? Caution: If you only bring your default energy, your habitual way of approaching your life, you may well be sleep walking.
(1) Complete Poison Blossoms from a Thicket of Thorn, trs. Norman Waddell, "8. Ascending the Teaching Seat on the Ninth Day."
(2) Ibid., "187. To Layman Isshii."
(3) The Sound of One Hand: Painting & Calligraphy by Zen Master Hakuin, Audrey Yoshiko Seo & Stephen Addiss, p. 42.
________________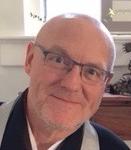 Dōshō Port began practicing Zen in 1977 and now co-teaches at the Nebraska Zen Center with his wife, Tetsugan Zummach Osho. Dōshō also teaches with the Vine of Obstacles: Online Support for Zen Training, an internet-based Zen community. Dōshō received dharma transmission from Dainin Katagiri Rōshi and inka shomei from James Myōun Ford Rōshi in the Harada-Yasutani lineage. He is the author of Keep Me In Your Heart a While: The Haunting Zen of Dainin Katagiri.