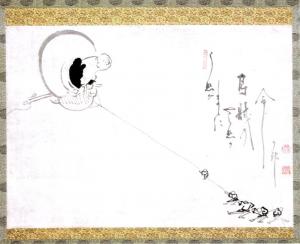 Hakuin's painting, poetry, and Zen teaching were fused in a light-hearted and profound display. See the above image, for example (1). And in my opinion, it isn't possible to fully appreciate one dimension of his dynamic expression without the others. Often in his art, there is an intricate and overlapping play within and between these three aspects. It is great fun to enter the painting and dig out the meanings.
In this post, I'll be looking at these three dimensions through this example.
Over on the top left is Bùdài, also known as Hotei, the fat and happy one that populates Chinese restaurants in the US. Bùdài/Hotei may be based on a historical figure who always carried a hemp sack in which, according to The Record of Empty Hall, he carried "…his alms bowl, basin, clogs, fish, rice, vegetables, meat, roof tiles, and bricks" (2) – a Buddhist cornucopia with the whole world coming and going.
The characters for Bùdài/Hotei mean "hemp sack" so the person and the sack are not two. Also, in Chinese, Bùdài sounds like "great buddha," but wait – he's really a hemp sack. Or is he really great buddha?
Among other themes, like mice doing sumo, Hakuin liked to paint images of kites and also images of Hotei. In this painting he presents them together. Hakuin has the hemp sack as a kite, or perhaps the hemp sack is emerging from the kite, with Bùdài/Hotei emerging from the hemp sack. So not only are things of the world emerging from this hemp sack but so is Bùdài/Hotei (and we too). So another level of play here is about who's who and what's what.
On the bottom right we see several figures hanging on to the kite's string and in the front is another figure, perhaps the person who thinks he's doing such a wonderful, great-buddha job of flying the kite. Behind the kite-flying person, though, is a string of kite fliers, representing our sangha and ancestors, who are doing a good part of the work.
We recently discussed this image on the Vine of Obstacles: Online Support for Zen Training and these fine kite-flying practitioners had some lofty interpretations that I'll borrow from here. One point is how flying a kite is like practice – it's a skill that's dependent on the ephemeral conditions. An annotation in Complete Poison Blossoms from a Thicket of Thorn for another of Hakuin's verses about kite flying says, "It's that great skill which allows us to walk with the legs we have and holding with the hands we have (3)."
A Viner noted, "Flying kite acrobatics are very nice, but to be reborn to the wonder of just putting one foot in front of the other – a great miracle."
Another noted that kite flying here as a metaphor for Zen practice seems to be about transcendence, getting way up high and dancing like Hotei, and yet there is this little matter of the kite string tethered through practitioners to the earth, much like the buffalo that passes through the latticed window but their tail just can't come through (4). The transcendence of transcendence, said yet another Viner.
The verse on the upper right with distinctively kite-like ideographs says:
You can't just do
anything you want
– it's a kite's life (5)
Buffeted by the same wind that holds us up and throws us down, the buddha, the hemp sack, all living beings, you and I – dance for just a brief moment as ordinary and holy, as transcendent and immanent, as deadly-serious and oh-golly-this-is-fun. And all so interconnected that as far as who's who and what's what, it just isn't an idea.
This kite's life – what a great show!
---
(1) The Sound of One Hand: Paintings & Calligraphy by Zen Master Hakuin, Audrey Yoshiko Seo & Stephen Addiss, p. 214.
(2) The Record of Empty Hall, Case 10, by Xutang Zhiyu 虛堂知愚 (Empty Hall Wisdom Stupid), translated by the author.
(3) The Complete Poison Blossoms in a Thicket of Thorn, trs., Norman Waddell, #419.
(4) Chan School No Gate Barrier (Wúménguān), CASE 38: A Water Buffalo Passes Through a Latticed Window, translation by the author: "Wǔzǔ said, 'For example, a water buffalo passes through a latticed window. Head, horns, and four hoofs all cross through. Why can't the tail pass through?'"
(5) Seo and Addiss, p. 213 (modified).
---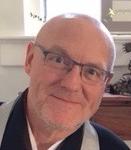 Dōshō Port began practicing Zen in 1977 and now co-teaches at the Nebraska Zen Center with his wife, Tetsugan Zummach Osho. Dōshō also teaches with the Vine of Obstacles: Online Support for Zen Training, an internet-based Zen community. Dōshō received dharma transmission from Dainin Katagiri Rōshi and inka shōmei from James Myōun Ford Rōshi in the Harada-Yasutani lineage. He is the author of Keep Me In Your Heart a While: The Haunting Zen of Dainin Katagiri.