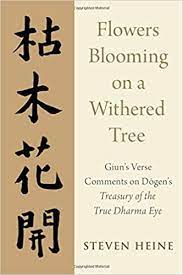 Steven Heine's recent book (September, 2020), Flowers Blooming on a Withered Tree: Giun's Verse Comments on Dōgen's Treasury of the True Dharma Eye, is an enormous contribution to the study and practice of the buddhadharma, particularly for those who resonate with the tradition of Dōgen. Although there are several English translations of most Shōbōgenzō (aka, Treasury of the True Dharma Eye) fascicles, little of the Sōtō tradition's rich and vital commentarial literature has yet been translated. Heine's work begins to address this gap with one of the most important pieces – Giun's Verse Comments. Another Shōbōgenzō commentary from the early period is the Goshō, or Prose Comments, by Senne and Kyōgō. Heine offers a section in this work that addresses the differences between these two commentaries.
In this post, I'll give some background on Giun, a sample of his Verse Comments, and provide a summary of the rich supplementary material Heine provides in this volume.
Who was Giun?
Giun 義雲 (1253–1333) was born in Kyoto the same year Dōgen died. He may have been ordained by Kōun Ejō (1198–1280), one of Dōgen's few successors. Giun worked with Ejō in editing at least several fascicles of the Shōbōgenzō, and then trained with Jakuen (1207–1299, Chinese, Jiyuan) at Hōkyōji and eventually received dharma transmission from him.
Jakuen was an unusual figure in Dōgen's crew of disciples. A Chinese monk who had probably met Dōgen at Tiantong Monastery where they both trained under Rujing (1163–1227, Japanese, Nyojō), Jakuen seems to have sought Dōgen out after Rujing died in 1228, and then stayed with Dōgen until he died in 1253. However, Dōgen didn't give him dharma transmission, probably because Jakuen had not realized great awakening. After Jakuen's great awakening while working with Ejō, he then received dharma transmission.
Jakuen stayed on at Eiheiji for about a decade after Dōgen's death, but intergroup squabbling apparently led a number of important figures to exit and find their own paths, including such luminaries as Gikai and Giin. Jakuen, though, wandered just a day's walk, 15 miles, from Eiheiji and found a zazen perch on a precipice where he sat for the next seventeen years, beginning in his early 50's. Eventually, a local noble built a monastery, Hōkyōji, for him.
Giun became the second abbot of Hōkyōji and then moved to Eiheiji in 1314 as the fifth abbot. His lineage would hold that abbacy for a couple hundred years. Giun restored the buildings and the monastic spirit of Eiheiji. In addition, he became a renowned master of the new Zen school and monks from both the Rinzai and Sōtō school sought him out for instruction, including for his skill at writing dharma verses in the style of the Chinese Sōtō master Hongzhi Zhengjue (1091–1157, Japanese, Wanshi Shōgaku), and his mastery of the Five Ranks.
Here's Heine on Giun's teaching:
"[Giun's] Recorded Sayings sermons cite Hongzhi more frequently than Dōgen and occasionally evoke the theory of Five Ranks (goi 五位) attributed to Caodong school founders Dongshan (807–869) and Caoshan (840–901). The theory is also associated with numerous later texts, including Hongzhi's poetic writings treating this complex interpretative method in addition to other similar pedagogical devices that were popular in southern Song dynasty Zen discourse and transmitted to Japan. According to traditional accounts, Giun enjoyed a reputation for expertise in the subtleties of the Five Ranks that was sought out by adherents of Sōtō and Rinzai Zen, even if his writings offer only a glimpse of this area of specialty. On the other hand, Dōgen's Treasury is known for either ignoring or, in a couple of places, refuting the Five Ranks interpretative technique, particularly in the fascicle on 'Spring and Autumn' (Shunjū)."
It may be that although Dōgen himself was not such a proponent of Hongzhi style of verse comments, nor of the Five Ranks, Giun was influenced and trained in these ways by his Chinese teacher, Jakuen. In any case, Giun modeled the creativity of the founder, Dōgen, by not sticking to the letter of the founder's teaching.
Finally, here's Giun's death verse as translated by Heine:
For eighty-one years,
I have flouted the teachings and reviled Zen.
Now the sky falls, and earth splits open.
Hidden within the flames lies a bountiful spring.
The Verse Comments
Heine shares Giun's explanation for his purpose for writing the Verse Comments from his preface:
"Eihei Dōgen traveled to Song-dynasty China, where he investigated in detail the basic standpoints of the Five Houses of Zen. On returning to Japan, he spread Zen teachings by implementing a fresh approach. Evoking grandmotherly kindness toward his disciples, he combined Japanese vernacular grammar with Chinese characters and syntax. This resulted in a very beneficial form of expression without leading to any reliance on language, like building a jade pillar as high as a mountain peak. However, many later followers could not grasp the main point of Dōgen's purpose in using such a multifaceted form of discourse. The wondrous original mind was not penetrated, and they could not imagine the great teachings stemming from Shaolin temple even in their dreams."
Giun's purpose for the Verse Comments is clear: to help practitioners grasp the main point of Dogen's teaching, a teaching he specifically aligns with the basic standpoint of not only the Five Houses of Zen, but also of Bodhidharma's from Shaolin temple. In that spirit, in addition to his Verse Comment for each fascicle of the 60 volume Shōbōgenzō, Giun offers a capping phrase, building also on the capping-phrase practice that was introduced to Japan through the Rinzai lineage of Xutang and Daio and their "verse samadhi" practice.
For my upcoming book with 100 examples of Xutang's capping phrases, The Record of Empty Hall, click here.
Giun's capping phrases and verse comments are simply incredible. He summarizes a whole fascicle of the Shōbōgenzō in a capping phrase and four-line verse. I've repeatedly been brought to tears while studying this text.
For an example, I'll offer "Fascicle 10: Daigo (Great Awakening):"
Giun's Capping Phase:
Nothing hidden in the entire universe.
Giun's Verse:
Śākyamuni [the World-Honored One]'s intimate words are not generally understood,
But from the start their meaning was crystal clear to Mahākāśyapa.
The mountain peak merging with the sky creates an endless sea of blue,
Light streaming from the waxing moon glows splendidly amid the deepest valleys.
If you are familiar with Dōgen's teaching, I'll bet you resonate in a whole-body-mind way with this capping phrase and verse. If you aren't yet familiar with Dōgen's "Great Awakening," I suggest you might find a translation and dig into it. In the Tanahashi translation, it is #27, "Great Enlightenment." After you immerse yourself in "Great Awakening," come back to Heine's translation of Giun's capping phrase and verse. Then see what you can do.
Importantly, Heine generously unpacks the title of the Dōgen fascicle, the Giun capping phrase, as well as key terms in the verse. Heine also provides the capping phrase by Katsudō Honkō (1710–1773) for each of the 60 fascicles. And provides the Chinese characters so that we can easily dig into the original text as well. This book is a veritable treasure trove of Sōtō study material. Thank you, Dr. Heine!
Supplementary sections
In addition to Giun's capping phrases, verse comments, Honkō's capping phrases for the 60-volume Shōbōgenzō, and explanations, Heine also gives us detailed historical context for these amazing dharma pointers. For one thing, Heine blows up the myth that the Shōbogenzō was unread for hundreds of years after Dōgen.
A summary of these supplementary sections follows. But first, a disclosure, in case you haven't pulled the book up on Amazon yet – it's going to set you back ~$65, even the digital format. Yeah, ouch!
So in an effort to convince you that it's worth it, I'll share a chapter-by-chapter summation, mostly in Heine's words:
Chapter 1: "… discusses Giun's spiritual vision based on Chinese influences and compares the Verse Comments with the Prose Comments as the only other important medieval Treasury commentary, while also scrutinizing the meaning of the paradoxical phrase used as this book's title in terms of the way it is used in traditional Zen works, including Dōgen's."
Chapter 2: "… discusses the formation of the 60-fascicle edition relative to alternative versions of the Treasury , in light of the cultural milieu of Kamakura-era Japan, which featured the composition of kanbun poetry by Japanese monks that inspired Giun's commentary."
Chapter 3: the Giun translations and Heine's explanations.
Chapter 4: "…translations with an introductory essay of a small selection of miscellaneous poems written by Giun and a few of the predecessors, contemporaries, and followers who are relevant for understanding the impact and legacy of his work in the context of the intellectual history of the Sōtō sect."
Epilogue: "…delineates diverse materials concerning the history of the Verse Comments in connection to other examples of premodern and contemporary interpretations of Dōgen's masterwork. This highlights the extensive Japanese commentarial literature that needs to be further integrated into Western studies of the history of the Treasury."
Flowers Blooming on a Withered Trees: Giun's Verse Comments on Dōgen's Treasury of the True Dharma Eye has the potential to transform the study, practice, and teaching of the Shōbōgenzō. I heartily recommend it.
---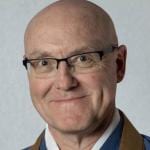 Dōshō Port began practicing Zen in 1977 and now co-teaches with his wife, Tetsugan Zummach Ōshō, with the Vine of Obstacles: Online Support for Zen Training, an internet-based Zen community and at the Nebraska Zen Center. Dōshō received dharma transmission from Dainin Katagiri Rōshi and inka shōmei from James Myōun Ford Rōshi in the Harada-Yasutani lineage. Dōshō's translation and commentary on The Record of Empty Hall: One Hundred Classic Koans is due out in February, 2021 (Shambhala). He is also the author of Keep Me In Your Heart a While: The Haunting Zen of Dainin.