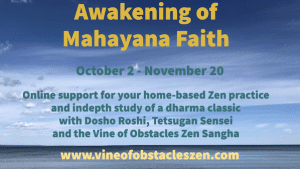 This fall, we are introducing a new offering through the Vine of Obstacles Zen – a course that's open to everyone. This is an opportunity for aspiring practitioners to explore practicing with us without making the full two-hour daily commitment required for Vine students.
​This offering is intended to serve as a way for you to clarify your intention and/or ramp up your practice so that you could become a Vine student, or simply as a pathway to receive what's offered for your personal practice without becoming a Vine student.
​You are welcome to participate with either outcome in mind.
By signing up, you will join Vine students for Sunday talks and daily zazen, as well as meeting with the teachers for practice meetings and chosan (see below). It is centered on the study of a classic text, the "Awakening of Mahayana Faith." The specific translation we will use is Treatise on Awakening Mahayana Faith.
A noted Buddhist scholar, Direk Vorenkamp, says about this text::
"It would be difficult to overstate the importance of the Awakening of Faith to the history of East Asian Buddhist thought. Virtually all the major schools of East Asian Buddhism have esteemed it and been influenced by its views. The primary doctrine of the text is that everything is One Mind. It details the various modes of the expression of One Mind and in the process, explains the nature of suffering, the cause of suffering, the end of suffering, and various means to that end."
If you enroll, below are the specifics of the study and practice opportunities that will be available to you:
Eight Sunday talks (live via Zoom and recordings) that will unpack the Awakening of Mahayana Faith in light of actual practice
Vine AM Zazen (Monday-Thursday, 6:00-7:00am Central Time) & Chosan ("morning meeting" with the teachers & students), Mondays & Thursdays from 7:00-7:15am Central Time)
Vine PM Zazen (Monday-Thursday, 7:00pm-7:40pm Central Time)
Two 20-minute practice meetings with one of the teachers
Two online retreats, October 2 & November 20, 6:00am to 4:30pm Central Time (by donation, not included in the fee)
The eight-week program fee is $150 ($100 less than the standard rate).
If you are interested in participating or have questions, contact us at here.
Click here for some reports by Vine students about our last study period on Dōgen's "Guidelines for Practicing the Way."