Zinging around the Pagan blogosphere these days I find an extraordinary amount of navel-gazing going on. Are we polytheist or monotheist or agnostic? Are we a community?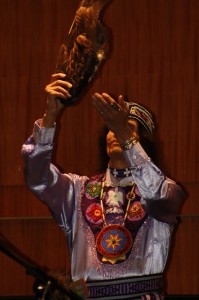 Do we have a theology and if so, what is it? Who are our elders and who should listen to them? Is belief naive? Is practice incomplete without belief? How do we define ourselves, or is that even necessary?
Last weekend's Gathering of Faiths interfaith
festival in Columbia (SC) offered a refreshing perspective for the several dozen Pagans who participated. Most were happily surprised to find that they were welcomed by all the other religions. With about 500 in attendance, volunteers at the Pagan table were busy all day answering questions from the friendly and curious.
Pagans took the stage on several occasions – for the opening ceremony and for a singing performance by Earthsong Chorus – and I myself led a closing spiral dance with perhaps 200 people in the circle. One cannot deny that this was not a representative slice of our blood-red state. Still, ten major religious traditions, many of which have numerous factions and fractures within their own religion, found a way to come together and celebrate the fact that we all live in harmony here in South Carolina. One retired Christian minister wrote me the next day to say that
he left when he saw that the Christian information table held no conservative materials. He also faulted the Sikhs for "taking their religion lightly" by having a photo station where guests could try on a turban in front of the camera. I thought the Turban Station was brilliant. Sikhs have been murdered in this country by bigots who singled out men in turbans, assuming them to be terrorists.
Visiting the Sikh gurdwara here and working with my Sikh friends, my experience has been that they have a very soulful and often solemn approach to their religion, contrary to the complaint of this minister. All afternoon I saw the light in the eyes of people trying on a turban, probably for the first and only time in their lives. Smiles and laughter from the Turban Station told me that walls were being
broken down, new bonds of friendship and understanding being built up. Who knows what future hate crime may be prevented from this playful activity? Sometimes I fear we Pagans are utterly self-absorbed; then again, we have not inherited a centuries-old dogma which tells us how we are to be, religiously. These are the natural questions of a healthy growth process. What is not healthy is to miss the forest for the trees. There is a joy in our path that originally brought us to follow it.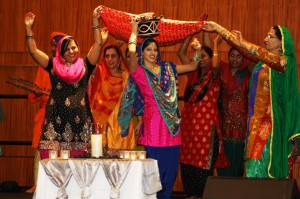 We should take care that we do not lose our way in the woods because we are consumed with what the aerial view might look like. What will the Pagan community in America look like in the future? We have a lot to sort out, but I hope to see the smiles increase, the love broaden, both within our own tribe and among our and other spiritual tribes, including those yet undiscovered. (originally posted at Palimpsest on 2-22-13)