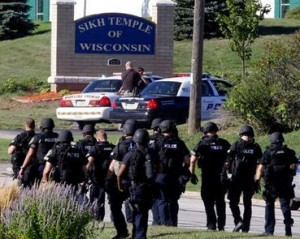 Monday is the one-year anniversary of the shooting at the Oak Creek Sikh gurdwara in Wisconsin. I was contacted for comment this morning by a reporter from our local news station. Valarie Kaur, a Sikh activist and founder of Groundswell, notes that a full year later, everyone knows about Aurora and other tragedies, but most never understood what happened at Oak Creek and have already forgotten. The anniversary is a good reminder to those of us in another misunderstood minority religion of the importance of interfaith relations.
The reporter who contacted me at first said she was doing a story about religious tolerance. The first thing I said to her was that I look forward to the day we can stop thinking about tolerance and begin appreciating our religious differences. This includes Pagan appreciation of the religions whose members have often persecuted or despised us, whether we like the idea or not.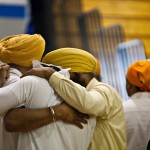 My involvement with regional interfaith work has not only raised the positive profile of Paganism in my community. It has been a precious personal journey, full of gifts I could not have anticipated. I am also grateful to those at Cherry Hill Seminary who have insisted from our early years that interfaith should be taught, especially Macha NightMare, longtime member of the Marin Interfaith Council, and Grove Harris, formerly of The Pluralism Project at Harvard and most recently of the Parliament for the World's Religions.
The photo below says "Wisconsin Weeps." While organizations like Groundswell and interfaith groups all over have done much to make our communities safer, the work is hardly begun, the weeping probably not over. Our heartfelt prayers and intentions go to our Sikh friends and to all in this world who suffer because their spirituality is misunderstood.