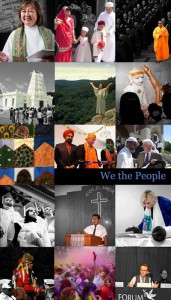 The Pluralism Project of Harvard University has released On Common Ground, a comprehensive online resource, this permutation replacing the former published book versions. Here you will find a world of information on religions, the religious landscape of America, essays on interfaith topics.
I found the Essays section quite interesting, addressing some real-life issues that many of us have faced (or will, in time).
"From Diversity to Pluralism" – about why diversity in our communities is not the same as pluralism and the importance of engagement between and among religions.
"Not in This Neighborhood! Zoning Battles" – Our own Sunweaver (Jess) knows too well how a zoning battle can quickly become a community Godzilla, one which refuses to die and drags everyone into its destructive path.
"Violence and Vandalism" – Violence against religious groups and their buildings is a disturbing trend, but this essay shares encouraging stories like this one: "However, the chasms opened by hate crimes often become the sites of new bridge-building. Sometimes incidents of violence and vandalism become the tragic occasions for knitting together a wider community. For example, in the aftermath of the Pittsburgh incident in 1983, Swami Chidananda of the Hindu-Jain Temple sent a letter of friendship to everyone in the neighborhood after the vandalism at the temple. At Christmas and Easter, he sent flowers and baskets of fruit. He started yoga classes at the temple as well. "People began to get to know us and discovered we're not so different," he said. "We are not alligators or something to be afraid of.""
"Encounter in the Courts" – here's an excerpt of the kinds of questions that turn up in courts: "Can a Muslim school teacher wear her hijab, or head-covering, on the job as a public school teacher? Can a Sikh student wear the kirpan, the symbolic knife required of all initiated Sikhs, to school, or a Sikh worker wear a turban on a hard-hat job, in apparent violation of safety regulations? Should a crèche be displayed in the Christmas season on public property? Can the sanctity of Native lands be protected from road-building? Should the taking of peyote by Native Americans be protected as the free exercise of religion? Can a city council pass an ordinance prohibiting the sacrifice of animals by the adherents of the Santeria faith?"
"Encounter in the Public Schools" – a recent history of the bumpy ride experienced by schools whose students are increasingly religiously diverse. Actually, there are several essays on this hot topic, touching on holidays, curriculum, and the study of religion in public schools.
Best of all, the "America's Many Religions" section has an extensive module on Paganism, with the subheadings:
Ancient Roots, Historical Challenges
Traditions, Texts and Values
Contemporary Resurgence in America
Sacred Bodies
What Do Pagans Do?
Communal Worship, Rites of Passage
Cycles of Celebration
Contributing to the Common Good
Public Paganism
In fact, Paganism is one of only 17 religious categories featured in On Common Ground, showing how far we have come in not so long. Parliament of the World's Religions board members Angie Buchanan, Andras Corben-Arthen and Phyllis Curott are noted for their invaluable work to bring the modern Pagan movement to the world's attention in a positive manner. There's a section of links to resources like bibliographies, directories of faith groups by city, a glossary, audio files and tons more. Treat yourself by visiting this great new site soon, then revisiting often.