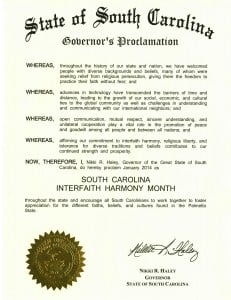 We got the good news on Wednesday – our governor has for a second year in a row proclaimed January to be S.C. Interfaith Harmony Month! Why does she do it?  What does it mean?
Well, first of all, this dovetails with the United Nations' World Interfaith Harmony Week in early February.  When Interfaith Partners of S.C. first set out to mark WIHW here at home, it nearly exhausted us to squeeze a handful of calendar items into one week and a half period.  By 2013, we had a far longer list of events and we spread them out over more than a month.
Someone had the brilliant idea to ask Governor Haley to draw attention to it all with a proclamation, hence the photos you may have seen last year of my colleagues and myself in her office.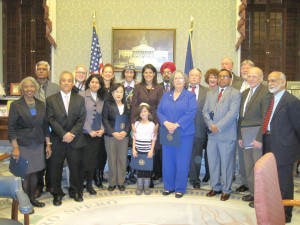 It's not important to us that a particular political figure from a particular party or administration give us her blessing.  What's important is that interfaith harmony is recognized by the top elected official as being essential to the overall health of this state.  A group of us have been invited to a reception in January at the Governor's Mansion, another visible indication of the importance of inter-religious relationships.
A tip of the hat to Ajit Randhawa for getting the ball rolling last year, and another one to Will Moreau Goins for making the request this year.  Soon the 2014 calendar of events will be posted here for those of you who live in the area.  Everyone else, take a look to get some ideas about what you might be able to pull off where you live.