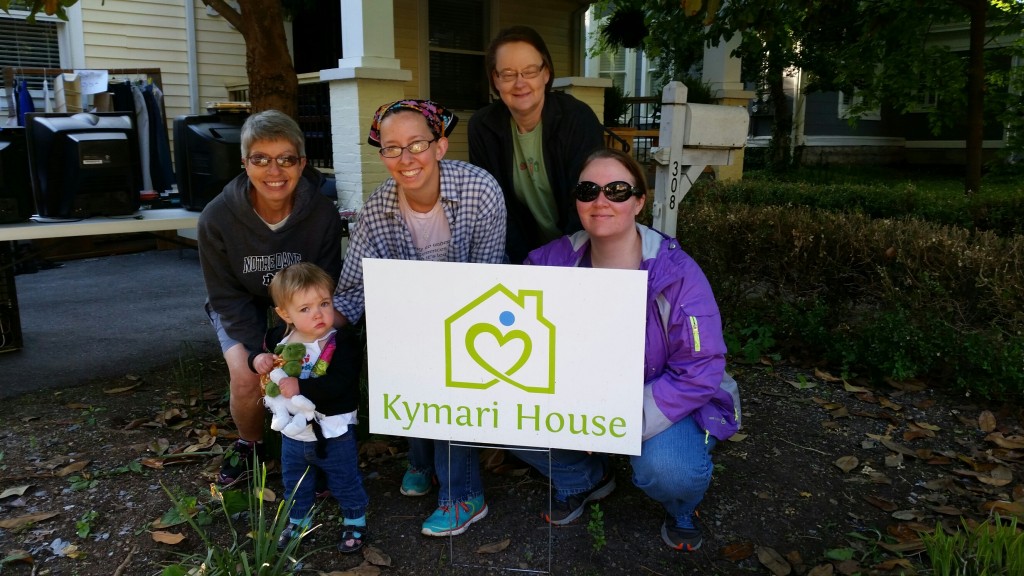 I haven't been writing all that much here lately, partly because life happens and partly because much of what I had to say was beginning to take a negative tone. I don't like to dwell on the negative because it's important to me to put things that are beautiful and positive out into the world.
Being critical and bitter is easy; being genuinely positive is much harder.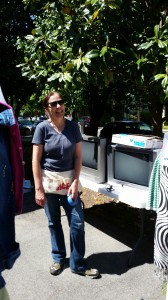 As our May activity, Women of Faith helped put together a yard sale to benefit Kymari House, a local non-profit that provides a safe place for supervised visits with kids and their non-custodial parents. The story behind their name is heartbreaking, but it's the kind of thing that happens everywhere. The work Kymari house does saves lives of children throughout the Middle Tennessee area. They've recently acquired an actual house and needed some funds to help support this new acquisition. We had way more donations than could fit in the little yard and driveway and not only did we have volunteers to set up, answer questions, tidy up, fold clothes, promote that cool thing, and make deals, but we also had some plants to sell and a table full of delicious baked goods.
We had a blast and we raised well over $600 to help kids in our area.
The bridge-building aspect of interfaith work is important, but there is so much more to it than sharing beliefs and talking about important issues. Coming together to benefit children in our community– not the Pagan community and not any specific religious community, but the whole community, is some of the most important stuff we can do. Every one of us, no matter what our religious path or background, understands the importance of compassionate acts. We frame that in different ways, but we all agree that helping others is beneficial on a number of levels, including on a spiritual level. Compassion transcends differences in worldviews.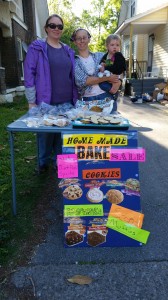 So, here I am, standing next to a Baptist*, Miss Lori, and we are both genuinely happy to be where we are and doing what we're doing. We enjoyed each other's company and learned a little about each other while raising some cash to help some kids. Interfaith work doesn't get any better than this.
Happy Thargelia Interfaith Bake Sale Scones
(Adapted from Alton Brown's recipe)
 1 1/2 c. flour
1/2 c. wheat bran
4 tsp. baking powder
3/4 tsp. salt
1/3 c. sugar
6 Tbsp. soft butter
3/4 c. cream
1 egg
1/2 cup leftover charoset, drained, or some amount of dried fruit
Combine dry ingredients and mix well. Cut butter into dry mixture until well blended and a sort of grainy texture, like coarse cornmeal. Combine cream and egg in a separate bowl, then add to dry ingredients. Add fruit and work gently into a dough. Turn dough out onto a floured surface, roll out and cut with cookie cutters or into triangles. To make "Scuffins" (scone-muffins), divide dough evenly into 12 greased muffin tins.
Bake at 375 degrees F, for 15min, or until brown
*Miss Lori is a progressive Baptist that goes to a church that accepts women as clergy. She blew my mind and helped me expand my definition of "Baptist." She also sent me these photos and all due credit goes to her.