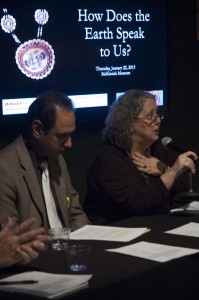 This is the busiest time of the year for Interfaith Partners of South Carolina.  The governor made her proclamation for the third year in a row naming January S.C. Interfaith Harmony Month.  Then the first full week of February is World Interfaith Harmony Week, a project of the United Nations.  Here in S.C., we have a busy calendar of all kinds of events.  I have attended sabbath prayers at a synagogue, been present for Muslim prayers, participated in a multifaith panel held in the gallery of an exhibit of Native American artifacts, attended another multifaith panel about compassion, and will be at an HBC (historically-black college) next week as a panelist at an interfaith event in observance of Black History Month.  Next weekend I'll get to hear a talk by the man referred to as "Obama's rabbi" when a local synagogue brings him in from Chicago.  I was unable to attend the Baha'i and Sikh events this year.  There's a Dances of Universal Peace, and later in February a nice concert coming up.
While we haven't attracted the attention of a fire marshal yet, still we have pretty good numbers at these events.  Best of all, we get to know people in the community who we would otherwise probably never even encounter, let alone develop as friends.  Sometimes it's a bumpy ride.  I have a private meeting in a few days with two leaders to discuss an internal issue and how to handle it.  In a different meeting recently, we had to face the consequences of a member who does not collaborate well and is, shall we say, over-interested in name-dropping and self-promotion.  Some of us are a little weary from several years of working hard – we wish others felt the urgency which drives our own persistence.  We've been encouraged to submit a proposal to present at the Parliament of the World's religions, but happy as we might be to do it, this represents more work.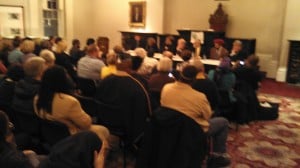 Most of us are not getting any younger, but we are worried about the kind of world we will leave behind when we are gone, so we keep at it.  Me? I worry about whether people see that in just a few years we may be facing the kinds of religious tensions and violence which are commonplace in France and elsewhere in Europe and the rest of the world.  Our interfaith efforts may just save our lives someday. So, I will go speak at the college next week, stop work long enough to have that private meeting, and keep promoting the great opportunities for us to feast at the banquet of diversity we live in.