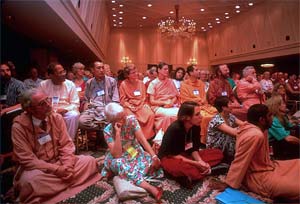 Because I love kaleidoscopes, merry-go-rounds, buffet brunches and the largest box of crayons. Because I love people, all kinds of people, and all the ways they express themselves religiously. I love the sounds of a choir, of temple bells, of chanting, drumming, and whispered prayer. I melt at the smells of incense, sage and spaghetti suppers. Religious architecture – from ancient to Gothic to sweat lodge – inspires me. And most of all, I value the freedom I have, both to practice my own spirituality, as well as gather with others from religions around the world.
My husband and I have been saving a year to do it, but we are happy to be registered, with hotel and flights booked, to the October 2015 Parliament of the World's Religions. We were simply unable to attend in the past; because it is being held this time in Salt Lake City, Utah, we can just swing it. In less than six months we will be two of several thousand gathered to celebrate and explore both our differences and our similarities. I can hardly wait.
The Parliament says this:
If you care for religions and nations working together in harmony with each other for the good of humanity, you should attend.
You must attend…
…if you are concerned about wars, terrorism, and hate,
…if you care for creation or are worried about climate change,
…if you are troubled by the widening wealth gap and wasteful consumption
…Because there will be Nobel Laureates, experts, religious leaders, master trainers and activists at the Parliament who will share their opinions with you in panels, workshops, and plenaries on these issues.
You will also find:
Trainings in dialogue, interfaith activism, fundraising, and organizing
World-class religious music, films, exhibits and performances
And shop ethnic, international, religious books & things
I see that featured speakers this year will include HH the Dalai Lama, Karen Armstrong, Valarie Kaur, Eboo Patel, and many, many more. Contemporary Pagans have been closely involved with the Parliament since it restarted in 1993. I'm proud to know that we are amply represented on the PWR board of directors. Won't you join me at the Parliament this fall?