"All things seem possible in May" ~ Edwin Way Teale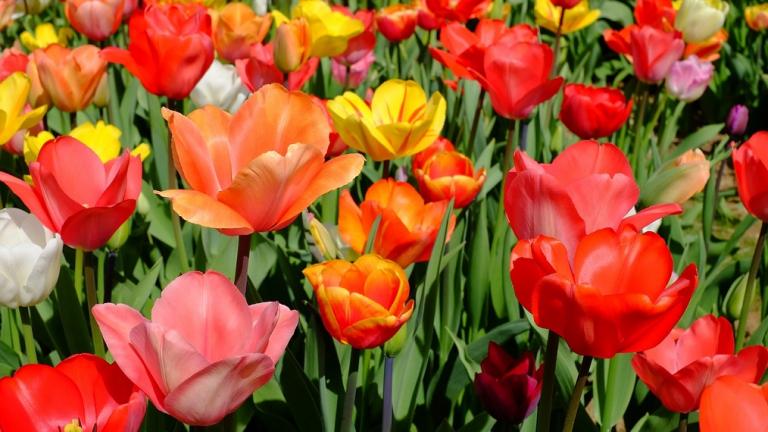 Beltane isn't just one day, at least for me. It's a season. After a few years of seemingly endless winters, May seems like a definite "put the flag in and stake your claim" declaration of Spring. Feels like a bit of relief, doesn't it? Plants are blooming, you can really start working on your garden, clothes seem lighter, and the sandals come out. It's always Beltane in our hearts, we say. But what if it's not? Sometimes Beltane can zoom by in a blur, barely enough time to get a flower crown on your head or a quick jig around a Maypole. How can you celebrate longer? Why celebrate more than one day?
First of all, it's fun. Beltane is a season, not just a day. You can celebrate any of the sabbats longer than the one day, and I encourage you to at least try that once. It's well worth the experience. Beltane is easily one of my favorite celebrations, and the theme of it can carry into the Merry Month of May much more readily than other sabbats.
Celebrate May with nature, plants and flowers. Walk in the forest, pick up a bouquet for yourself when you grocery shop, and get some plants for your apartment windowsill. Breathe deeply all the wonderful scents from planting, get your feet in some dirt, or just walk barefoot in the grass.
Celebrate that bright orb in the sky! I don't know about you, but the sun has been scarce this winter. Soak up that Vitamin D when you can. Safely, of course.
Celebrate warmth. It may not be your favorite season, but at least appreciate wearing less and lighter clothing. I prefer wearing sandals, and the first day I did, let's just say I was rejoicing. Enjoy the cool breezes, and savor a softly lit evening. No more need for heavy jackets. Rejoice!
Celebrate laughter. The world is horrific, has been for a while, and there is no end in sight. Go ahead and watch a comedy when you can and tune out the world for a bit. It will help you feel lighter and help you keep going. Celebrate humor with your friends, dark or otherwise. Revisit your childhood cartoons. Laughter helps relieve tension and eases stress, so give it a try.
Celebrate friendships. Maybe you have been a hermit all winter, so go out and have a beverage or two with a friend. Catch up with someone you haven't talked with for a while, and maybe inspire each other towards brighter and better things this year.
Celebrate your favorite beverage. The warmer weather makes us more thirsty, so add some zest to your choices. Try something new, alcoholic or non, or add strawberries or raspberries to your favorite drink. Learn about making mead or beer, and maybe attempt a batch. Try a new style of tea with herbs, or add fruit to your water. Try bubbly if you prefer still, or try still if you're on the bubbly all the time.
Celebrate light. Not just the sun, but the day's brightness that lingers a bit longer. Or the sweet early morning sunshine. Candle light seems more mesmerizing at dusk this time of year, so break out your candle collection and enjoy. Don't wait for a special occasion.
Celebrate movement. Maybe dancing around a maypole isn't your thing. I find it confusing myself, but then again, I have spatial issues. Dancing in general is always fun, and car dancing cannot be beat, if you are out driving around with the music loud and the windows down. Stretch those limbs and enjoy the sensation.
Celebrate growth. Seeds you planted back in January or on a new moon may be coming to fruition. Look back at your growth these last few months. A quick inventory of what you have experienced and accomplished so far can give you the boost you need.
Celebrate darkness. Now that the inky blackness of winter evenings are gone, celebrate the dark. It's a different kind of darkness, full of dreams and possibility. A great time to do your magick, learn new spells, create new rituals, and work on your grimoires. Add candlelight, and you're in for a sensory treat.
Just celebrate. We made it this far, and we are halfway to Samhain. If that isn't reason to celebrate, I don't know what is.