The last quarter of the year is usually filled to the brim with activity and people. As a member of the clergy team at the local goddess temple in Asheville, North Carolina, there are rituals to plan, get ready for, participate in, and then…you breathe. As the month of December is also filled with the hectic energy of the season, people are everywhere, and by the time you get to the Winter Solstice ritual, being around more people may not be high on the list of favorite activities. It's the time of year to hibernate, to hide under the covers, and not deal with people, right? Oh wait, not yet.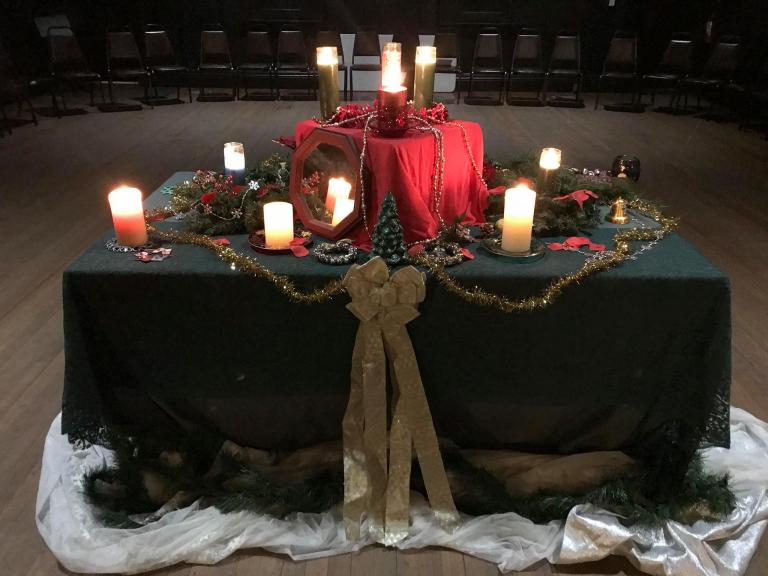 The past week has been filled with many magical moments. Friends who gave me presents of sage wound with other herbs and fruits, gifts of homemade candles and soaps, messages of love and support. Death and life wound together as elders passed beyond the veil, heartache is the dull ache underneath the festive decorations, and sadness permeates some conversations. I went on a radio show to discuss Yule traditions, the highlight being me extolling "lower your expectations!", which inspired the next person who heard it as she walked through the door. She told me this while hugging me heartily. Decorating a Yule altar at the radio station with greenery found outside the door, cobbling together items  the radio hostess and I brought to create an oasis of Yuletide serenity.
Then Winter Solstice beckons, and life continues to happen. The senior member of the clergy team heads out of town for a funeral, clergy team is down to two, people volunteer, and there is much to do. The cold I was starting to develop has disappeared, thanks to the elderberry tincture I was given by my favorite local witch, and I step into the day, armed with schedules and plans. A friend in another state, another clergy member, posts that rituals are not the time to wish him "Merry" or "Happy" anything, as this is WORK for us, and we must focus and concentrate. We will be merry and happy when it is over. Truth, my friend.
All goes well, slight panic at the lack of parking at the venue, items unloaded, lovely volunteers/dear friends start to arrive, and we go over the ritual. Most of that is abstract in my head, trying to remember to breathe, pace myself, and stay hydrated.
And then…the magic happens.
The altar is set up in the middle of the room, beautifully decorated and lit. The overhead lights are dimmed, and you can smell the faint whiff of incense that is layered in the beautiful old building. People start to arrive, and we are all seated in a circle. A friend who I've not seen in months, arrives, and greets me with a huge hug. She is not on social media, but another friend told her about this event, and she didn't want to miss it. That friend arrives, and they are both seated on either side of me. I feel supported and loved. I can do this, right? That's the thought that echoes through my head every time, right before we begin. Other people quietly arrive, taking in the beautiful candlelight in the dimmer overhead light, and there is a beautiful hush to conversations.
We begin by going back outside and coming back in, singing "Deck the Halls" with enthusiasm. Our voices echo throughout the room, and excitement is building inside. The ritual begins, with calling in the directions, uttering beautiful words of winter. I am privileged to call North, the home I grew up in, that which reminds me of my mother, the bear, the stone, the deep, welcoming earth below my feet.
Poetry is read, songs are song. and I tell my traditional tale of Hanukkah, and the lights of freedom and peace. We share in cakes and ale, which are cozy and comforting: swiss cake rolls and milk. I have a slight moment of wishing it were plant-based (I live in Asheville, what did you expect?) but know that people will not partake if they are dairy-free (note to self, to follow suit in the new year).
We do a working with bells, and sing. I am not a huge fan of singing myself, but the songs chosen resonate with all of us, and our voices soar higher and higher. "We all come from the Goddess, and to Her we shall return…" We sing beautiful rounds of "Here Comes the Sun" with laughter at the doo-doo-doo part, and I look around.
That feeling? That moment? That is the magic of community. We are all united and smiling. Some people are adorned festively, some people are holding hands, and you can feel the connection between all of us. For a short time, we are together, and worries are far away. Details don't matter. What does matter is the light, the coziness and the warmth felt. The sound of bells ringing. The hushed laughter. The hugs. The ritual is simple, heartfelt and nourishing. It is rich with emotion, love and there's that word again: community.
As we open our circle, we merry meet, merry part and merry meet again. The rafters are ringing with "Happy Solstice!" "Merry Solstice!" "Thank you for this evening!" and my heart is bursting with joy. I know this evening will reside in our hearts as the week ahead is filled with work, more celebrating, family, travels, relationships, trials and tribulations. In those moments, we may feel frazzled, irritated, and morose. Yet, we can be brought back to the moment, when we were all together in the glow of candlelight, the sounds of bells, and feeling of connection. That moment is the magic of community. May it be so for you as we head into a new year.