Books, poetry and words have been my source of comfort for as long as I can remember. Reading has taken on a new urgency during this pandemic, and it has brought me much-needed comfort during these rollercoaster months. Living in the mountains of Western North Carolina, I was fortunate to find some pandemic poetry recently released from a local author, medium, and storyteller, MariJo Moore.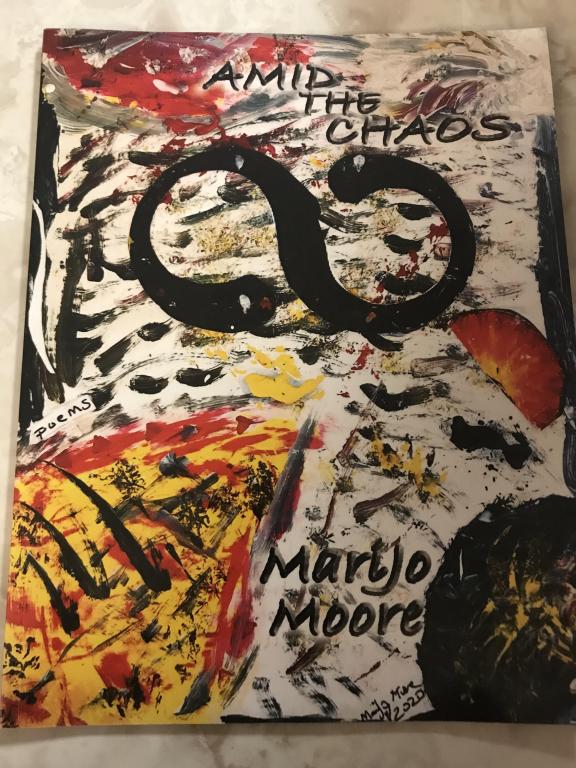 MariJo Moore is of Cherokee, Dutch and Irish ancestry, and an award-winning author and artist, with over twenty books to her name. I first became familiar with her books "Bear Quotes" and "Tree Quotes", which are both continued favorites, so when I saw her latest book, adorned with her art on the cover, I was delighted.
"Amid The Chaos" does not disappoint. It's a slim volume, yet filled with rich, emotive poems. In her introduction, she asks, "So how does poetry fit into this chaotic time? Poems can be medicine in a Spiritual sense". Her words delve into humanity, and asks us to "rethink who we are as humanity", with hope that her words can be a help to others. Pandemic poetry and other art created during this time may one day be looked upon as a bridge between this time period and the future one, past these times of uncertainty and fear.
Dedicated to "All the Ancestors Who Live On Inside Of Us", the poems in this volume conceive of hopeful possibilities while dealing with hopelessness and anguish. As a Native American, MariJo Moore entwines spiritual words and couplets of ritual with stark visualizations, all conveyed in flowing words that help soothe frazzled energy. This is a book to pick up and leaf through when feeling frustrated and helpless.
As Pagans, we honor nature and the elements of the earth, which are mentioned often in the verses. These poems will resonate with you when you are out in Nature, or honoring the moon during your rituals. There is a soothing cadence in her words, contained in a book that begins with the word "sneezes" and ends with the word "pray." In between, there are strident poems, soft words, lyrical images, and somber thoughts.
A few favorite poems include, "Demanding Change", which includes the lines: "Out of the chaos comes change", and the poem "Solidarity in the Night". "The Time When Grief Grew Legs" is a longer story/poem that weaves 1918 in and out with the present day pandemic. "Releasing Grief That I Have Been Carrying For Centuries", "Story Is A Woman" and "The Story Within The Stories" are all ones that will be re-read often.
I include this book as a treasure I discovered during these last few months. The cover caught my eye, and knowing of MariJo, as she is from the magical mountains of Western North Carolina, where I live, I couldn't help but be drawn to her words and art.
If you like poetry, and want a respite from pandemic life, pick up a copy of this book. You may find yourself inspired to create your own pandemic poetry and art.
You can find out more about MariJo Moore and order her books (Amid The Chaos is $12.95) at her website: https://www.marijomoore.com