At the Imbolc altar last year, before the gods and my fellow witches, I spoke these words: "Hermes! Messenger between the worlds! God of eloquence and mediumship, I offer you my voice and my service…guide my studies, guide my words, open the channels of beneficial communication…"
On the 15th degree of Aquarius, 2015, he did accept my vow and thus began a journey of mythological proportions…or, at least that's how I'm going to tell the story; writer's prerogative, and all…
Lo! As the first moon of my service waned into darkness, I began my quest, embarking upon a pilgrimage to the sacred crossroads of PantheaCon, flying far from my home, to the distant lands of San Jose, California. In time did I find the Doubletree, approaching to face the dread guardian at the gates of registration. The beast demanded both coin and a vow upon my good name, which I did surrender. Accepting both, she gave to me a badge of admission, and bade me pass into those hallowed halls.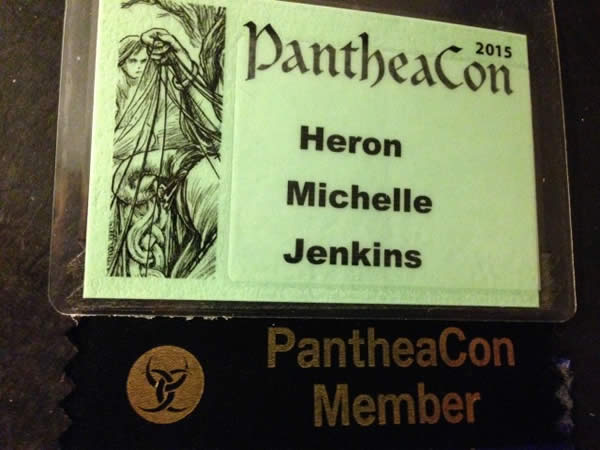 Many wonders did I behold! Treasures above all expectation (and budget) in the room of vendors! There were peacocks of Paganry decked out in their wildest plumage. There were witches and wizards, druids and heathens, fairies and faeries and Feris to be found. We filled the ballrooms for workshops and rituals, each sharing, learning, and teaching in turn. The gods were evoked by many voices, and were heard through many more. In my inner knowing, Hermes whispered:
"Heron, shut up and pay attention; listen not just to their words, but to their intentions."
Carpé Diem
At the tavern for a drink and a meal, new friends are made, trading stories of our adventures. We agree all around that life should be enjoyed to the fullest. He says, "You only live once, am I right?"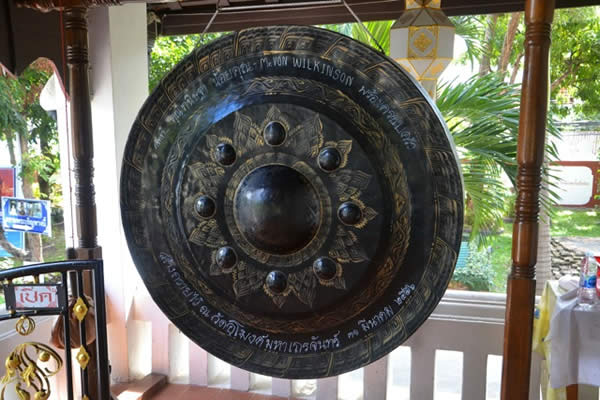 "Well, that depends," I reply. "If you mean, carpé diem, seize the day! Then I wholeheartedly agree, but many times have I lived, with many more to come, though every life is a gift of a new adventure, I would not squander, nor regret."
"Of course, of course, that is what I meant."
Perfection
I journey on, in search of the keys of wisdom, and I'm welcomed into the chambers of scholars and historians of great renown, gathered in hospitality and golden conversation. Tales of the Witches of the 60's, and all their shenanigans, are told. A High Priestess of Wicca tells me about one of our elders in days past. Though the details of that story slip from my memory now, it was about their human fallibility. "We should be compassionate with each other, don't you think? No one is perfect, after all."
*Gong* rings the cosmic school bell.
"Interesting that you phrase it that way. I've come to understand perfect to mean "complete" and "unconditional." Shouldn't we be compassionate with our fellow witches because we are ALL perfect? Isn't that why the two keys to enter sacred space are 'perfect love and perfect trust'?"
"Of course, indeed, that is what I meant."
Party on Mount Olympus
The last morning of Pantheacon, we stood waiting in line for the hotel restaurant and in wonderment I clap eyes upon living legends…so many pioneers of my world. Modern heroes, students and teachers; priests, priestesses and laity; the green and the grey, all eating overpriced, underwhelming salads, together on this common ground.
A pantheon of incarnate gods who've built a new world…Starhawk, Orion Foxwood, Selena Fox, Christopher Penczak, Diana Paxson, T. Thorn Coyle, writers of the books that saved me from despair, people who paved the roads I now enjoy walking without fear, they are all within eyeshot, earshot, and then Oberon Zell-Ravenheart walks by…and he looks just like Gandalf the Grey, and I'm star struck and gaping.
I say to my new friends, "Pantheacon is like being invited to a party on Mount Olympus, and all the gods are here!"
She snickers and says, "It's nice to see they're just human like the rest of us."
*Gong* rings the cosmic school bell.
"Huh. I was going to say nice to see we are just as Divine as they are."
"Yes, yes. So we are…"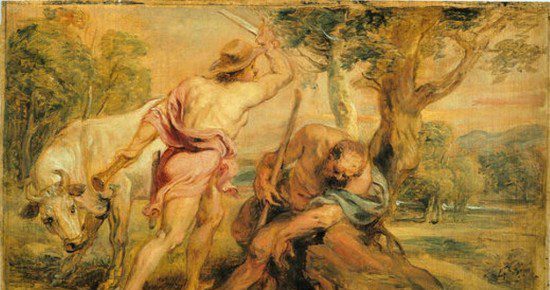 The Moral of the Story:
Throughout my pilgrimage, I was confronted with many ways in which what we pagans say is not exactly what we mean, and does not necessarily reflect the Pagan paradigm nor the ideals we now espouse. This year of work with Hermes, I've been asked to reconsider the speech patterns we're accustomed to using within this American culture that has long been dominated by the Abrahamic, patriarchal paradigm. Those systems are certainly hard to rewrite deep down in our subconscious minds, but as magickal practitioners we are most effective when our deepest programming is in alignment with our conscious intention.
The Hermetic challenge to us all, my lovelies, is to take care in what beliefs we allow to form our paradigm, then use language to express that paradigm and co-create the world. How we speak is a reflection of how we think.
Let's both think and speak like Pagans!
Blessed be,
~Heron
---