I so crave fresh flavors and brightly colored veggies from the farmer's market once summer dawns. This dish emerged from one of my mad-kitchen-witchery experiments and is a variation on a theme that began with traditional tabbouleh flavors, and so is still nicely paired with other middle-eastern dishes like hummus and pita bread, and slow-roasted lamb…mmm…lamb…my favorite!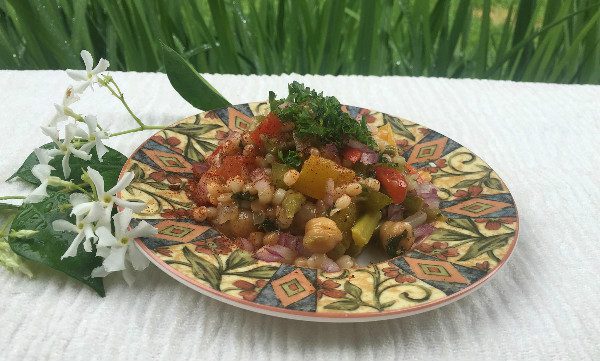 This recipe makes enough to be a perfectly sized contribution to a pot-luck feast for any of the summer Sabbats, but I just love it around Litha-tides.  Since it happens to also be vegan, there is a longer life-span before it would spoil than the average picnic contribution of mayonnaise-y potato salad. It also avoids the difficulty of dairy and egg allergies that may be considerations within your tribe of friends. I prefer to serve it at room temperature, and since its flavors improve the longer it marinates, I think this is an ideal dish to take when picnicking or camping out where cooler space or refrigeration isn't reliable.
To prepare this dish, you'll need a pot with steamer basket and lid, a medium sized skillet, and a large mixing bowl and spoon.
Litha Rainbow Salad
1 bundle of fresh asparagus, woody ends removed, chopped into 1 inch long pieces
1 can of Garbanzo Beans (Chick Peas), drained and rinsed
1/2 "red" onion (approximately 1 cup), diced. For rainbow-purposes we all know it is purple.
Green, Red, Yellow and/or Orange bell pepper, diced, a total of 4 cups
1 cup of finely minced fresh parsley
1 cup (dry measure) of pearled cous cous. This is a larger form of cous cous, a small pasta, and the larger size is important for the texture of this salad. It can be found in the grocery store with the other dried rices and grains.
Extra Virgin Olive Oil for sauteing
Marinade:
1/2 cup lemon juice
1/3 cup Extra Virgin Olive Oil, cold-pressed and organic is preferred.
1/4 cup Bragg's Liquid Amino Acids, or low-sodium Tamari sauce, usually found with the barbecue sauces in the grocery store.
3 teaspoons of cumin powder
3 teaspoons of chili powder
1 teaspoon of black pepper
1 teaspoon of garlic powder
1 teaspoon agave nectar or maple syrup
Directions:
Steam the asparagus bites in your steamer basket over 2-3 cups of water, for about 10 minutes, until they are al dente (firm to bite, but no longer crunchy, but not mushy, either, should remain bright green.) Add them to your mixing bowl.
Reserve 1 1/4 cup of the boiling steam-pot water (now flavored with the asparagus drippings) return to heat, and add 1 cup of dry pearled cous cous. Cover and simmer on low for 8 minutes, or however long your package recommends. Remove from heat, add to the mixing bowl.
In the skillet on high heat, add a tablespoon or so of olive oil and allow to heat for a few moments. Add the onions and saute a minute. Add all the bell peppers, and saute for only 3 minutes more while stirring. Keep it moving and mixing with the onions, until they are heated through and tender-crisp. Remove from heat and add to mixing bowl. Add the fresh parsley and garbanzo beans to the mixture and fold it all together.
In a separate bowl, blend together the marinade ingredients. Pour over the salad and stir to thoroughly coat everything. Cover the bowl, and allow to marinade at room temperature for an hour or so. Stir again and taste it. I find that after the veggies and cous cous have absorbed the marinade, I sometimes like to add more lemon juice for more brightness, or more Bragg's Aminos for more earthiness, or olive oil for richness. When in doubt, I add more black pepper.
Just to garnish and make it pretty, you can sprinkle the top with a little bit more chopped fresh parsley, and a dash more of chili powder. You can now serve it and dig in, or refrigerate until its time to leave for the feast.
Charging Foods to do their Magickal Work
Just because this is a concoction of food, doesn't mean that it is any less a "potion" that can be set to a greater purpose than mere physical nourishment. "Blessing your meal" has a long spiritual history in every cultural tradition I've ever heard of, and should be a practice carefully crafted to suit your own tradition and skill set.
I begin by expressing thanks for the bounty provided to me by the Universe. Then I clear it of any bane, and set it to its magickal work. I do this the same way I'd do a clearing of any tool or magickal herbal blend.  Since this will be consumed, I simply tap into planetary/elemental powers and through my hands, flood the bowl with the purpose of its balance and fulfillment of our Highest Good.  Then I draw a banishing pentagram over it to seal the deal–sometimes I stir that pentagram into the food itself. For good measure, I "heal" and charge foods with Reiki healing energy, because why not? I Reiki everything. I then speak my specific intentions aloud.  Here is a little charm to seal it with a rhyme:
"Mother Moon and Father Sun, Grant this boon and see it DONE!"
ENJOY!
Bright Litha Blessings!
~Heron Michelle