Lammas tides are flowing in! The Sabbat of High Summer, the midpoint of the season of growth and fruition, comes in HOT, wet, and delicious here in North Carolina. That sounds like a party to me! We celebrate this peak of juicy, glorious summer when we reach 15 degrees of Leo on our lap around Papa Sun, which typically falls the first week of August. Lammas is a great time to enjoy a cold refreshing cocktail.
Lammas Lemonade
Cocktails are basically "potions" if you awaken and charge them for an intent. This alcoholic beverage may look like a dirty mojito, but if you give it a job to do, besides get you drunk, its also a great chalice brew.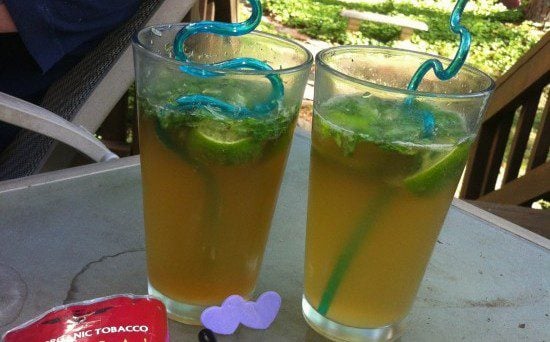 The peppermint and lemon are both prized for their benefits of purification and love, healing and friendship. Peppermint is traditionally associated with the powers of Air, and Lemon with the powers of water. I say call on BOTH elements to cool us off, while bringing us together. Plus, everyone knows that a good, Spiced Rum is the nectar of the gods, and a great choice for making offerings.
It's summer time and "all acts of love and pleasure are my rituals.(1)" I don't know about y'all, but I like my cocktails like I like my lovers: sweet, dirty, and strong. Boom chica wowow!

Ingredients:
Lemons (and/or limes)
Grade B Maple Syrup if you can find it. Grade A, if you must.
Fresh mint leaves
Dark, spiced rum (Captain Morgan Brand is my favorite)
Club Soda
This recipe is for one, 16 oz. glass, but if its a party, just quadruple the recipe in a pitcher. Make sure to invite friends, as drinking all of these yourself could be unwise.
Wedge half a lemon or lime, or a little of both, put them in the glass.
Pour in two tablespoons of maple syrup.
Add 3-4 FRESH mint leaves
With a fancy muddler bar tool, or the end of a wooden spoon, squish all the ingredients together into the bottom of the glass to juice the lemon and bruise the mint. Really put your energy into it blending the ingredients, chanting a good rhyming charm, like:
"Herbs of magick, herbs of power
Charge this brew by leaf and flower
Bless us with Love and Purity
as we will, So MOTE IT BE!"
Add as much ice as you'd like to the glass. Pour in one shot glass worth (1.5 ounces) of dark, spiced rum. Now fill to the top with chilled club soda. Give her a hearty stir at least three times 'round for good measure, and VOILA!
Please drink responsibly, unlike me, who one fourth of July had four of these babies and missed all the fireworks. Probably best if you wait until after the main rites are complete before you fall too deeply into this sacred cup. Enjoy!
Lammas Blessings,
~Heron
"Charge of the Goddess" by Doreen Valiente