Happy Mabon tides, my lovelies; feasting time is nigh! During this season of "Witches' Thanksgiving," this Autumn Harvest Bisque is THE recipe to scintillate the senses. I promise you'll be the hit of the pagan pot-luck as this delicious soup serves the needs of your most health-conscious, gluten free and vegan friends. Bring the green onions and crispy bacon crumbles for a separate garnish and your carnivorous friends will oooo and ahhhh in delight. This recipe adds exotic spices to simple and seasonal veggies, but is relatively quick to prepare, and transports easily in a crock pot.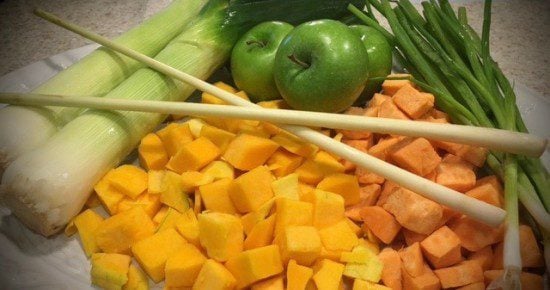 Autumn Harvest Bisque
(Vegan and Gluten-Free)

Ingredients:

2 tablespoons coconut oil or extra-virgin olive oil (EVOO)
1 1/2 cups sliced leeks, white and pale green parts only, rings separated so they can be rinsed thoroughly and drained
1 tablespoon minced garlic
1 large butternut squash, peeled and diced
1 large sweet potato, peeled and diced
2 Granny Smith apples, peeled, cored and diced
3 teaspoons curry powder
3 teaspoon Berbere powder (it's an Ethiopian spice blend*)
1 tablespoon minced fresh ginger
1 tablespoon minced fresh lemongrass
6 1/2 cups vegetable broth
1/2 can of Coconut Milk – the heavy, creamy kind
1/2 cup Tamari (gluten free soy sauce) or Bragg's Liquid Aminos
Sea Salt and freshly ground black pepper to taste

For Garnish:

1 bunch green onion, diced
1 pound crispy fried bacon (Obviously this recipe is vegan all the way up to this option, but…bacon!)

Preparing Autumn Harvest Bisque with Berbere Powder / Heron Michelle

Directions:

In large soup pot over moderate heat, melt the coconut oil or EVOO. Add the leeks and saute about 5 minutes. Add the garlic and stir briefly. Add the squash, potato and apples, raise heat to high and saute until they begin to caramelize, about 5 minutes. Stir in curry powder, ginger, lemongrass, berbere powder. Pour in the broth, bring to a simmer and cover. Adjust the heat to maintain a gentle simmer until the vegetables are all tender, about 40 minutes.

I puree in the pot with an immersion blender, but if you don't have one, transfer in batches to the blender or food processor and process until pureed. If you will be transporting this bisque to a pot-luck, now is a good time to transfer it to a crock-pot on warm, or just remove the original pot from the heat if you are ready to serve this at home. Add the coconut milk, and tamari sauce. Stir well, taste it. Season with sea salt (though you may not need much. I usually just add more tamari if it needs more salt) and black pepper to taste.

Serve as soon as possible and garnish with liberal sprinkles of green onion add bacon (if you don't need it to be vegan.) Truly, the only regret you will have about making this dish is that it will be gone too quickly and you'll have to make more! I do hope you enjoy it, and your Mabon season brings a great personal harvest.

Mabon Blessings!
~Heron

* Finding Berbere powder is the hardest part of this recipe, but is so amazingly delicious it is well worth your time. I suggest seeking it in a Middle Eastern or Indian market, if you are lucky enough to have one nearby. Or, for the serious kitchen witches out there, create your own blend with my recipe included in my Berbere Collard Greens with Maple Vinaigrette. It typically has fenugreek seed, red chiles/cayenne pepper, paprika, salt, ginger, onion, cardamom, coriander, nutmeg, garlic, cloves, cinnamon, allspice.