Marinated Collard Greens in a garlicky, red-wine, berbere and maple vinaigrette is a far cry better than the over-cooked mush dripping in pork fat that my southern forebears made me eat at the holidays. There is a much tastier way, for those with a more sophisticated palette, and it just happens to be vegan and gluten-free. Extra-bonus, the vital nutrients that make "green vegetables" healthy are still in tact.
This needs to be started 24-48 hours prior to serving, as the collards are primarily "cooked" by the acid of the vinaigrette while refrigerating over-night. But fear not…they are well worth the wait.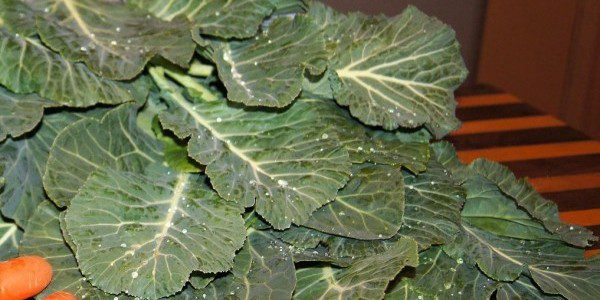 But here is the trick: You have to have Berbere Spice. This is a blend used in Ethiopian dishes that is exotic, spicy, smokey and tantalizing. If you can find it at an Indian or Middle Eastern grocery store…grab as much as you can carry, pay them any price they want, and make a break for it, you lucky dog! If not, like me, you'll have to make your own. The good news is that once you have it, you can make many of my favorite recipes, like Autumn Harvest Bisque.
I found this on-line at Epicurious.com and have made myself. However, this is my heavily tweaked alteration…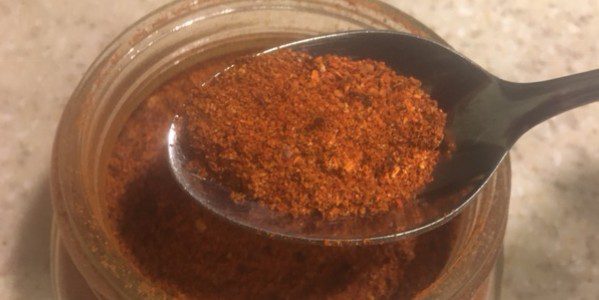 Berbere Spice Blend
1/2 cup ground dried New Mexico chilies (I found a large package in the Mexican food section, then ground them in my coffee bean grinder with the fenugreek and coriander seeds)
1/4 cup paprika
1 Tablespoon Himalayan pink salt
1 teaspoon onion powder
1 teaspoon garlic powder
1 teaspoon ground cardamom
1 teaspoon ground fenugreek seed
1 teaspoon ground cinnamon
1/2 teaspoon ground nutmeg
1/2 teaspoon ground cloves
1/2 teaspoon ground ginger
1/2 teaspoon ground allspice
1/2 teaspoon ground coriander seed
Grind and blend all together in a glass mason jar with tightly fitting lid. It will keep in a cool dark cabinet for a few months…if it lasts that long. 😉
Collard Greens with Berbere Maple Vinaigrette
Ingredients:
1 large bunch of fresh collard greens will make a nice big bowl of cooked collards for 4-5 people. (the pictures below were actually two large bunches, because I was serving 9 that year.) This is a special dish that I don't take the time to make all that often, so I aim to have left overs.
3-4 tablespoons of coconut oil
4-5 c loves of minced garlic
3-4 teaspoons of berbere spice
1/3 C. red wine vinegar
1/4 C. Organic, gluten-free tamari Sauce or Bragg's amino acids
1/4 cup pure maple syrup
Splash of extra virgin olive oil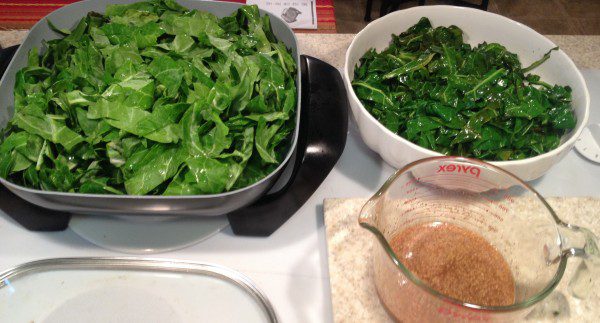 Directions:
Begin by washing the collard leaves thoroughly in a sink full of warm water and a healthy splash of white vinegar to clean them thoroughly. Allow to drain mostly dry.
Fold leaf in half along the thick spine, and slice the tough spine and stem away, discard. You only want the bright green parts. Stack three such leaves on top of each other, roll tightly and slice into thin ribbons, set aside in a large mixing bowl, because there are going to be a lot of fresh leaves! Prepare all the leaves before you start cooking.
Heat 1-2 tablespoons of coconut oil in a large, deep skillet, or wok. Add 1/3 the chopped garlic, and 1 teaspoon of Berbere powder and stir in until the garlic is fragrant, but don't let it burn.
Add one-third, or a heaping pan worth of the greens, and with a pair of tongs, saute them for about 3 minutes, stirring constantly to incorporate the oil and spices throughout. Cover and let steam for 3-5 minutes more, and greatly reduced and wilted. They will still be bright green.
Remove the steamed greens to a large, clean bowl.
Repeat steps 3-5 until all the garlic and greens are cooked and in the bowl. Pour the remaining oil and garlic from the skillet in with the greens–you want it all. With the tongs, blend all the batches together.
I prepare the vinaigrette in a glass measuring cup from which I can pour. Add the red wine vinegar, Tamari or Bragg's, and maple syrup with 1 teaspoon more of the berbere powder and a splash of Extra Virgin Olive oil to bring the level to 1 full cup of vinaigrette, whisk together.
Pour vinaigrette mixture over the greens, tossing to spread throughout.

Color of greens before marinating over night

Cover the greens tightly and refrigerate over-night, up to 48 hours–they just get better the longer they marinate. Occasionally, take them out and stir them up to redistribute the vinaigrette throughout. The acid in the vinegar will continue to "cook" them, and the next day you will find that their color has deepened. This protects the vital nutrients, while allowing them to become more digestible.
Prior to serving, I place them in a large saute pan over the lowest heat, and allow them to warm on the stove, or in a crock pot on warm, but don't let them dry out…adding a bit of water as needed. Sometimes I make more vinaigrette and serve in a pretty bottle as a garnish to suit people's tastes for more spiciness.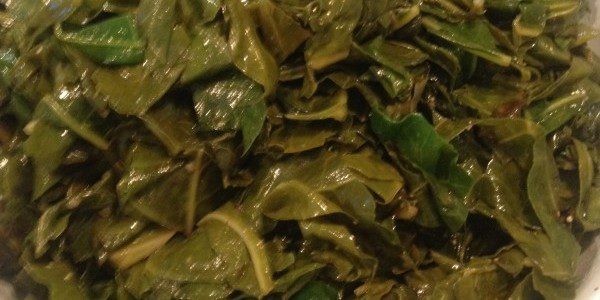 I especially enjoy these exotic, tangy greens as a side dish to all roasted meats, and earthy potatoes, as well as a sweet Mulled Apple and Cranberry Compote. They are always a magickal treat served with a Nine Mojo Bean Soup and Cornbread on New Year's day, for luck and prosperity in the coming year. Stay tuned for those recipes!
Enjoy!
~Heron