Thanksgiving is the meal that keeps on giving…all week long. What do you do with the left-over carcass of your Turkey? You know, after you've awoken from the obligatory nap? If you know what's good for you, you'll save it to make a bone stock–now THAT is a "potion" worth brewing!
The carcass will keep in the refrigerator for a few days, or you can freeze it for use later on that winter. I usually pull off all the remaining meat, save two cups at least for a soup, then just put all the remaining boney-bits into a gallon, zip-lock freezer bag until I feel up to cooking again.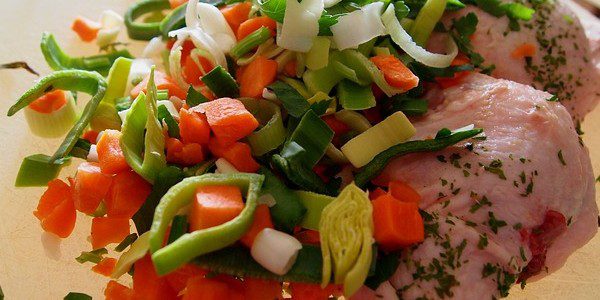 While I'm preparing my thanksgiving feast, I also stash away all the extra fresh herbs, carrot and celery bits–the leaves, ends, tops, peels. They don't have to be pretty to be boiled for a stock, just clean and fresh. When you buy organic, you don't have to worry about toxins on the leaves and skins–so consider that while shopping–they may be more expensive up front, but you can use more of the vegetable.
By Sunday my head is clear of the feast-fog, and I'm finally hungry again, so I make a stock and a Turkey, Lentil, Rice and Veggie Soup.
Turkey Bone Stock
In a large stock pot, add the following:
Bones, and left-over bits of your roasted, mostly devoured, roasted turkey
3 yellow onions, clean, but with their peelings on, quartered
5-6 whole, peeled garlic cloves
2-3 carrots, rough chop, or peelings, leaves, etc.
2-3 ribs of celery, leaves, tops, etc.
Ends and leaves of any other veggies you saved from the preparation of your feast: fresh herbs, bell peppers, leeks, scallions, cabbage, root veggies, etc..(but nothing starchy like potatoes or corn)
1/4 cup Apple Cider Vinegar
1 tablespoon of whole black peppercorns
2 teaspoons of celery seeds
2-3 Bay leaves
Cover it all with plenty of water–it will reduce by at least half, and you want to end up with no less than 8 cups. Bring to a rolling boil, then reduce heat to medium-low, cover and allow to simmer for an hour. Remove from heat and set aside until its only warm and safe to handle.
Strain out all the solids using a mesh sieve or cheese cloth and discard them. Collect your stock in a pitcher, and set aside for your soup.

Turkey Lentil Rice Veggie Soup
Ingredients:
2-3 Tablespoons Extra Virgin Olive Oil
1 yellow onion, diced
3-4 stalks of the heart celery with all the tender leaves, diced
3-4 carrots, diced
3-4 cloves of garlic, minced
2 teaspoons of dried Thyme leaf, or a bundle of fresh stalks, bound together with thread
1 teaspoon celery seed
Copious black pepper, at least 1 teaspoon
1 cup dried green lentils, rinsed
1/2 cup of dried wild rice.
1 can of diced tomatoes with liquid
8-10 cups of prepared Turkey Stock (or 2, 32 ounce boxes of store-bought chicken stock.)
2 tablespoons of apple cider vinegar (But only if you are using store-bought stock. If you used the stock recipe above, it is already included.)
6 tablespoons of organic tamari sauce
2 cups of cooked, bite-sized turkey meat
Preparation:
In a large soup pot, on high-heat add the olive oil. When hot, saute the fresh veggies for about 5 minutes, stirring frequently.
Then add the lentils, dried rice, and spices to saute 5 minutes more.
Add the canned tomatoes, water, turkey stock, and vinegar (if you didn't already add it to the home-made stock recipe above.) Bring to a boil.
Cover, reduce to medium-low heat and simmer for an hour, stirring occasionally.
Turn off the heat, but leave pot on the warm burner. Add the prepared turkey meat and tamari sauce and stir in. Let soup sit, covered about 5 minutes more.
If you used fresh Thyme bound with thread, fish it out now and discard.
Taste it. Is it too earthy? Add more vinegar and pepper. If it isn't salty enough, add more tamari sauce. Not rich enough? Add more Olive oil.
Happy Thanksgiving,
~Heron
For a vegan version, use veggie stock instead and omit the poultry, obviously. I suggest adding a couple cups of chopped mushrooms as an alternative.