Beware! I may not be doing you any favors by sharing this pumpkin fluff recipe. Nope. You should probably just close your browser now, and not even look at it.
No? OOOOO, so fearless. Well, ok then. Don't say I didn't warn you.
This recipe is absolutely addictive. Considering that cream cheese just makes everything better, this is my confectionery choice over candy when Halloween comes to call! However, in my defense, this dish has an honest-to-goddess vegetable in there (canned pumpkin is officially a vegetable, right?) Somewhere hiding under all that questionable, non-dairy topping goodness is a health-food, so I'm just going to call this a "veggie side dish" so that we can all feel better about what is about to happen.
Because scary things are about to happen.
Just promise me that when you make this recipe for your Samhain event, you will refrain from sticking your head inside to lick it clean…because that's just taking it too far. <don'taskmehowIknow><winks>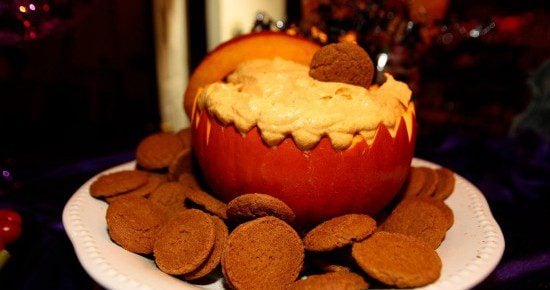 Samhain Pumpkin Fluff Dip with Ginger Snaps
Ingredients:
Small Pie Pumpkin for serving
1 (8 ounce) cream cheese, softened
1 (15 ounce) can solid pack pumpkin
1 teaspoon vanilla extract
1 teaspoon pumpkin pie spice blend (a blend of cinnamon, clove, ginger and allspice)
1 (8 ounce) container of Cool Whip, or the "non-dairy topping" of your choice, thawed
Gingersnaps or graham crackers
Directions:
Blend the cream cheese, pumpkin, vanilla and pumpkin spice with an electric blender until smooth, add the Cool Whip and fold together with a spatula. Chill in the refrigerator until ready to serve. Load it into a small hollowed out pie pumpkin, and serve with the gingersnaps or graham crackers.
Drooling will now commence! Dig in!
Happy Samhain,
~Heron