Hurricane Matthew blew through Eastern North Carolina Saturday afternoon into Sunday morning and dumped what would be a catastrophic amount of water onto already saturated ground and swollen rivers. We've had so much rain these last months. Its been a constant sticky, soppy swamp for months.
As Matthew hit us, we were already exhausted from worry over our loved ones in Florida, but had plenty of time to be well prepared. The circle met to do magickal protection work for two of our sisters with houses near Jacksonville Beach. Matthew slowed, and skirted the coast, wobbling east, but driving serious amounts of water in storm surge. Our sister's were spared any damage, but we were next. River and coastal communities all braced for impact.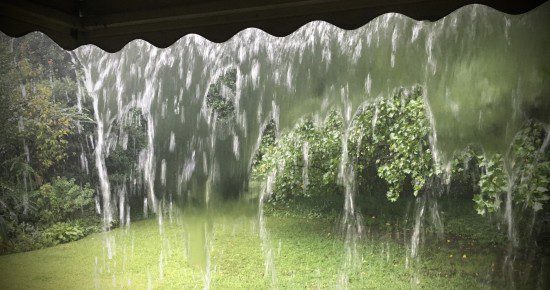 As Saturday night fell, the wind moaned like banshees. The "guardian tree," a huge old tulip poplar tree in my back yard that stands protection over our sacred circle, twisted and whipped but stood strong. That storm water was fast, relentless and had no where to go; flash flooding overwhelmed everything and some roads washed clean away. All over the region, cars were found nose down in newly formed trenches.
The power was out by 8:00, but a witch always has plenty of candles on hand. We went to bed and I lie there for hours chanting protection mantras and feeding Reiki and protective energies into the wards I'd erected around my properties.
Then as Matthew passed out to sea, the rains ceased, and the sun rose on a cool, autumn Sunday morning with a whipping breeze, and plenty of yard clean-up to be done. I lost a few shutters and a few branches. Though the winds were not so fierce here as they were in other places, there were still many fallen trees; this death toll is also important to me. One neighbor said a tree cleaved into their home and "crushed their refrigerator like a soda can."  Most of the folks I know merely had light debris fall in the yard, and the power was out from a few hours to a few days. My power was back on by 4:00 am.
Still, wind was hardly our biggest problem.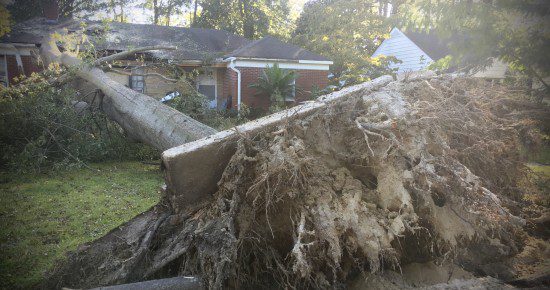 We were sleeping in because all seemed to be fine, until the doorbell wakes us from our beds. Looting teenagers were seen riding off with three of my family's bikes.  I'd stuffed every loose thing in my yard into the carport so it wouldn't blow away, and never once did I worry about having my bones picked cleaned by my fellow citizens, so I must have neglected to lock the bikes to the rack. The police officer who lives across the street was out on storm patrol, but his wife saw the crime unfold, called in the cavalry, and chased them down, recovering two of the bikes and arresting the perpetrators. I began my day by filing police reports, and I doubt I'll ever see my bike again, but the flying monkeys of Karma are hard at work. I've heard that police arrested several people trying to loot the evacuated homes in flooded areas.
Still, looting isn't our biggest problem.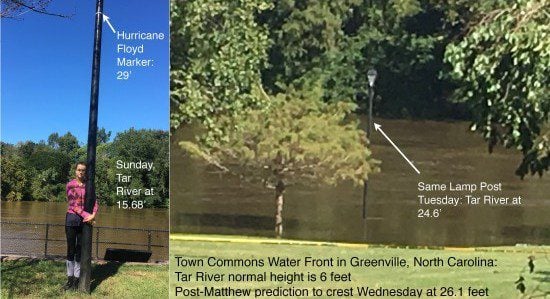 Widespread flooding is our biggest problem.
We live on the Tar River, which carries all this rainwater from central NC back to the sea. The further downstream you get, the higher the river rises. Waters collect in a slow-motion catastrophe that will drown all the towns that lie down stream.   The Tar flows through our Uptown region a mere 4 blocks from my shop, and the many neighborhoods that line her banks.
After Hurricane Floyd in 1999, the river rose to a historic 29′ and the city was an island of hurt for weeks without power, and compromised water systems. After that, much of the river front property, and anything built in the low-lying areas was demolished and turned into parks and greenways, where most of the time, folks can  jog and walk their dogs. Still, there are many vulnerable buildings and municipal systems still in that flood zone. Our airport is currently under water.
The cresting point of the river has been estimated to be 26.1 feet by Friday. The mayor announced that citizens were gathering for prayer at one of our closed bridges that stands sentinel over the Town Commons area pictured above. We are in the South, the 'Bible Belt,' and that sort of overtly religious thing is pretty normal around here. Mayor Allen Thomas asked that "people of faith" take a moment at noon on Wednesday, wherever they were, and pause for a moment of prayer. "Faith can move mountains. Today, we want it to move water."
I'm a person of "faith," technically, even if we may be praying in different ways. I agree that all things are possible when enough people set their minds and energies to the task. At noon, I was at my altar with some impromptu spell crafting.
Join us wherever you are, in the protection of all lands that Hurricane Matthew's legacy is now flooding. Click "Continue" and join me in this prayer and spell-working against flood damage (all instructions included) until the full moon crests on Sunday, October 16, 2016 at 12:23 am EST. Adapt it for your own region, or with whatever materials you have on hand, and help us create some change, Gods willing and the creek don't rise!
Thank you.
Blessings of protection and well-being to you all! We are all in this together, my loves.
~Heron
I'd love to hear how you adapted this spell for you own needs in the comments below, and how things are working out for you. Powers of Witchcraft, ACTIVATE!