[This post offers my story of life and witchcraft through Hurricane Matthew in October of 2016 here in Greenville, North Carolina.]
Hurricane Matthew blew through Eastern North Carolina on Saturday afternoon into Sunday morning and dumped what would be a catastrophic amount of water onto already saturated ground and swollen rivers. We've had so much rain. It's been a constant sticky, soppy swamp for months.
As Matthew hit us, we were already exhausted from worry over our loved ones in Florida, but had plenty of time to be well prepared. The circle met to do magickal protection work for two of our sisters with houses near Jacksonville Beach. Matthew slowed, and skirted the coast, wobbling east, but driving serious amounts of water in storm surge. Our sister's were spared any damage, but we were next. River and coastal communities all braced for impact.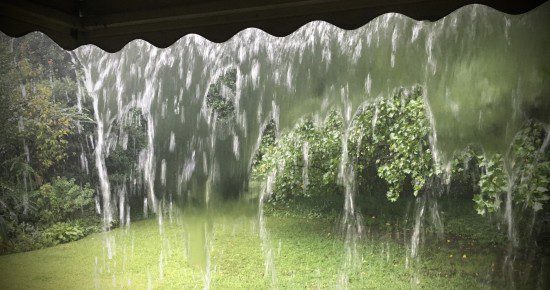 As Saturday night fell, the wind moaned like banshees. The "guardian tree," a huge old tulip poplar tree in my back yard that stands protection over our sacred circle, twisted and whipped but stood strong. That storm water was fast, relentless and had no where to go; flash flooding overwhelmed everything and some roads washed clean away. All over the region, cars were found nose down in newly formed trenches.
The power was out by 8:00, but a witch always has plenty of candles on hand. We went to bed and I lie there for hours chanting protection mantras and feeding Reiki and protective energies into the wards I'd erected around my properties.
Then as Matthew passed out to sea, the rains ceased, and the sun rose on a cool, autumn Sunday morning with a whipping breeze, and plenty of yard clean-up to be done. I lost a few shutters and a few branches. Though the winds were not so fierce here as they were in other places, there were still many fallen trees; this death toll is also important to me. One neighbor said a tree cleaved into their home and "crushed their refrigerator like a soda can." Most of the folks I know merely had light debris fall in the yard, and the power was out from a few hours to a few days. My power was back on by 4:00 am.
Still, wind was hardly our biggest problem.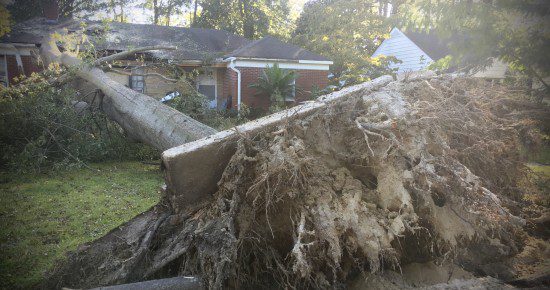 We were sleeping in because all seemed to be fine, until the doorbell wakes us from our beds. Looting teenagers were seen riding off with three of my family's bikes. I'd stuffed every loose thing in my yard into the carport so it wouldn't blow away, and never once did I worry about having my bones picked cleaned by my fellow citizens, so I must have neglected to lock the bikes to the rack. The police officer who lives across the street was out on storm patrol, but his wife saw the crime unfold, called in the cavalry, and chased them down, recovering two of the bikes and arresting the perpetrators. I began my day by filing police reports, and I doubt I'll ever see my bike again, but the flying monkeys of Karma are hard at work. I've heard that police arrested several people trying to loot the evacuated homes in flooded areas.
Still, looting isn't our biggest problem.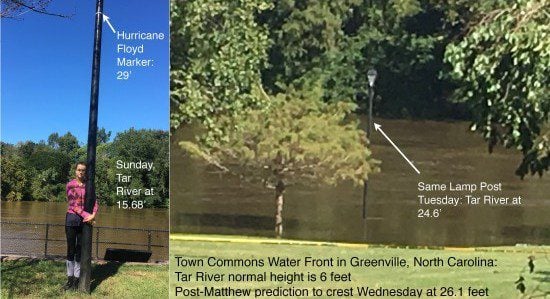 Widespread flooding is our biggest problem.
We live on the Tar River, which carries all this rainwater from central NC back to the sea. The further downstream you get, the higher the river rises. Waters collect in a slow-motion catastrophe that will drown all the towns that lie down stream. The Tar flows through our Uptown region a mere 4 blocks from my shop, and the many neighborhoods that line her banks.
After Hurricane Floyd in 1999, the river rose to a historic 29′ and the city was an island of hurt for weeks without power, and compromised water systems. After that, much of the river front property, and anything built in the low-lying areas was demolished and turned into parks and greenways, where most of the time, folks can jog and walk their dogs. Still, there are many vulnerable buildings and municipal systems still in that flood zone. Our airport is currently under water.
The cresting point of the river has been estimated to be 26.1 feet by Friday. The mayor announced that citizens were gathering for prayer at one of our closed bridges that stands sentinel over the Town Commons area pictured above. We are in the South, the 'Bible Belt,' and that sort of overtly religious thing is pretty normal around here. Mayor Allen Thomas asked that "people of faith" take a moment at noon on Wednesday, wherever they were, and pause for a moment of prayer. "Faith can move mountains. Today, we want it to move water."
I'm a person of "faith," technically, even if we may be praying in different ways. I agree that all things are possible when enough people set their minds and energies to the task. At noon, I was at my altar with some impromptu spell crafting.
Join us wherever you are, in the protection of all lands that Hurricane Matthew's legacy is now flooding. Join me in this prayer and spell-working against flood damage (all instructions included) until the full moon crests on Sunday, October 16, 2016 at 12:23 am EST. Adapt it for your own region, or with whatever materials you have on hand, and help us create some change, Gods willing and the river don't rise!
I'd love to hear how you adapted this spell for you own needs, and how things are working out for you. Powers of Witchcraft, ACTIVATE!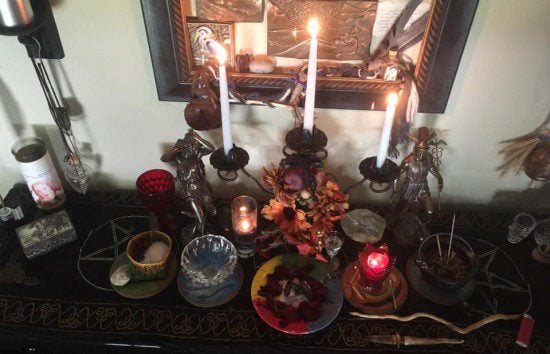 A Witch's Prayer and a Spell Against Flood Damage
Great Ones! Gods, Guides, Angels! Hark unto my call.
Great Mother, Great Father nurture and protect us in our time of need.
Be with us now, we pray. (Lights White Candles)
Ancestors of Spirit! (claps hands three times) Mighty Dead of The Craft, drawn close these Samhain-tides.
Awaken within us the old powers, tried and true; Shelter us from all harm and aid us in this time of need.
Be with us now, we pray. (Lights Black Candle)
Ancestors of the Blood! (pounds chest in heart-beat pattern three times) My own beloved dead, Mothers and Fathers of my line, back through the reach of time,
Return once more to hearth and home, protect our children and pets, make strong these foundation stones and shelter us from all harm.
Awaken within us your tenacity to survive; that will aid us in this time of need.
Be with us now, we pray. (Pours out offering of liquor)
Ancestors of the Land! (Stamps foot on ground three times.) Those who've cultivated and protected these lands in your time, those who've lived here, worked here, died to defend us and been laid to rest here,
Return once more to farm and city, harbor and armory. Protect our livelihoods, our crops, our livestock, our buildings. Keep safe our sacred places, our cemeteries and temples.
Awaken within us brotherly love and our Eastern North Carolina identity; aid us all in our time of need.
Be with us now, we pray.
(Lays map of region on pentacle, Rune Algiz for protection and defense is drawn over map; surrounds a monopoly house piece with hematite, rose quartz, blue lace agate, and an iron coffin nail, rings with red rose petals.)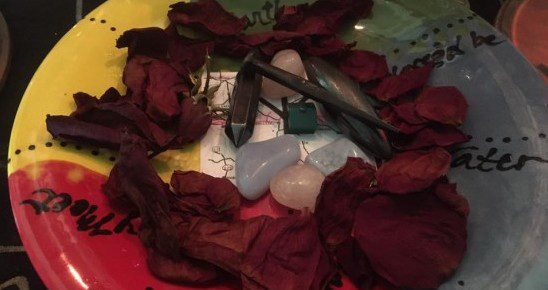 (Lights Incense)
Powers of Air, of intellect and wise governance. Be with us now!
Blow free all confusion; lend your powers of critical thinking and aid all our officials, aid workers and citizens in beneficial decision making as we ride out this flood.
Keep us safe from harm.
In gratitude, we call you into this working.
(blows incense gently over items on pentacle.)
I visualize a clearing and calming of the wind and atmosphere itself. I see the atmosphere of our state glowing yellow.
(Lights Red Fire Candle)
Powers of Fire, of action and protection. Be with us now!
Ignite within us the motivation to work hard to help our neighbors, the strength to persevere through difficult times, and the power to rebuild in ways that improve our preparation in the future.
With your power we rise into resolute, well-organized, and beneficial action. Awaken within us all that sacred mission that will serve our highest good at this time.
We surrender to your fires all hubris, all unhealthy ego-attachment to the unnecessary material possessions.
Keep us safe from harm.
In gratitude, we call you into this working.
(Touches iron nail to the flame, then uses nail to draw an invoking pentagram over top of the spell materials.)
I visualize the people of our state, especially the police, national guard, officials and aid workers rising into action to the aid of their neighbors like a well-armored and well-provisioned army, setting out to battle in perfect formation. I see the people of our state glowing red.

(Touches purified waters)
Powers of Water, of intuition and acceptance, Be with us now!
Awaken our instincts, grace and compassion. Help our emotions ebb and flow with these waters with a calm acceptance that all things change. Bring succor to those who are grieving their losses.
Your flood waters now accept their boundaries, flowing gently, evaporating quickly, finding the least damaging path to the sea.
Powers of Water, protect our water systems from pollution and disease. Protect our municipal treatment systems so they may do their work.
Keep us safe from harm.
In gratitude, we call you into this working.
(Sprinkles waters upon the ring of rose petals.)
I visualize the flood waters themselves, crystal clear, clean, flowing gently and easily, receding back to their normal river beds, accepting the boundaries of the dams and retention walls that hold them. I see the waters of our state glowing blue.
(Touches Sea Salt)
Powers of Earth, of stability and fortification, Be with us now!
Keep us rooted and nourished so that we make do the work before us. Empower the dams, levies and dikes to hold fast and steady. Be the sturdy banks that guide the water in the least destructive way possible to a peaceful resolution.
Aid our farmers and protect the bounties of their fields so that we may have the food needed to sustain us.
Be the energetic wall that defends our homes and businesses from destruction.
Keep us safe from harm.
In gratitude, we call you into this working.
(Sprinkles salt in a ring around the rose petals)
I visualize a strengthening of foundation stones, footers, piers and retaining walls; the metals and minerals of the earth itself know their purpose, to be strong and guide the waters. I see crystalline grids forming around all vulnerable areas and systems. I see the very land of our state glowing green.
Great Ones! Gods, Guides, and Angels! All those who keep us safe and illuminate the path before us.
Powers of East, South, West and North! All those from Above and Below who answer our call, in gratitude we set you to your work!

Great Mother, grant us your grace. As the moon waxes into fullness, I anchor our protection to her growing power.
Then as she wanes, may the effect of those flood waters wane quickly with her.
Great Father, grant us your strength. As the sun wanes into autumn, guide us through these dark times. Help us find our mettle, rising into our power, for the Highest Good, harming none.
In gratitude, our intentions are made manifest.
As is our will, it is so. SO MOTE IT BE!
I clap my hands three times, and leave the working to burn for a while. Then I return, as I am able, to relight and repeat, giving thanks for each small miracle that unfolds. I will continue this working daily until the moon is full. Blood Moon will peak on Sunday, October 16, 2016, 12:23 am.