One of my favorite things to do during the Halloween season is to visit the pumpkin patch with my children, take the hayride, and choose the best carving pumpkins for our jack-o-lanterns. But there are always those little "pie pumpkins" that I needed another reason to buy. This grim dish gives us something to do with adorable little pumpkins, but I call it "Baked Jack-O-Lantern Brains." Plus, it puts a meat on the table in a festive way.
Baking anything inside of a vegetable is a great way to create a delicious, succulent dish, and I just love the savory/sweet combo during a season when just about everything is a confection. We need to consume a solid protein during our Halloween dinner, or there is diabetic shock just waiting to happen later on when the candy loot arrives. My kids thought this dish was pretty funny, which went a long way in getting them to eat something "weird." Enjoy!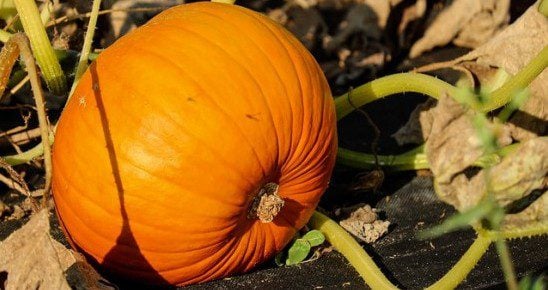 Baked Jack-o-lantern Brains
Ingredients:
1 pie pumpkin about the size of a volleyball that sits upright easily
1 box Uncle Ben's Wild Rice with Original Recipe seasonings,
(or 6 oz. of the grain of your choice, with 1 tablespoon tamari sauce, or soy sauce.)
1 pound lean ground beef
1 small onion, chopped
2 minced garlic cloves
1/2 tablespoon grated lemon peel
1 tablespoon lemon juice
1 tablespoon Worcestershire sauce
1/2 cup raisins
1 peeled, chopped fresh apple
1/2 cup chopped walnuts
1/2 cup minced fresh parsley
1/2 teaspoon dried mint leaves, or 1 tablespoon minced fresh mint leaves.
1/4 teaspoon cinnamon
1/4 teaspoon cumin
Sea salt and black pepper to taste.
Sauce:
1 can tomato soup
1 Tablespoon lemon juice
1/4 teaspoon ground cinnamon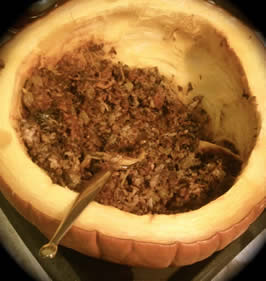 Directions:
Prepare your rice or grain according to package directions and set aside.
With a sharp knife, create a removable top around the stem by cutting at an angle a 4-6 inch diameter hole. Scoop out the seeds and loose pulp, trim the stringy bits from the top.
Preheat oven to 350 degrees.
In large skillet over medium-high heat, brown ground beef, onions and garlic, stirring occasionally to break up the meat. Pour off the excess fat.
Removed from heat, stir in the rice with the meat. Add the lemon peel, lemon juice and Worcestershire sauce, raisins, apple, walnuts, parsley and mint leaves, and toss it all together.

Stuff the pumpkin with the mixture, replace top. Sit your stuffed pumpkin in a large baking pan, add 1/4 inch of water to the pan and cover the entire pan/pumpkin with foil.
Bake for 45 minutes to an hour, or until flesh of pumpkin is tender and easily scoops away with a spoon to be served with the stuffing. Taste and add any extra salt or black pepper to taste.
While pumpkin is baking, blend the tomato soup, lemon juice and cinnamon and heat either in a sauce pan over low heat or warmed in the microwave for a few minutes.
When serving, I scoop down into the meat of the pumpkin and serve it with the stuffing, then drizzle tomato sauce over the stuffing.
Jack's brains are served! May they sustain you for a long, bountiful night of trick or treating! <cackle>
Happy Halloween!
~Heron