It is the season of Samhain and I am honoring my ancestors of blood, by remembering them through song and story. I began with the telling of my mother's sudden cerebral hemorrhage in Death Toll: Passing Away, and continued the story with Death Toll: Coming to Terms.
---
Psychic Agent
Mom lie in life support limbo for a total of three days. She was visited by so many mourning friends and family. They gathered around her bedside and prayed, cried and tried to wrap their heads around what was happening. One of my mom's church friends sang the Lord's Prayer for them. Eventually, the moment of parting came. Everyone said their goodbyes and took one last picture, then at 4:00 Sunday afternoon, she was taken for many long hours of surgery for the organ donation harvest.
At that same time, my little family set out on the long road from Greenville, North Carolina, to Paducah, Kentucky. My husband drove all night so that the kids and I could sleep, but whenever I closed my eyes she was there. Her voice rang through my head…there was a sudden fire burning so insistently with the eulogy I just knew I had to offer. But how could I?
I was wracked with guilt for all the ways in which I simply could not stand my mother; all the times I was horrified and embarrassed to be her daughter; all the intolerant things I'd ever said to her, and about her. But the Eulogy just kept on pushing forward, speaking itself to me aloud. Stories I hadn't thought of in years popped into my mind. Themes formed.
She was always standing just over my shoulder, directing my attention to aspects of her perspective I'd never before considered; it was like a repeating litany, of the "moral" of all her stories, but far beyond the constant, harping sermons I was sick to death of hearing, all the exemplary lessons she'd taught by example coalesced into a filmstrip projected on the screen of my mind. See? See? This was who I was….this was my Christian witness…remember…remember that time when…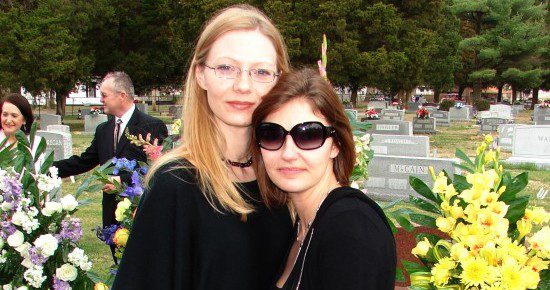 We arrived at my Grandmother's house before dawn Monday morning.  We slipped into the guest rooms I've loved since I was 2 years old, these same beds, these same quilts I'd long ago shared with my own mother and father, now warmed my babies, as we snuggled them in between us for what rest could be had before the parade of duty began.
Seeing my sister, Heather Anne, was a tearful and cheerful relief. She'd arrived on Saturday and taken "hospital duty," and our deal was that I would then take "funeral-planning" duty when I could arrive.  That morning we accompanied our Step-Father, Skip, down to the funeral home and made arrangements.  That week before she died, she practically laid a trail of breadcrumbs for us to follow with all her burial preferences.  In our very last conversation just 3 days previous, she went into critical detail about what she did and did NOT like about the funeral she'd attended the day before. She said outright that she thought it was at the best funeral home in town. So, that's where we started.
That's when the headaches began.  I don't usually have headaches, but from the moment we got to the funeral home, they lay on the surface of my forehead in a heart-shaped patch of pain. My skin was tender to the touch and extra-strength Tylenol could only drive it away for a few hours before it began to pound again. It felt like I was being stabbed from the inside out, and I believe this was in part due to the Spiritual connection through which she captivated me. She'd grabbed hold of me by the third-eye chakra and was dragging me around.
Arrangements
One good thing about having an opinionated, out-spoken mother, is that everyone was aware of exactly how she felt about…well, just about anything that crossed her mind. So, planning her funeral was pretty easy. We were all in agreement, and worked quickly. The obituary details were given, and the no-extra-frills package selected. We all agreed upon an elegant casket of rosy burnished gold with feminine crosses embossed at the corners. The service times were set: visitation on Tuesday at the funeral home, services at her church on Wednesday with graveside burial to follow.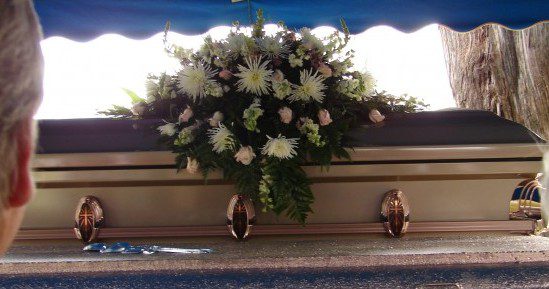 We then visited the cemetery to arrange the ground opening.  Another breadcrumb she laid down that week was in a conversation with my Grandmother about her desire to be buried in the family plot in Paducah, despite her assumption that her husband would eventually like to be buried in Florida with his own family. Behind where her father already lay at the family gravestone and under a large cypress tree, was a plot that was already hers, paid for by my Grandad decades before.
Afterward, Heather Anne and I went to the florist to order the casket flowers. I had this fierce vision of large, sprawling, white tiger mums. It was the one and only flower that came to mind when I thought of her and it did not seem like an option. We designed an arrangement all in whites and creams with touches of pink: tiger mums, snapdragons, pale pink roses and tiny little clusters of deep pink blossoms. I remembered so clearly a day in summer when I was 6 or 7 when we'd planted snapdragons together.
On the way home, we picked up a feast-worth of "soul-food therapy" of fried chicken and fixin's. The house was full of mourners, but the best thing about good, western Kentucky folks, is that they show up with with casseroles, roasts and pies, and all manner of delicious, southern condolences, so we feasted together.
Possession?
Mom's pastor and his wife were there to talk about the funeral service. That is when this weird, thing happened for the first time in my witching experience. I think mom took over and used me as her channel. Suddenly, I found myself standing in front of the pastor, but as if I was looking over my own shoulder. I heard myself from a muffled distance asking him to work me into the funeral to give her eulogy, and which old hymns to sing, and who should be called to speak. As soon as I offered to do the eulogy a ball of tension and panic formed in my gut. What had I just done? Then she let me go.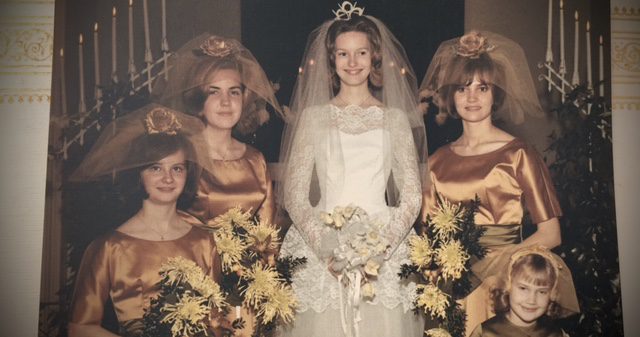 That night we had a long to-do list given to us by the funeral home, and we got to work, with the help of Skip, our Aunts and cousins. We found the wedding suit that everyone seemed to know that she intended to be buried in, despite the fact that there was no way she could still fit into the tiny thing. (Those Funeral home people do work wonders.)  We found the gold necklace of her name in Arabic my dad bought her in Saudi Arabia, the cross she always wore. We found the right lipstick and the only perfume she'd ever wear: Beautiful. That night we poured through 60 years of photo albums to find the perfect sixteen pictures to be used in the slide show playing at the visitation.
We also put together a nice memory board with pictures of mom's adventures and accomplishments. It was so nice to be reminded of all that she had been and know that it was impossible to narrow it down. Mom's running commentary through my mind, bits and notes for the eulogy rising to my notice… remember, remember…
The magickal moment of confirmation came late in the evening when we were absolutely exhausted. While searching through the wedding album of her marriage to our dad in 1966, I consciously noticed for the first time in my life, that the flowers in her bridesmaid's bouquets had been large, sprawling, white tiger mums. Thanks for the tip, Mom. Message received!
---
Over the coming days, we had much to prepare as we readied the funeral services, and met with her mourners, but that is a story for next time.
Until then, consider setting up an ancestor altar as part of your Samhain preparations, with pictures of your beloved dead, candles, and keepsakes of theirs, like my mom's bible. Yes, my mother's bible is on my Witchy ancestor altar, and I see no conflict with that. I also give offerings of the material comforts they enjoyed most in life; consider what flowers, foods, drinks, or indulgences they most enjoyed…but don't forget about their colognes and perfumes, too. To draw my mother's spirit close, and her memory instantly to mind, I most enjoy offering a spritz of her favorite perfume, Beautiful, over the altar. I still have that last bottle that I took from her dressing table after the funeral, and each drop is a treasured possession that I do not share frivolously. That fragrance IS my mother's memory, rendered into olfactory love.
Until next time, Samhain blessings,
~Heron