The spring swells towards the greater sabbat of Beltane. I don't know about you, but I've been feeling the twitterpation yet again! Beltane peaks when we reach 15 degrees of Taurus. Just for some sexy fun, today I offer you a poem I wrote as a memory of the sexiest Beltane rites I ever celebrated…enjoy!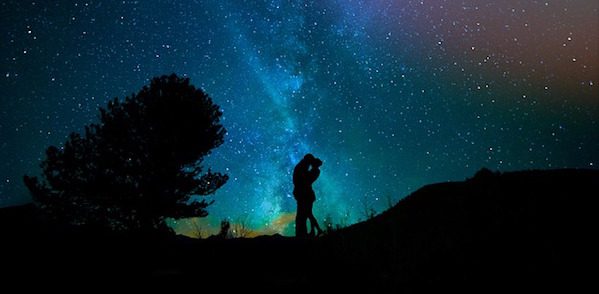 Beltane Lovers
Sliver of maiden moon,
slight as a bride,
in swelling expectation,
rushing through the ceremony,
mind on the consummation.
Beltane blossom, tight petal lips
raised in prayerful longing,
saps rise to be savored on the tongue
her nectar, intoxicating.
Balefires burn, sparks flying,
the god descends to join his lover,
and earth becomes their bower.
Tides rise to peaking, nature sings
the songs of wanting,
every beast beseeching
in the whispering pines,
"Come hither!
I am the one!
Choose me!"
Cosmos thrumming,
earth arches to join him,
and they dance again,
in sabbat sweat and salt,
enticing spice of wood smoke,
erotic perfume, blossom unfurling,
flesh yearning for that sacred heat
and surrender to the burning.
Veils fall like their clothes tossed aside,
hearts open, minds wide,
each tender touch entangling.
Tides sweep them away,
each kiss, deeper than the last,
blossom wide and opened for the plucking,
leaning into his light 
to be taken.
Winter ices melt, flowing together,
merging, boundaries blurring,
acceptance of all waters
rising and falling,
as one body, one temple,
erected 
where her goddess meets his god
and the Universe screams their Divine names.
A liturgy of union, a song of salvation
from separation is sung, a duet at last.
Swimming those deep waters,
he made the quest, seeking,
fearless Knight of Cups,
who knew the mystery 
and could drink
from her holy grail, eternally.
Beltane lovers, King and Queen
walking the limits of seen and unseen,
hers for the merging,
hearts bound, hands fasted,
a perfect circle, returning.
As it is above; it is true below,
their cup overflows in affirmation.
To every query, answers the resounding YES!
"I am here;
You are the one;
I choose you!"