For all my vegetarian moms of little kids, and young folks learning to cook for themselves, and old folks like me who loved "Hamburger Helper" out of the box (before we knew any better), but are now trying to up our healthy eating game, I present to you this easy recipe for my favorite nightshade comfort food, newly re-branded with an ironic Halloween-ish name, because it is October…and clickbaity.
While it isn't actually "deadly," it isn't low calorie, either, and so yummy it may lead to an impolite gobbling in monstrous fashion. However, what you gain in nutritional value from this nightshade trick is a total treat. Prepare this recipe at your own risk! <cackle>
Comfort Food Evolves
I've always loved to cook – and my mom let me have full, unsupervised reign of the kitchen starting in the fifth grade. When I was in high school she went back to work, and I took over a big part of the family Kitchen Duty. Quickly, my favorite recipe became "Cheesy Mac and Burger" because if Mom isn't there, she doesn't get a say in what I cook. This was basically a home-made version of boxed "hamburger helper," plus a few veggies, and real cheese, which made it seem healthy-ish enough.
My dietary choices have changed a lot over the years, and the recipe has evolved to match. When I was eating a vegetarian diet, I developed a veggie substitute for ground beef that I actually prefer. Another day, I was out of canned tomatoes and too lazy to go shopping for fresh bell pepper, but I happened to have left-over pico de gallo, and BAM! we get a Mexican-twist that is now mandatory. What makes this new and improved version of the recipe so exceptional are the "nightshade fruits" we throw into it…and hot sauce, because HAIL POWERS OF FIRE!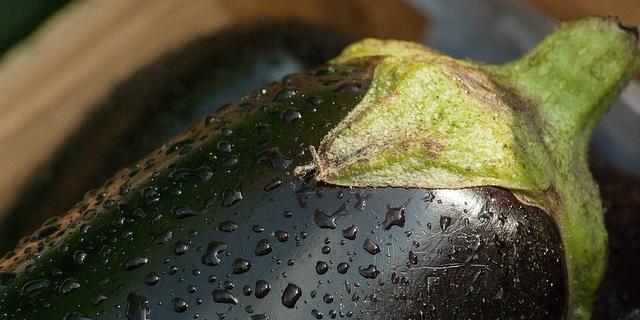 "Deadly" Nightshades: a Witchy Fruit? Facts vs. Myths
Nightshades have a mixed reputation for being both toxic in some circumstances, and medicinal in others. That is so witchy, don't you think? The Nightshade (Solanaceae) Family of fruits (and tubers) are Tomatoes, Tomatillos, Eggplant, Potatoes, Goji Berries, Tobacco, and Peppers: bell peppers, chili peppers, paprika, tamales, pimentos, cayenne, etc.
"At first glance, the nightshades may look like a random collection of foods that couldn't possibly be related. However, every nightshade plant produces fruits that all sport that same adorable little green elfish hat." diagnosisdiet.com

Nightshades have a mixed reputation because they contain Glycoalkaloids, which are toxic to bacteria, fungi, viruses, and insects that attack the plants. But these poisonous aspects on the cellular level, can also have some medicinal effects on the human level: according to laboratory studies, Glycoalkaloids have anti-inflammatory, antiviral and antibacterial properties, and are rich in fiber, vitamins and antioxidants that reduce risk of cancer and heart disease. (diagnosisdiet.com)
"Why the bad reputation? Some people may think nightshade vegetables are harmful because they're confusing them with 'deadly nightshade' or Atrope belladonna, an inedible weed that's also part of the Solanaceae family…Historically, the deadly nightshade has been associated with witchcraft. When [atrope belladonna is] ingested in large amounts, it may cause convulsions or even death. But that has nothing to do with these vegetables." BestHealthMag.ca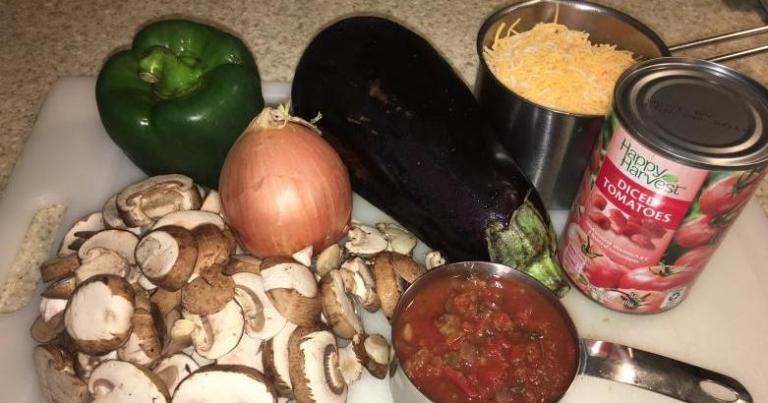 "Deadly" Nightshade Noodle Recipe, Vegetarian
Ingredients:
16 oz. package of cooked noodles (macaroni or shells, rotini or penne, something bite-sized)
3-4 tablespoons extra virgin olive oil
1 large eggplant, peeled and grated (nutritional content)
8 oz. button mushrooms, or baby bellas, finely chopped (nutritional content)
1 medium sized yellow onion, finely chopped
1 tablespoon minced garlic
1 green bell pepper, chopped into bite-sized pieces
1 can diced tomatoes with juice
1 cup pico de gallo–I buy the pre-made tub of it in my grocery store produce or deli section.
1 1/4 teaspoon sea salt
1 teaspoon black pepper
2 cups grated Mexican cheese blend: The packaged one I used had cheddar, Monterrey jack, Asadero, Queso Blanco
1 cup Sour Cream
Hot sauce – any peppery, vinegary, spicy hot sauce brand that you like!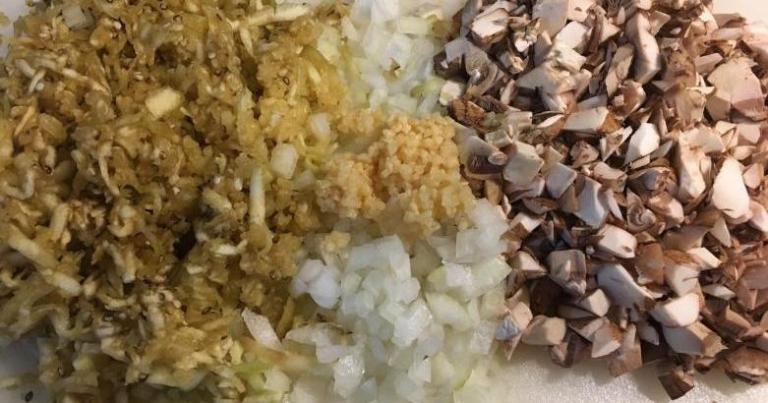 Directions:
Cook noodles per package directions, drain and set aside.
This step creates my vegan "ground beef" base that I substitute in any dish that usually begins with browning ground meat – like Italian tomato sauces and chili. Heat olive oil over high heat in a large, deep skillet. Saute the onion and garlic for a minutes or so. Add the eggplant, mushrooms and bell pepper and continue to stir for about 10 minutes or until until all are glossy and soft.
Reduce heat to medium, add the can of tomatoes, salsa, salt and pepper. Cook 5 minutes more.
Remove completely from heat before adding the dairy products in the next step.

After the pot is removed from the heat, add the shredded cheese and sour cream. Stir to melt.
Now add the cooked pasta to the pot and gently fold it all together.
Serve it up in a bowl and drizzle with the peppery hot sauce you like best. I like Texas Pete, Tabasco, or Sriracha. All peppery hot sauces are essentially a "Nightshade Potion" that is deadly to boredom and banality in life! Bring on the FIRE!
Happy Halloween and Samhain blessings!
~Heron