Imbolc (im'-molk), is the Witch's grand sabbat of High Winter. I celebrate the peak of the winter season when the sun reaches 15 degrees Aquarius, which falls sometime during the first week of February. To discover the date that occurs this year, check out archaeoastronomy.com.  In the Sojourner Tradition of Modern Witchcraft, this holiday is when we re-dedicate ourselves to the Great Work of Magick both personally and as a coven.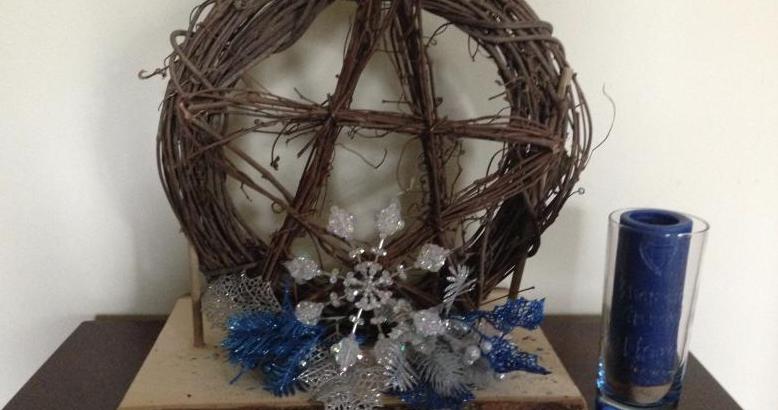 Imbolc Season is for Cleansing Away the Old, and Preparing for the New
The waxing tide that kicks off at Yule and leads up to Imbolc is the season of preparation for the next Great Work.  As we get into the airy sign of Aquarius, we perform home cleansings to clear the air. We clean and sharpen the old magickal tools, and we consecrate any new tools that we'll for our new endeavors.
These oil and incense recipes can be blended to aid in the Home cleansing ritual linked below, and then for using during your solitary or coven Imbolc rites. link to home cleansing ritual, of click image below.
Imbolc Anointing Oil
1/2 oz. bottle.
6 drops Lavender Essential oil
3 drops Lemongrass Essential oil
fill to top of bottle with sweet almond oil
chips of any stones of Aquarius you have on hand.
Imbolc Incense
1 T. Powdered White Pine, Air, Aquarius
1 T. Powdered Benzoin Resin, Aquarius
1 T. Lavender, Air, Venus, Goddess
1 t. Meadowsweet, Air
1 t. Bay Laurel: Purification, healing, protection, Aquarius
1 t. Willow bark: moon, Venus, healing, Aquarius
I add stone chips to incense blends as well, to keep them charged. See above for suggestions.
Imbolc Celebrates the Goddess Brigid through Traditional Crafts
"As witches prepare for the Grand Sabbat of Imbolc, it is customary to weave a Brigid's cross out of reeds or grasses, as a talisman of blessing, and an amulet against disease in the household. This bit of folk-magick comes to us from the Celts, and the traditions associated with Brigid (1), who is venerated by pagans as a Goddess and by Catholics as the Patron Saint of Ireland."
I keep my Brigid's Cross hanging on the back of my front door all year long! link to instruction, or click image below.
Imbolc and Lammas form a Polarity Balance
"Imbolc and Lammas hang in this balance on opposite sides of the Wheel of the Year. I think it is just as important to honor the squishy, innocent  "naive pledge everything for love" side of the polarity during the Imbolc season, as it is to honor the stark, heartbreaking, "maturely sacrifice everything for love" at Lammas. From this tension, the genre of macabre Gothic romance was born. No matter how you celebrate, or not, I don't recommend mocking or discounting the Love Goddesses, because they can kick some booty, too. Sometimes they love us with a kiss, other times a spanking. mmmhmmm <winks>" Link to the solitary self-love ritual, or click image below.

At Imbolc we Dedicate to The Great Work of Magick
"Our coven engages in the Great Work of Magick – which is a dedication to personal enlightenment, as a means of progressing society through Divine Love. As witches grow in wisdom, and experience, we see that inner light radiating outward as a ripple effect through the interconnected fabric of existence.  So, Imbolc is when we all dedicate to both a personal intention, and also to a Coven-wide intention that will aid in the advancement of our society." link to learn more, or click image below.
Imbolc Celebrates the Purity of Love: Chocolate = Love
"I've often make these two cake recipes together as a Yin and Yang complement to each other. They are like the bride and the groom cake, but opposite the traditional way of thinking about it the flavors. The depth of the milk chocolate cake being like the earthy dark, underworld goddesses and magick and mystery. The lightness of the white chocolate and raspberry cake being like the bright, sunny Sky Gods of the heavens." Link to recipes, or click the image below.
Witchin' in the Kitchen: Yin and Yang Chocolate Cake Recipes
However you celebrate Imbolc this year, may these high tides of Winter bring you the peace, hope and readiness to enjoy this Turning of the Wheel most effectively.
Imbolc Blessings,
~Heron