As a follow up to the 2020 Lunar Calendar I posted earlier this month, I've had a reader request that I post the Sabbat Calendar for this turning of the Wheel. For your magickal pleasure, I present below an integrated astrological calendar, with my recommended dates for planning your rites, both Solar and Lunar.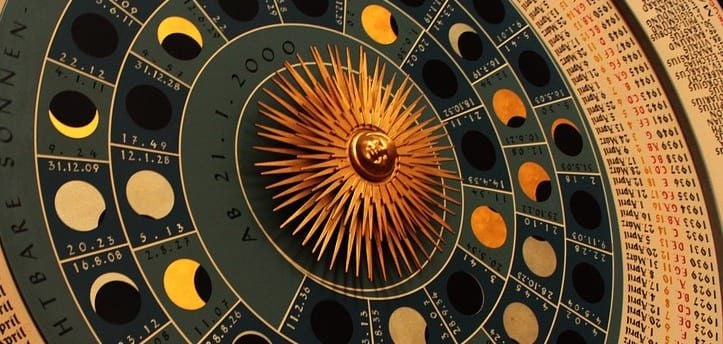 Precision vs. Ease
Of course, if you have the freedom to celebrate any time of day, and any day of the week, by all means be as precise in your magickal timing as you can. However, we are all busy people. We have jobs, and families, and sometimes the coven or kids just can't manage to get their ritual act together until the weekend.
Remember that our seasons are great tides which flow in for six and a half weeks, to peak. Then they turn to ebb back out again for 6 and a half weeks. A sabbat is not ONE day; it is celebration of either a shift into the new seasonal cycle (lesser Sabbats,) or the peak of that seasonal cycle (greater Sabbat.)
Ideally, we'd celebrate a lesser Sabbat anytime the week after the tide shifts into the new season. This is because we are there to honor the cardinal NEW thing, not what we've just left behind. We'd celebrate the greater/grand sabbats, or cross-quarter days, anytime during the week before the peak, because we are using this swelling energy to grow and increase our Great Work intention with the fixed energies of the seasonal high tides. Grand Sabbats are the solar equivalent of working with the moon during the waxing phase through Full. Lesser Sabbats are the solar equivalent of working with the new moon to set new workings into motion for that cycle.
Calendar vs. Astrological Methods
Modern Witches celebrate the Wheel of the Year by many different methods. Do what works best for you. I choose the science of Astrology to determine the auspicious milestones of our magickal year. This method aligns with the Hermetic paradigm upon which all the rest of my magickal practice is based. Therefore, the astrological method of timing holds an internal consistency and logic which appeals to me. This is because it transcends all the fallibility of human constructs, and discrepancies among various cultures based on their particular latitude or longitude. It removes the unwelcome remnants of empty religiosity that neo-paganisminherited from the the over-culture.
In other words, I don't much care when the Catholic Church celebrated their Candlemas back in the bad old days. I don't let an outside religion dictate when the magickal tides are high for my witch's Imbolc sabbat. I realize that our ancestors were forced to hide their practices of the Old Religion behind the guise of a false Christianity, but I have the freedom to throw off that yoke entirely.
The metaphysical science of timing I'm referring to is called archaeoastronomy, and I love this website for an explanation of that discipline, and their handy Sabbat dates/times for every year. If you happen to be in London's time zone, their times will be perfect for you.
Below, I'll link in another article about my rationale between the calendar and astrological methods of magickal timing for the Sabbats:
2020 Astrological Wheel of the Year Calendar, Eastern Standard Time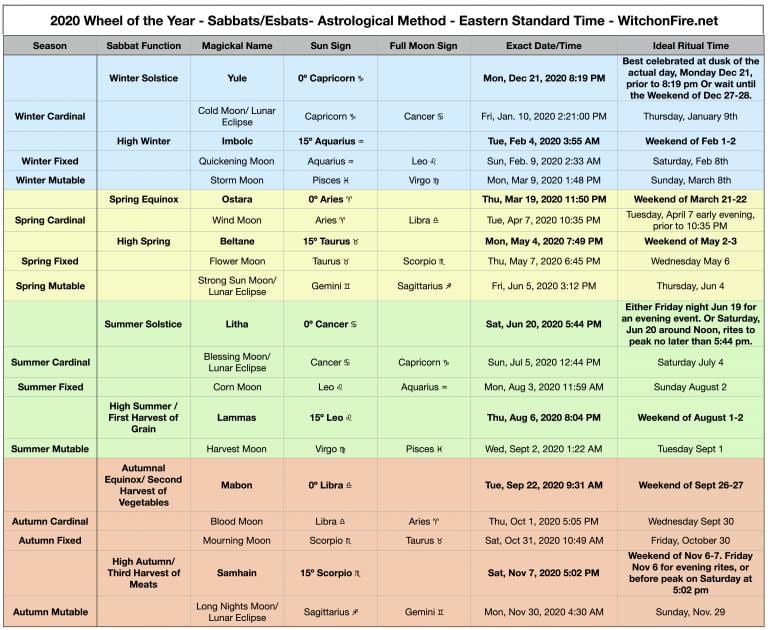 Solar Sabbats 2020
Winter Solstice – Yule
Astrological Time: 0º Capricorn ♑︎
Calendar Date: Mon, Dec 21, 2020 8:19 PM
Times to Celebrate: Best celebrated after dark of the actual day, Monday Dec 21, prior to 8:19 pm Or wait until the  Weekend of Dec 27-28.
High Winter – Imbolc
Astrological Time: 15º Aquarius ♒︎
Calendar Date: Tue, Feb 4, 2020 3:55 AM
Times to Celebrate: Weekend of Feb 1-2
Spring Equinox – Ostara
Astrological Time: 0º Aries ♈︎
Calendar Date: Thu, Mar 19, 2020 11:50 PM
Times to Celebrate: Weekend of March 21-22
High Spring – Beltane
Astrological Time:  15º Taurus ♉︎
Calendar Date: Mon, May 4, 2020 7:49 PM
Times to Celebrate: Weekend of May 2-3
Summer Solstice – Litha
Astrological Time:  0º Cancer ♋︎
Calendar Date: Sat, Jun 20, 2020 5:44 PM
Times to Celebrate: Either Friday night Jun 19 for an evening event. Or Saturday, Jun 20 around Noon, rites to peak no later than 5:44 pm.
High Summer – First Harvest of Grain – Lammas
Astrological Time: 15º Leo ♌︎
Calendar Date: Thu, Aug 6, 2020 8:04 PM
Times to Celebrate: Weekend of August 1-2
Autumnal Equinox – Second Harvest of Vegetables – Mabon
Astrological Time: 0º Libra ♎︎
Calendar Date: Tue, Sep 22, 2020 9:31 AM
Times to Celebrate: Weekend of Sept 26-27
High Autumn – Third Harvest of Meats – Samhain
Astrological Time: 15º Scorpio ♏︎
Calendar Date: Sat, Nov 7, 2020 5:02 PM
Times to Celebrate: Weekend of Nov 6-7. Friday Nov 6 for evening rites, or before peak on Saturday at 5:02 pm
2021 Calendar now ready!
If you liked this integrated calendar in 2020, click the image link below to continue onto the same information pulled together for 2021!