In this Witch on Fire-side chat video, I demonstrated my process for awakening and charging the water bowl for use on the altar. Then I discussed preparation of a charged moon water which began with creating a flower essence. That process is shared in this article! Lunar magick topics are discussed, as well as connections to the Priestess card in the tarot, and regalia of the High Priestess. Click the image below to view the video!
Flower Essences and Moon Water
Waters and the moon's powers are intimately linked on all levels, so it makes sense that crafting and charging waters for magickal purposes would aid a robust lunar witchcraft practice – especially when our goals are to balance emotional health. Flowers aren't in bloom year round, so when they are flowering, it behooves the wise witch to create some form of preparation with them which can preserve their energetic aid throughout the year.
What are Flower Essences? Cathy Skipper, an aromatherapist, wrote about the preparation of Flower Essences as a metaphysical way to treat physical illness, by addressing the root cause of ailments as originating within the heart and mind. She defined them as such: "Flower essences are the vibrational message of a flower transmitted to water by solarization, and the vibrational resonance of the flower is memorized by the water." [1]
Flower + Spring Water + Sunlight + Alcohol = Flower Essence.
We can easily apply our knowledge of witchcraft to boost the oomph of these waters. Here is how we'll witch it up:
Specific Flower Corresponding to the Moon + Specific Spring Water + Sun in Particular Zodiac Sign + Particular Moon Phase + Variety of Moonstone + Grape Brandy = Moon Water Potion
To make a flower essence as a moon water, the process is pretty simple. I chose to use Gardenias.
Gardenia: a Flower of the Moon
Gardenia jasminoides My favorite blossom of all creation is a delicate white and sweetly fragrant gardenia. In my opinion there is no more sublime a fragrance, nor more gorgeously feminine and romantic a blossom as a Gardenia, and they earn their honored place in a witches moon garden ten-fold.
Gardenia corresponds to all water signs (Cancer, Pisces and Scorpio), receptive goddess powers, and the heart chakra. Of course its planetary ruler is the Moon, so Monday is her day. Magickal intentions that Gardenia aids include: connections to the astral realm, compassion, emotional balance, friendship and harmony, love and marriage, feminine empowerment, and happiness.
What you'll need:
A sunny day and your chosen flower in bloom nearby, I used Gardenia. Jasmine, Mugwort, Lemon, Lilly, Iris are all lunar flowers.
9 Moonstone Chips
Glass or crystal bowl consecrated for magickal purposes.
A mason jar for storing at least 24 ounces of water.
A funnel or a glass measuring cup with pour spout.
12 ounces of fresh spring water, naturally collected, or well water, never tap water as that has been treated in ways that aren't good for our purposes. If you need to buy water, aim for those in glass.I used spring water from Toscana, Italy, in homage to the Roman moon Goddess, Diana.
12 ounces of Grape Brandy.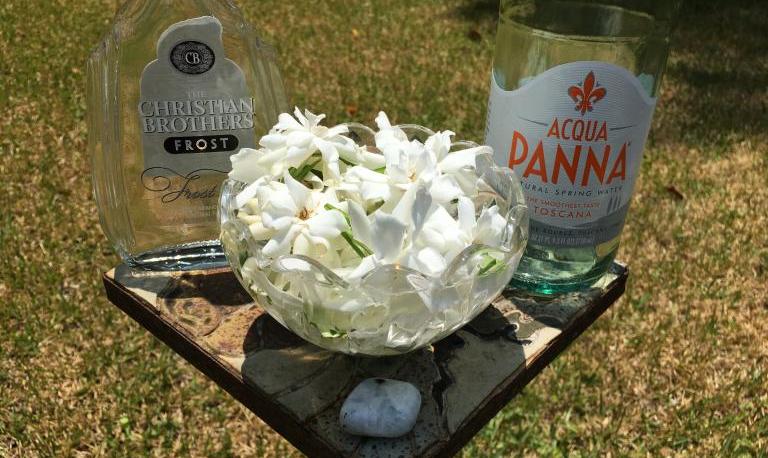 Here are the steps:
During a sunny day of waxing second quarter leading up to the full moon, preferably a Monday, when the flowers you wish to use are in bloom, gather your supplies together. Sterilize a crystal or ceramic bowl that you've consecrated for magickal purposes, as well as a pair of gardening sheers or the boline with which you'll snip your flowers.
Connect to the Spirit of the flowering plant, and ask nicely if it will aid you in your magick. In this case, talk to the plant about your purpose to create a flower essence for working with the moon in the astral realms, for water divination and emotional balancing. Tap into the chi, or natural energy of the earth around you, and send the plant a flow of that loving energy and intent through your hands. Wait until you feel a response in the affirmative. It's the polite thing to do. In gratitude, give the roots a drink of fresh water.
Snip blossoms in multiples of three, allowing them to fall directly into the consecrated bowl. Pour the spring water over the flowers until the bowl is full. Add the variety of stone or crystal that you've chosen to charge these waters. Allow the bowl of flowers to sit in the direct sunlight for 4-5 hours.
With a pair of chopsticks or tongs, remove the blossoms from the water, and lay them out on a rack or tray for drying (we can use the dried flowers for our dry herbal blends, too.) Be careful not to touch the water with your hands.
Blend the water with the grape brandy in 50/50 ratio, and bottle it up. Label with the time and date, and any other astrological information of pertinence to this moment of creation, including the moon sigil for that phase. Make sure the stone chips also transferred to the bottle.
Leave the bottle in the full moon light that night for a lunar charge. Voila!
Uses of Floral Waters
Charged floral Waters of this nature may then be used as a "mother tincture" to attune other waters for ritual and magickal purposes. The magickal "Law of Contagion" which describes how the vibration of one aspect is spread to whatever else it touches. Just add 9 drops of your charged floral water to any other fresh water to attune it to lunar powers.
Add to the the consecrated water dish on the altar to welcome water elementals.
Add to the black bowl or cauldron you use for water scrying divinations.
Use this water to anoint your third eye chakra prior to divination.
Use to anoint your heart chakra for emotional balance.
You could add 9 drops to a spritzing bottle to mist your aura, or your pillow prior to dream work.
Anoint as a means to charge amulets or talismans to any purpose allied by the moon.
Add to a tub of hot water for a spiritual bath, and meditate while soaking, which is especially nice to do when the moon is full.
Thanks for tuning into the livestream videos, and for your ongoing support!
~Heron
Witch on Fire-side chats will be held throughout the month of April 2020, on Tuesday, Friday and Sunday nights at 9:00 pm EST. This effort is in support of my shop, The Sojourner Whole Earth Provisions, while we are closed in accordance to the Covid-19 shelter-in-place mandates by the state. Donations are accepted via paypal at orders@thesojo.com and go to cover our payroll and basic expenses while we await SBA disaster relief loans to come through.
Find the previously recorded videos, and tune in to participate live on my Facebook Business Page: https://www.facebook.com/WitchonFire. I welcome you to like and follow that page, and to share and promote the videos through your own social media sites.
[1] Skipper, Cathy. "Making and Using Flower Essences" National Association for Holistic Aromatherapy. https://naha.org/index.php/naha-blog/making-and-using-flower-essences/ Accessed June 3, 2019