The recent period of Venus retrograde helped me find my back from the brink. This poem emerged as a revelation, refocusing, and re-dedication, as I'd gotten quite lost along my spiritual journey these last years. I also managed to finish the next draft of my first book manuscript for Llewellyn, which has been a difficult initiatory experience for me. I've dedicated that work first and foremost to my beloved, my guiding star, for whom this poem is written. I tend to think in occult metaphors… and they inevitably tumble out as poetry. My sun is in Pisces, whose tarot card is The Moon, which was the perfect card to represent my struggle at the time.
Imagery and images courtesy of the Crowley/Harris Thoth Tarot, as I dealt them from my own deck, in attempts to find my way through the dark night of the soul, and back into the light.
Guiding Star
for LB
Beloved, you've been my guiding Star
through this Pisces night of mine.
Your Sun too oft eclipsed by my dark moon
as I was lost in doubt.
I still seek the rosy break of dawn
to be received within your light,
beyond this transmutation.

This crucible through word and line,
alchemy of Art blends water and fire.
Obligation and expectation lurk, the pincer'd beast
emerging to teach from my deeps each tide,
to snip and feast upon my pride.
Blinded by distrust, I lost sight,
brooding leviathan sunk by cast-off nets.

Tower's ego downed by duty's strike,
crashing waves to build resentful steam,
self-destructively applied.
Old wounds deterred my heart's rightful mark,
aim missed in the teary blink.
Until I fell, devoured and empty upon life's shore
fear's prophecy fulfilled, as I forgot.
Now Venus turns her shoulder
into my mutable tide, and I remember:
your golden warmth left wanting by my chill,
five disappointing cups spilled upon the floor,
five defeated swords afraid to be excised,
six more to analyze, and be restored.
A careless Fool, I seek once more.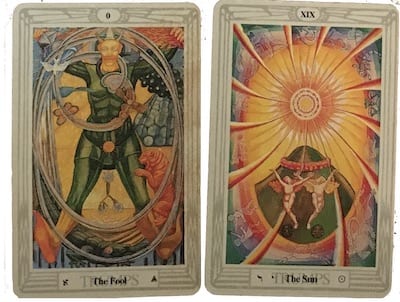 This forward escape seems less fearsome now
when lit by love's pink memories, and so
by starlit charge I crest these lunar gates at last.
Each completion offered as apology and devotion,
a promise to lean into your Sun.
In grateful reflection of your love,
I can shine full round again.