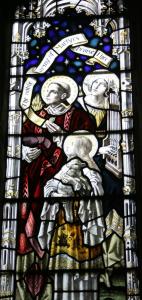 Would you willingly give up your life for someone or something? Perhaps your child? Maybe your spouse? What about your best friend or a close relative? Would you sacrifice your life for your Christian faith?
Think about it for a moment, and then think about Christ's disciples and some of his other followers like John the Baptist. Quite a few of them became martyrs for their Christian faith. And people are still martyred in modern times.
Martyrdom was all too common in the early days of the Christian church. Church tradition tells us that all of Christ's apostles except for John died violent deaths – as did many other early followers. They died horrific deaths as martyrs for their Christian faith.
The Bible says that John the Baptist, although not an apostle, was beheaded, and according to church tradition, the Apostle Paul may have been as well. Stephen was stoned, Christ's brother James was beaten to death, the church says, while Barnabas was burned alive, and Peter and Andrew were crucified. And Christ is considered to be the greatest martyr of all.
Then, remember Matthew, Mark, Luke and John, who are credited with writing the four gospels. We are told that Matthew was beheaded, Mark was dragged to death and Luke was hanged. Apparently, only John died a natural death at an old age.
Such grisly fates for leaders of the early church….
Roman Rule
The Romans were responsible for a good deal of carnage. They ruled an area that extended from northern Africa to modern-day England and made Christianity illegal in the lands they conquered.
They worshipped multiple pagan gods and deified Roman emperors. When Christians refused to worship those gods and perform the expected sacrifices to them, the Romans took action.
Rome imprisoned some Christians, sent others to desolate islands, sentenced some to hard labor and executed many. The Loyola Press, which is associated with the Jesuits, provides more information about well-known martyrs, as well as the thousands of unknown men, women and children who died for their faith in the first years of the Christian church. Click here to read the post.
Long-time Christians sometimes forget these martyrs' stories, assuming we ever knew them. Perhaps it's time to look at some of the early Christians who became martyrs for their Christian faith and think about a faith so strong they died because of it. Then, we will take a look at more modern-day martyrs and their stories.
Peter's Life
Before becoming a disciple of Christ, Peter was a follower of John the Baptist. We know he was married because Jesus heals his mother-in-law in Mathew 8:14, but we don't know whether he had children.
Peter was a fisherman who was in business with his brother Andrew, and the two of them fished with James and John, who were sons of Zebedee.
Christ saw leadership skills in Peter despite his flaws and chose him to lead the church. But Peter was the type of man who spoke before thinking about the implications of his words. He was the disciple who – in a fit of anger — sliced off the ear of a high priest's servant in John 18:10 and later denied that he knew Christ.
Yet, Peter inspired thousands of people to follow Christ. Read more about his actions on Pentecost here.
He also took the major step of officially welcoming a Roman centurion named Cornelius into the church, as described in a post by Regent University, a private Christian university in Virginia Beach, VA.
Tradition has it that Cornelius was the first Gentile to convert to the new religion. Read more from Regent by clicking here.
Peter's Martyrdom
The Bible doesn't tell us about Peter's death, which means we must rely on historical accounts and church tradition for that story. From these sources, we learn that Peter was crucified and asked to die upside down because he didn't feel worthy of dying as Christ did. But is this account true? We don't know for certain.
Historical records say that Peter died in Rome in 64 AD during the reign of Emperor Nero. Tradition has it that several of the other disciples had already been martyred by then, but we don't have solid proof of this, either.
Evidence for Christianity, a website sponsored by the non-profit Apologetics Research Society, tells us that the early church fathers agreed that Peter died in Rome. There is less evidence about the manner in which he was crucified. Apparently, the "apocryphal Acts of Peter is the earliest reference to the crucifixion of Peter upside down."
Regardless of how Peter died, we know he lost his life because of his Christian faith. Crosswalk, a Christian resource for news and educational information, concludes that his life and death glorified God and says, "Without question, this is the most important point to Peter's life."
---
It is not the torture, but the cause which makes the martyr. — St. Augustine
---
From Saul to Paul
The Apostle Paul did an extraordinary amount of Christian missionary work, but before he was Paul, he was Saul – a devout Jew who was committed to persecuting early Christians in and around Jerusalem. And he was quite successful.
However, his life turned completely around on a journey from Jerusalem to Damascus, where he planned to arrest more Christians. Saul, as he was then known, was struck down by a blinding light, and Christ spoke to him.
The experience led to Saul's immediate conversion. After three days, a Christian from Damascus named Ananias reluctantly restored his sight, and the newly named Paul dedicated his life to spreading the gospel. In an instant, he went from persecutor to persecuted.
Paul's Death
The Bible and historians of the time tell us nothing about Paul's death. However, tradition leads us to believe he may have been beheaded at about the same time Peter died.
"Given the political turmoil of the day, both apostles could have been caught up in a wave of attacks on Christians following a great fire in Rome," according to christianity.com.
The nine-day fire occurred in 64 A.D. when Nero was the Roman emperor. Given his violent and depraved nature, Nero was the logical person to blame for the fire.
PBS notes that "…regardless of whether or not Nero was involved in burning the city, he took advantage of the disaster to do two things: build his own luxurious new architecture and persecute Christians."
What we do know is that while Paul was imprisoned in Rome, he wrote several letters to Christian churches. Many of his letters or the letters of his followers became part of the New Testament.
Stephen's Martyrdom
Stephen has been called the first martyr for Christ. We know that he became a deacon in the early Jerusalem church when the apostles appointed him and several other men to distribute food to the poor.
We know little else about Stephen, other than the fact that his teachings angered some people. He was accused of blasphemy, tried and stoned to death. Ironically, the Apostle Paul – who was then known as Saul – was involved in the execution.
---
We don't know how God chooses martyrs. We do know that they give the most precious gift they possess — their very lives. — Cesar Chavez
---
Modern Martyrs for Their Christian Faith
It's unfortunate that the world has had martyrs throughout the ages. To honor some modern-day Christian martyrs, Westminster Abbey in London set aside a space above its Great West Door for 10 statues and information about them.
"The martyrs are drawn from every continent and many Christian denominations and represent all who have been oppressed or persecuted for their faith," the abbey says.
Among them are:
Maximilian Kolbe, a Polish prisoner in the Auschwitz-Birkenau concentration camp during World War II "offered his own life to save a fellow prisoner, Franciszek Gajowniczek, who was condemned to death by the camp authorities after a successful escape by a fellow prisoner."
A devout Catholic, Kolbe studied philosophy and theology in Rome. Following his studies, he and six other students organized a group called the Militia Immaculatae to win converts and perform good works. The organization flourished into a community whose influence spread throughout Poland. The group also established a presence in Nagasaki, Japan.
Kolbe remained in Poland when the Nazis invaded his homeland at the outset of World War II, although he sent other members of Militia Immaculatae to safety. He was captured and sent to Auschwitz, where he discreetly gave his own food to other prisoners to the detriment of his own health.
He was executed by lethal injection, and the cell where he died has become a shrine. Pope John Paul II canonized him as a martyr in 1982. Kolbe's image adorns churches throughout Europe, and a statue honoring him stands in Westminster Abbey.
Manche Masemola, a young South African woman, learned about the Lord from Christians who established a mission near her home. She attended services and then took classes twice a week.
Her parents, with whom she lived, became afraid she would leave them or refuse to marry. When she persisted in pursuing Christianity, they beat her. Finally, in 1928, they took her to an isolated place and murdered her.
A small group of Christians visited her grave in 1935, which was followed by other pilgrimages to the site in the 1940s. Her mother was eventually baptized into the church. And Manche Masemola's name was added to the Anglican Church of Southern Africa in 1975. Now, hundreds of people make pilgrimages to her grave every August, Westminster Abbey says.
Martin Luther King Jr., the famed American civil rights leader, was the son of a Baptist minister and his wife. His childhood was steeped in the rich tradition of African-American Christianity, and at age 15, the abbey says, he became a student at Morehouse College in Atlanta. He later studied at Crozier Theological College in Pennsylvania. 
King pastored a church in Montgomery, AL, following college and became involved in the budding civil rights movement in the 1950s. He and his family were subject to bombs and death threats initially, and later, by police harassment, jail and violence as well.
"King's prophetic vision combined an explicitly Christian language of freedom and justice with an appeal to American democracy," according to Westminster Abbey.
"Peaceful protests would affirm the dignity of African-Americans and embarrass their oppressors before the eyes of the world. His approach was essentially Gandhian. Violence bred violence only. Love must reply to hate."
In August 1963, King spoke at a massive civil rights gathering in Washington, D.C. (See my post on his "I Have a Dream" speech by clicking here.)
He received the Nobel Peace Prize in 1964 and was assassinated in 1968. The abbey says, "Today he is widely celebrated as one of the great prophetic leaders of the later twentieth century, and his name still inspires those who follow his call for Justice."
King is a controversial figure to this day. Some revere him for his accomplishments in civil rights, while others hate him for those same achievements. He was a martyr without a doubt, but he was no saint, either.
Closing Thoughts
So, we return to my original questions:
Would you willingly give up your life for someone or something?
Perhaps your child?
Maybe your spouse?
What about your best friend or a close relative?
Your country?
Would you sacrifice your life for a religious cause?
Would you sacrifice your life for Christ?
I can honestly say that I would willingly sacrifice my life for my children and grandchildren. I also don't believe I could ever deny my faith in Christ.
But then I think of Peter, who denied Jesus three times. If Peter, a man who had followed Christ throughout his ministry could deny knowing the Lord, then who am I to say I would not.
Beyond these thoughts, I'm not sure. I don't think anyone can honestly answer these questions unless their beliefs are put to the ultimate test. But thinking about these issues may reveal what's truly important to us.
---
Darkness cannot drive out darkness; only light can do that. Hate cannot drive out hate; only love can do that.        — Dr. Martin Luther King, Jr.
---