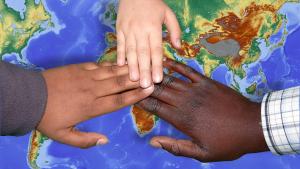 How Christians Are Following God's Call
All too often, we hear stories about contemptable people behaving in contemptable ways. Many of them, unfortunately, are Christians. But I'm here to tell you that Christianity and humanitarianism can go hand in hand, and many times they do.
The famous examples include athletes, actors and actresses, and singers, but my favorite story concerns twin sisters whose soup kitchen has fed thousands of hungry people in my own community since 1986.
Following are my stories about how Christianity and humanitarianism can go hand in hand.
God's Humanitarian Commands
God repeatedly commands Christians to help people in need. Leviticus 25:35 in the Old Testament tells us: "If your brother becomes poor and cannot maintain himself with you, you shall support him as though he were a stranger and sojourner, and he shall live with you."
In biblical times, helping people could be a life and death matter. God's prophets even warned the Israelites that God would judge them according to how they cared for widows, orphans and strangers.
Widows and orphans in ancient times were in a precarious position. With no government safety nets to ensure their survival, they relied on the goodness of other people when their breadwinner died.
The Book of Ruth in the Old Testament drives this point home by sharing the story of two women's survival following the deaths of their husbands. Likewise, travelers depended on the willingness of others to provide food and shelter because travel was quite dangerous.
In the New Testament, for example, Christ's story of the Good Samaritan tells of a traveler who is beaten and left to die on a roadside until a stranger rescues him (see Luke 10:25-37). You also may read my post about the parable here.
And Christ famously tells his followers: "For I was hungry and you gave me something to eat, I was thirsty and you gave me something to drink, I was a stranger and you invited me in, I needed clothes and you clothed me, I was sick and you looked after me, I was in prison and you came to visit me….Truly I tell you, whatever you did for one of the least of these brothers and sisters of mine, you did for me" (Matthew 25: 35-40).
How Modern Christianity and Humanitarianism Can Go Hand in Hand
Former quarterback Tim Tebow, a devout Christian and Heisman Trophy winner, found a unique way to raise funds for charity. I'll share his story shortly.
I'll also tell you Emmy-winner actress Patricia Heaton's story about rediscovering God and working as an ambassador for an international Christian humanitarian charity.
Retired NBA player Dikembe Mutombo has devoted much of his life to humanitarian causes around the world through the Dikembe Mutombo Foundation, and you will hear about his work.
Finally, you will learn about two retired nurses, Helen Ashe and Ellen Turner, who less famously created The Love Kitchen to provide food, clothes and fellowship in my community.
A Heisman That Keeps on Giving
One of my favorite stories concerns former quarterback Tim Tebow. He received the coveted Heisman Trophy for college football's most outstanding player in 2007 and uses the award in unique way to raise money for humanitarian causes.
Rather than let his trophy collect dust on a shelf, Tebow decided to periodically auction it off for charity. Every year or so, he holds an auction and temporarily donates the statue to the winner to display in their home.
"Why have it in your garage?" Tebow asks.
The ESPN football analyst and former Florida Gators quarterback explains, "My goal is that it could be the most impactful Heisman one day not by sitting on a shelf… (but by) being on a lot of other shelves and making an impact on a lot of kids' lives."
Tebow, an outspoken Christian and son of missionary parents, has probably achieved his goal through the Tim Tebow Foundation.
The non-profit focuses on helping children with severe medical needs, as well as through orphan care, a wish-granting program, a children's hospital, and anti-human trafficking services.
Learn more about Tebow's humanitarian work here.
Hearing God Loud & Clear
Actress Patricia Heaton, who starred in Everybody Loves Raymond and The Middle, rediscovered her Christian faith during the pandemic.
She explained to The Christian Post, "There's a season of real busyness when you're raising children and having a family and working. And often, we don't make enough space to allow God to really talk to us. So, I have more space now, and I'm hearing loud and clear."
As an ambassador for the Christian humanitarian charity World Vision, she joins with the organization's other celebrities to "mobilize and educate their fans about the desperate need of millions of children and families worldwide.
"Because of their strong voice among a crucial audience, World Vision Artists play a vital role in supporting World Vision's efforts to make a difference and influence change around the world," the organization says.
World Vision helps children, families and communities in tackling poverty and injustice. Check out the organization here.
Using Basketball to Help Others  
Former NBA great Dikembe Mutombo is a humanitarian who created the Dikembe Mutombo Foundation in 1997. The organization works to improve the health, education and quality of life for people in the Democratic Republic of the Congo and has helped feed homeless people and mentor children.
The 7-foot-2-inch All-Star was born into a devout Christian community in the Congo. It was there that he established the Biamaba Maria Mutombo Hospital in memory of his mother in 2007. The hospital is one of the few facilities in the region to treat patients with cancer and sickle cell anemia.
Since his retirement in 2009, Mutombo has become a full-time humanitarian who "has invested millions in philanthropic causes in his native country and abroad."
He often uses basketball as a teaching tool, conducts clinics and works with the NBA Cares, an internationally recognized organization that supports the Special Olympics, Boys and Girls Clubs of America, UNICEF, the Make-a-Wish Foundation and other charitable non-profits.
To learn more about Mutombo's work, click here.
"Everybody is God's Somebody"
Twins Ellen Turner and Helen Ashe were less famous but still helped thousands of people in their Knoxville, TN, community through their brainchild, The Love Kitchen.
They opened the non-profit in the basement of a church in 1986 and moved to a permanent location sometime later.
The Love Kitchen provides food, clothing and fellowship to people in need, serving in-house lunches and delivering meals to elderly, disabled and homebound people one day a week. It also distributes emergency food bags filled with canned foods and dry goods once a week.
Turner and Ashe were born in Abbeville, S.C., in 1928 to parents who were sharecroppers. They moved to Knoxville in 1946 to attend college and operated restaurants before becoming nurses at the University of Tennessee Medical Center in Knoxville.
The Love Kitchen became their second career after retirement. It began when Ashe became interested in the idea after hearing the story about a soup kitchen at a Knoxville church. She enlisted her sister's help in establishing their own version in another part of town and initially fed 22 people.
Turner died in 2015 and Ashe in 2018 at age 90, but their organization continues to help the community and now serves more than 3,000 meals a week. And its motto continues to be, "Everybody is God's Somebody."
The twins were featured on The Sally Jessy Raphael Show in 2011, as well as The Oprah Winfrey Show, but weren't dazzled by their fame.
Read more about them and The Love Kitchen here.
Ashe's grandson, Knoxville police lieutenant Stanley Cash, once said of his grandmother, "She met people when they were at their lowest: hungry, tired, hopeless and battered by life. At that moment, she extended love and expected nothing in return."
The same can be said of her sister.
Christianity & Humanitarianism Can go Hand in Hand
When you see or hear about so-called Christians behaving in hateful ways, please remember these stories about Tim Tebow, Patricia Heaton, Dikembe Mutombo and Ellen Turner and Helen Ashe and their Christian humanitarianism.