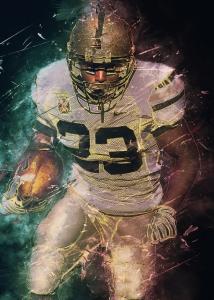 The college football season is underway, as is high school football, and the pro season will kick off Sept. 7. This season, as with any season, you may expect some NFL players and coaches to talk about their Christian faith, wear crosses or say quick prayers of thanks after big plays. They make Christianity an important part of their identities. On the flip side, atheists or agnostics in the NFL tend to remain quiet about their beliefs. All that said, what role does Christian faith play in pro football? What can we make of faith in the NFL?
Heart-stopping Moments
Christianity seemed to take center stage in last year's NFL season. We saw an outpouring of Christian faith during and after a nationally televised game between the Buffalo Bills and the Cincinnati Bengals. If you'll remember, Bills safety Damar Hamlin's heart stopped after a seemingly ordinary play.
Hamlin was lifeless as emergency personnel rushed onto the field and began feverishly working to restart his heart. As they worked, Hamlin's teammates, opposing players, and coaches from both sides of the field came together to kneel in prayer. Some were in tears.
The Bengal's team chaplain, Vincent Rey, quickly left the stands to be with his team, while his wife and players' wives and girlfriends gathered together. Fans in the stadium recited the Lord's Prayer, and viewers at home prayed and posted prayers on social media.
ESPN football analyst Dan Orlovsky, who is a former NFL quarterback, said a prayer during the network's NFL Live program, and later, all 32 NFL teams posted #PrayForDamar appeals on social media.
Hamlin, 25, was rushed by ambulance to a nearby hospital, where he was admitted to the intensive care unit in critical condition. It was later determined that he went into cardiac arrest after tackling Bengals wide receiver Tee Higgins. He had suffered a severe blow to the chest at exactly the wrong time, thereby interrupting his heart's rhythm.
The outpouring of love and prayers continued in the days following the game. Fans held a vigil outside the Cincinnati hospital, and Bills quarterback Josh Allen joined players and coaches from across the country in asking people to pray for Hamlin. In Buffalo, fans gathered outside Highmark Stadium as Jill Kelly, wife of former Bills quarterback Jim Kelly, led prayer.
The Power of Prayer
"'I think we all have to recognize the power of prayer from coaches, players, the staff and the fans that was in that stadium, and the people watching from around the world,'" the New York Times quoted Troy Vincent, the NFL's executive vice president of football operations, as saying.
"The frightening event sent shockwaves through not only the sports world, but the world at large," CBS Sports reported at the time. "This week, U.S. President Joe Biden even spoke with Hamlin's mother and father…."
Hamlin's agency issued a statement saying, "Please continue to pray for Damar and we will provide updates as they are available," and Hamlin's family said: "We are deeply moved by the prayers, kind words and donations from fans around the country."
One sports analyst said he had never seen anything like it.
Politicians have been roundly criticized for offering "thoughts and prayers" following mass shootings in the U.S., but this incident was different. This time, the thoughts and prayers were genuine.
Football & The Bible
"The outpouring reveals the way that Christian faith has long been intertwined with American football culture, tied to the sport through its popularity in the Bible Belt," the New York Times noted.
Football is almost a religion in the South – e.g., the Bible Belt — although college ball, rather than the NFL, reigns supreme. People talk about their favorite team all week. They're either rehashing last Saturday's game or talking about what the coach should or shouldn't do in the upcoming game.
In my area, diehard fans begin docking their boats along the riverbank by the stadium several days before home games. Many of those who don't have a boat arrive at the stadium early on game day and set up grills, tents and other paraphernalia to tailgate with friends.
When the game kicks off, small towns – and even mid-size cities — across the South come to a standstill as fans attend the game, watch it on TV or keep up on the internet. (I might add that football mania begins with high school games on Friday nights and continues through the weekend until Sunday or Monday evening.)
It's a way of life. It's part of southern culture.
What does it have to do with faith in the NFL? Plenty, as it turns out. Young southern boys learn to toss around a football with their fathers or friends at an early age. Many of them play football on community teams and at the high school level.
The best ones are recruited to play college ball, and the best of the college players end up in the NFL. And through all of this, these players take their conservative Bible Belt beliefs with them.
Embedded in the NFL
Now, let's get back to Damar Hamlin…. People who aren't football fans or very religious may have been surprised by people's reactions to Hamlin's injury. For the most part, secular society either isn't aware of or doesn't understand the relationship between American football and Christianity.
But Christianity has been embedded in the NFL for the past four decades, according to Paul Putz, assistant director of Baylor University's Faith & Sports Institute. "Since the 1970s, it's had almost like its own church," he said.
In the wake of Hamlin's injury, the New York Times quoted Jason Romano, director of media at Sports Spectrum as saying, "The NFL has been very open and receptive to faith for many years. God has been setting up something like this to happen."
Romano emphasized that he did not mean God caused Hamlin's injury. Rather, he meant that the outpouring of prayers reflected "a culture of faith that has been developing within the league for decades," the Times reported.
A Christian Sub-culture
Romano pointed out that players kneel and pray at the 50-yard line after every NFL game. And the Times noted that NFL team chaplains such as the Bengals' Vincent Rey hold weekly Bible studies, lead services before games, counsel players and provide other support.
"That institutional culture means that prayer is a natural response for many to a traumatic event like Mr. Hamlin's injury," the Times said. The newspaper quoted Bengals fan and pastor Brian Tome as saying, "America got to see people be empathetic. These moments of crisis are bringing something out in us that's really positive."
God at the Super Bowl
This past Super Bowl featured two quarterbacks – Patrick Mahomes of the Kansas City Chiefs and Jalen Hurts of the Philadelphia Eagles – who are outspoken Christians.
Mahomes frequently points toward the sky at the beginning of a game or after a big play, Religion Unplugged said in a post prior to the big game. "The 27-year-old quarterback has also used his social media platforms – including his 2.3 million Twitter followers – to express his faith."
Hurts shares that kind of faith, according to the non-profit news outlet. "At the start of the (2022) season, Hurts, who is Baptist, said he wants to be a positive force for children who watch him on TV. Hurts also said he couldn't be successful without God.
"The 24-year-old quarterback…said everything he does – whether it's throwing touchdown passes or helping with charities that benefit children – is because of God. I keep God in the center of everything."
Ironically, both of last year's Super Bowl quarterbacks are from the Bible Belt state of Texas.
Another Side to the Story
Yet, not all NFL players and coaches are Christians. Some embrace other faiths, and some shun religion altogether. Arian Foster, a former running back for the Houston Texans, came out as a non-believer in ESPN The Magazine in 2015.
He grew up in a Muslim household, where he prayed five times a day, but found that "faith isn't enough for me." He eventually told his father about his non-belief, and his father was surprisingly calm about the news.
Foster was the first NFL player to announce his move toward atheism, and his announcement garnered mixed reactions. One person called him a fool, and others chided him for his lack of faith.
But author Chad Gibbs probably hit the nail on the head when he said, "If he's scoring touchdowns, fans and teammates wouldn't care if he said he worshipped the flying spaghetti monster."
So true!
Another person whose reaction I love is Lee DelleMonache, director of the Catholic-oriented Institute for Sport, Spirituality and Character Development in Pennsylvania. She noted that Foster is good friends with Justin Forsett, a devout Christian who played for several NFL teams before retiring in 2017.
"There is a wonderful lesson… and the lesson is in tolerance and respect and in the strength of what one believes in," DelleMonache said.
She's absolutely right, especially in my country. In the U.S., intolerance has apparently become the norm. Many Americans don't respect other people's beliefs if they are different from their own. We insist that we are always right and others are wrong, and we refuse to even listen to other viewpoints.
While many football fans look to Christians in the NFL as good role models, maybe we also need to think about the friendship between Arian Foster and Justin Forsett. They may have something to teach us as well.
And in case you didn't know, Damar Hamlin completely recovered from his injury and in April was cleared by several specialists to play football this season.
(Interested in reading more about football and religion? Check out these Patheos postings: "Can You Be Perfect? Football as an Allegory for Religion and Life" by Jeff Worthy here; "Does God Care Who Wins a Football Game?" by Jim R. Copenhaver here; or "It's Time for a National Conversation about Football" by Roger E. Olson here.